Catellani & Smith celebrates its 30th anniversary in the lighting industry this year. Known worldwide for its striking decorative light pieces, Helen Ankers spoke with the brand's lead designer and founder Enzo Catellani – delving deeper into his design philosophy, obsession with quality, precision and craftsmanship.
Enzo Catellani is a self-made designer and entrepreneur. While he has no formal training in architecture, industrial design or engineering, the one thing he does have in abundance is a curiosity to explore and a desire to express his creativity.
Having worked with light in some form or another since the late 1970's, Enzo admits that his lighting studio Catellani & Smith was born almost by chance.
"I was given the opportunity to buy a lighting shop called 'Aladdin' in Bergamo, Italy," he tells darc. "And I soon realised that the fascinating world of light was in fact a hidden ambition of mine. Light became an increasingly important source of inspiration for me and I decided to pursue this, creating lighting objects that express my personal concept of light. This is something I continue to do in my creations today; I put all of myself into my designs, all of my research, attention and feelings. To achieve this, I have to persevere, to experiment, to evolve and keep a keen eye on the latest technologies."
Success as a designer came suddenly and unexpectedly for Enzo in 1989 when he presented his lighting products at the Ambiente Fair in Frankfurt, Germany. "The pieces immediately drew attention and I came home with orders for around 1400 fixtures; I wasn't prepared for this – I didn't even know how to make lamps on a production line… but I did know that this was now my life."
It was at this moment that Catellani & Smith was established – in a historic building in Villa di Serio, near Bergamo, Italy. Dating back to the 15th Century the building housed the commercial and administrative offices of the business until just last year when they moved nearer to the production facilities, located along the Serio River. Here, design, lighting and nature merge to create a pleasant working environment in-line with the company's core values. The rooms are filled with light, terraced areas are covered in jasmine, Buddha statues feature in the large garden and wooden furniture and parquet flooring adorns the internal manufacturing space.
Catellani & Smith is based on a working concept that reflects Enzo's approach to design; a large part of his production is made up of pieces that require a great amount of craftsmanship, yet technology also plays a key role, as he explains: "My personal approach to design is halfway between craftsmanship and art. I am always experimenting with new materials, which in turn keeps me abreast of the latest technologies. Catellani & Smith originated as a craft industry and most of the production is based on skilled artisanal care. It is the hand of the craftsman that builds each piece, their manual work that creates the little differences and imperfections that makes each lamp unique.
"The basic rule I have instilled in my collaborators, is that they have to put their heart and soul into everything they are doing, just as I do. I believe that this process can be felt in our lamps. I believe people still appreciate my work 30 years on because of this. Perhaps this is also the reason they possess a kind of timelessness to them. Turciu, for example, belongs to our first collection Oggetti Senza Tempo (timeless objects) and it is still one of our best sellers.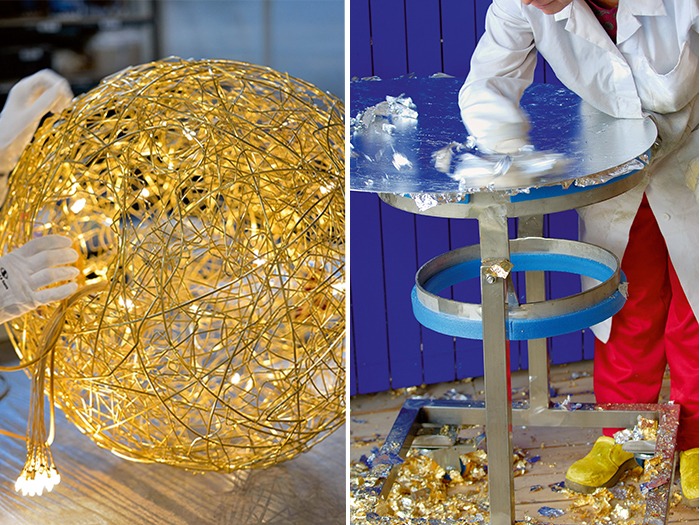 "I like to give people the opportunity to live with light in different ways, in accordance with their mood and the ambience where they live or work. A light source should never be direct or blinding, it must be warm, pleasant and evoke emotion. In nature, light affects everybody's own life – light gives life. Just consider the importance of natural light in human behaviour and health, how it can influence animals and plants, how the lighting environment can produce different effects on every living being.
"The invention of the light bulb was the greatest of all time – indeed, it allowed us to bring light into our homes that we would usually only get from the sun," continues Enzo. "Ever since its invention, we have been able to 'dominate' light, to regulate and even 'shape' it. The interaction between users is fundamental in my concept of lighting design, as well as the emotional response it should elicit. People who buy one of my lighting designs are engaged to establish a relationship with light. The lamp, while lighting up the room, should become an object that raises an emotional response.
"When I start working on a light I always consider the most suitable material that can be applied in order to reach the lighting effect I want, then I test and evaluate the best possible outcomes and functions. I need to feel and see how the materials 'play' with light, how they interact with it… as such, in the initial stages there is no design, just an idea that must take shape and become a lighting object able to give expression to a concept of light. Only after having achieved that, do I move on to the traditional design phase, feasibility, technical characteristics and so on.
Enzo has always avoided artificial effects in his work, preferring to use natural materials that change with time or age naturally, as he further explains: "The iron we use is coated with a thin layer of beeswax so that it changes colour and even gains spots of rust over time. Aluminium and brass compose many of our structures and also age slowly with time… Through the interaction of light with different materials – gold, silver, or copper finished surfaces, irregular or flat – you can achieve particular lighting effects, almost giving a shape to light. Most of the light objects I create both interact with light and the user, who can shape them in accordance with their taste or lighting needs in a room."
Catellani & Smith is world renowned for its Fil de Fer light fixture. One of Enzo's favourite designs, over the years, it has become a symbol of Italian creativity. Exhibited at Shanghai Expo in 2010 as an example of the best 'Made in Italy', the piece is installed at the V&A museum in London, at the Triennale in Milan, as well as other, countless installations. Still one of the brand's best sellers thanks to its distinctive design, Enzo explains the origins of the fixture to darc: "I was asked by an architect to design a huge chandelier for the Museo della Cartografia di Stato – Fontana di Trevi in Rome. The original briefing was to create a lamp in large dimensions, with lots of light bulbs that could be ethereal at the same time. It should symbolise the universe and I immediately thought of using a lightweight and flexible material – such as iron wire (Filo di Ferro in Italian) – that could also become the lamp structure and be capable of holding a lot of light sources. The iron wire was flexible and malleable and allowed me to create an enormous sphere of tangled wire.
"The light for the museum was another thing completely, but this prototype remained and it was more than easy to produce it in many different sizes and shapes – in aluminium wire or, more recently, in an anodised gold finish."
"A lighting object must be able to produce unexpected effects, something poetic, to emphasise light in all its cues. It must be a confirmation of form and function, an object able to give character to a room and have a two-fold purpose."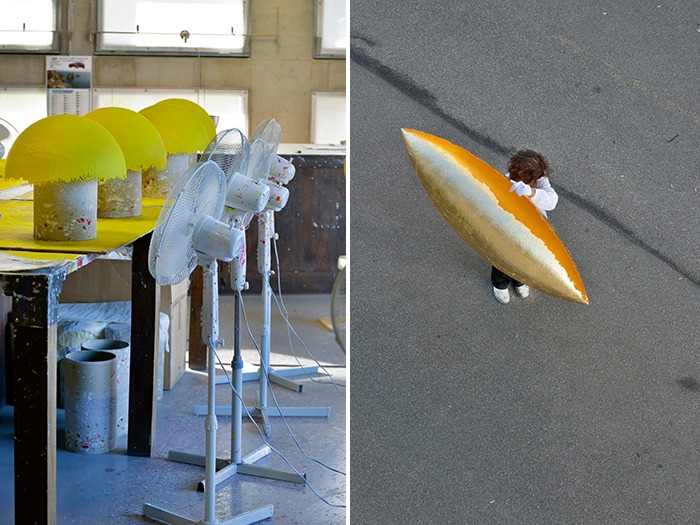 For Enzo, in terms of technological advances in lighting, there has been both positives and negatives along the way, specifically around the arrival of LEDs. "There was an initial period of confusion and maybe creativity was sacrificed to technology when LED first arrived on the scene," he says. "LED lighting was interpreted as the complete opposite to decorative lighting but I believe they started a revolution in lighting and I had the foresight to use the technical light source for decorative, emotional lights – adapting them to design. LEDs allowed me to create more essential forms and linear designs, which are possible thanks to the miniaturisation of light sources and related cables. Technology is becoming more and more important, but it must not be used at the expense of creativity."
Thanks to these advances in lighting technology, for Enzo the gap between decorative and architectural lighting is now becoming smaller, since decorative lights can provide the same functionality as architectural lighting in many cases thanks to the latest generation of LEDs.
"Decorative lights today are able to fully illuminate a room to a high level," he says. "While a relaxing, meditative light is certainly preferred for interiors – both for residential or hospitality projects. Today, people take great care when choosing the lighting for their home, they look for the perfect decorative light to give character to a room, change an ambience or even define and divide different areas in their home, without the need of walls or furniture.
"I think lighting design is continuing to look for new expressions of light, for new designs to be produced in limited editions. People today are more attracted by custom-made items and tailor-made solutions rather than mass produced items. At Catellani & Smith we will continue to combine craftsmanship and technology at the service of creativity. I'm not looking to transform the company into an industry or relocating the production to other countries. Our products are the expression of 'Made in Italy' and of a tradition in craftsmanship. This year we started a collaboration with a young designer Giulia Archimede, who shares my own passions for light and has been able to investigate the interaction between shade and light, giving a shape to her emotions through the creation of her Alchemie lamp.
"Looking ahead, we are looking for new 'Smiths', people who can design new products in tune with my vision. Young or old… as long as they are enlightened and enlightening."