Etat-des-Lieux – Studio d'Armes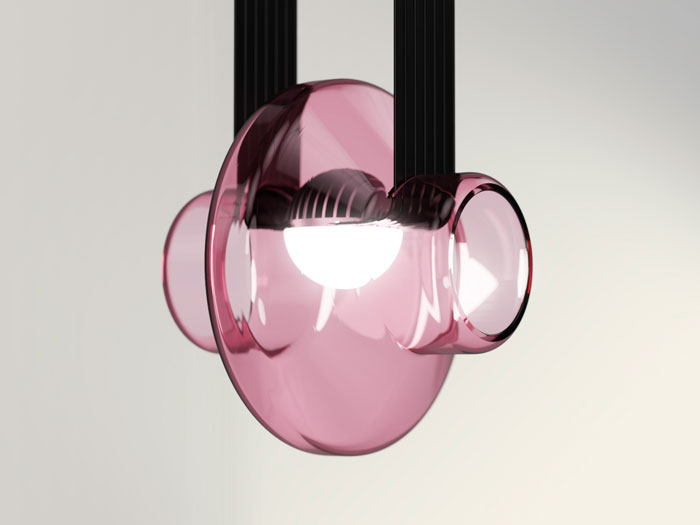 Designed by Alexandre Joncas and Gildas Le Bars in their Canadian-based Studio d'Armes, Etat-des-Lieux is a playful new product for interior architects and designers that allows them to create an infinite variety of configurations by playing with geometry and tension.
"The intentions behind État-des-Lieux is an unconventional and timeless product that can be used as a tool for designers and architects to convey their own personalised skills and solutions. It had to be a modular system that could be configured and modified to adapt to any space," explains the design duo.
"Etat-des-Lieux is the only lighting system that we know of to feature a wide, flexible, conductive cable. Elegantly finished in matte black, the cable's flexibility enables the spatial designer to create an infinite variety of configurations by playing with geometry and tension."
They continue: "The design process started around the idea of a strap that would serve as a conductor but also as the suspension system, which presented in itself many challenges with the extrusion uniformity. The solution laid by pushing the boundaries of process making and by finding just the right amount of tension for the size of the extrusion with our sight set on functionality and aesthetics."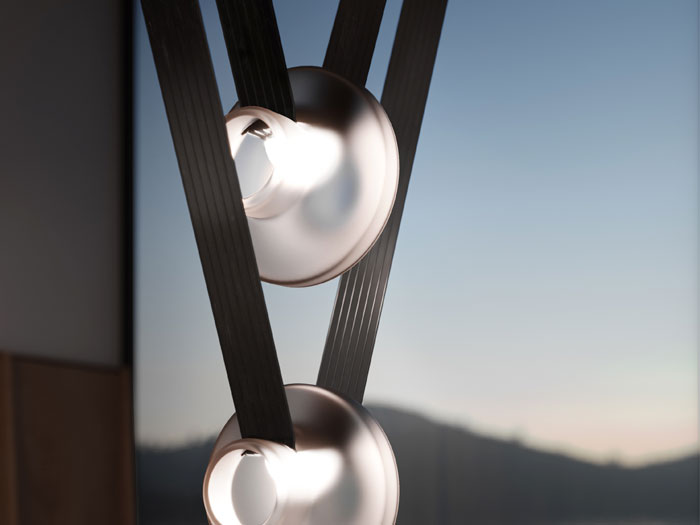 Each component has been designed and crafted in the studio, with the wide conductive strap at its core. "[The strap] supports the light modules while supplying them with power, but above all, it allows Etat-des-Lieux to be configured according to the demands of any space it inhabits.
"The glass globe, handblown in Québec into a hand-carved mould, is inspired by the scenic mountains and their reflections in nearby waters."
The globes are available in clear or frosted finishes and in four colours: transparent, pink, grey and amber, and house the light module made of anodised aluminium and frosted glass.
"The light module is totally versatile: light direction, light temperature (from 2700K to 4000K), lumens and dim-to-warm can be configured. The shape of the glass globe was conceived with geometry on a rotating axis following a pulse line, which gives an organic impression of mountains mirrored on a lake. It is with an automated process of working the scientific glass and working closely with local artisans that we found precision solutions. All the components have been designed and tailored to fit one another to create not only a harmonious device but also an efficient assembly line.
"Etat-des-Lieux can be repaired and adapted to another space by easily replacing or adding components as most of it is locally made with durable materials."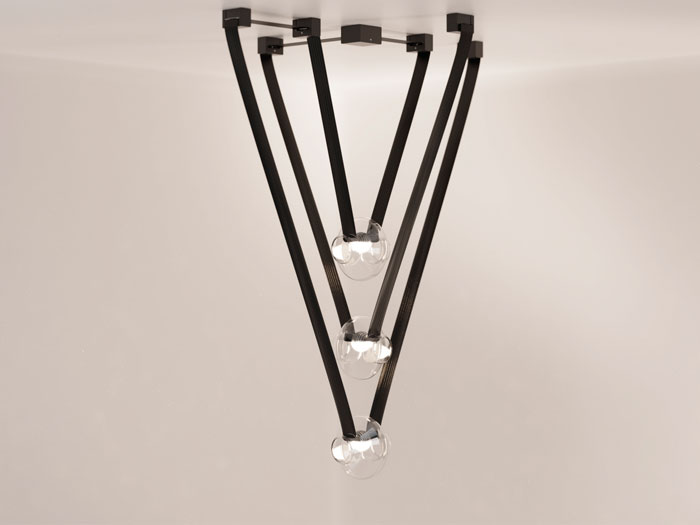 The fixture, taking 20 months to complete its design journey, is an avant-garde and timeless product that, as described by Joncas and Le Bars, is a "polyvalent" light that brings "fascination and innovation" together. "État-des-Lieux really embodies the view we wanted to share by bringing quality of light and where components were individually developed with versatility in mind. Thus, resulting in an almost organically organised assembly giving way to an efficient system allowing all contributors to express their craft throughout the delivery of the end result: a light emitting object fixed in space."
Alexandre Joncas and Gildas Le Bars set up their design studio in Canada to create enigmatic and modern light structures with a singular poetic approach. Nestled in the lush landscape of Canada's mountains, d'Armes boasts a tight-knit team of professionals, designers and craftspeople thoughtfully weaving in tandem refined, distinct and timeless designs. Extensive research, fine engineering and experimentation in materiality, tension, light and space deliver illuminated sculptural pieces featuring disparate elements that inspire unique emotional responses.