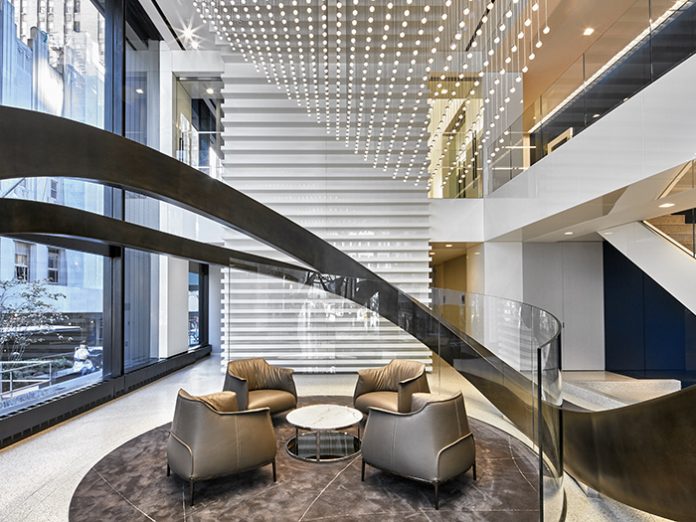 (Italy) – Flos acquires Lukas Lighting to boost North America custom and manufacturing capabilities.
The successful introduction of Flos Architectural in the US will now benefit from Lukas Lighting's owner Craig Corona's 30 year experience, guaranteeing Flos clients the best product range and design service.
NYC-based Lukas Lighting specialises in the design, development, and manufacturing of custom lighting products. Its custom division develops a variety of projects, tailoring and engineering each project based on specific clients' needs. In recent years, Lukas Lighting has produced installations at projects such as JP Morgan Chase, Michael Kors, Four Seasons Hotels, amongst others.
With the recent growth of its contract division, Flos USA sees Lukas Lighting's market position in line with its expansion goals in the areas of distribution, service and production. This integration will facilitate quicker time to market and the ability to offer an extended range of customised solutions.
Flos also acquired leading manufacturer of architectural outdoor lighting Ares in March this year to compete in the outdoor sector on global markets. The addition of Lukas Lighting's custom manufacturing represents the opportunity for Flos to better serve the US market and to offer a complete range of lighting solutions for every environment.
Flos CEO Piero Gandini said: ''For a long time we have been looking at the North American market to find the right entity and the right talent to give us the chance to repeat the very successful business model that we have in Europe where the mix between decorative design, professional products and custom product capability brought tremendous results. Craig Corona and his company Lukas Lighting are the perfect solution: a business unit able to support the Flos business with the best design and engineering capabilities for custom solutions. It is for me a reason of great satisfaction and pride to work with a professional talent like Craig Corona and all the Lukas Lighting team."
Andrea C. Bonomi, Managing Principal at Investindustrial also commented: ''The acquisition of Lukas Lighting, less than eight months after the purchase of Ares, underlines the rapid growth trajectory along which Investindustrial is guiding Flos. We are delighted that Flos is swiftly realising the growth plan developed at entry in partnership with Piero Gandini which centres on strengthening the global leadership position of the company. These add-on transactions underline the attractive nature of Flos' platform in further developing niche leaders and allow the company to deliver a full range of lighting solutions to high-end business and consumer clients''.
CEO of Flos USA Jan Vingerhoets added: ''This acquisition will strengthen FLOS USA's position in the contract market and facilitate North American expansion for both companies, with a made in the USA aspect that will allow us to deliver quicker and more complete solutions for specifiers.''
Lukas Lighting CEO Craig Corona commented: ''When the subject of joining forces first arose, I immediately knew it would be very beneficial for both companies. Strategic fit was not an issue; we each have what the other needs to grow: the customer base will now have access to the best of architectural and decorative lighting products, both standard and customised, in one place.''