FOAID to go ahead in October and November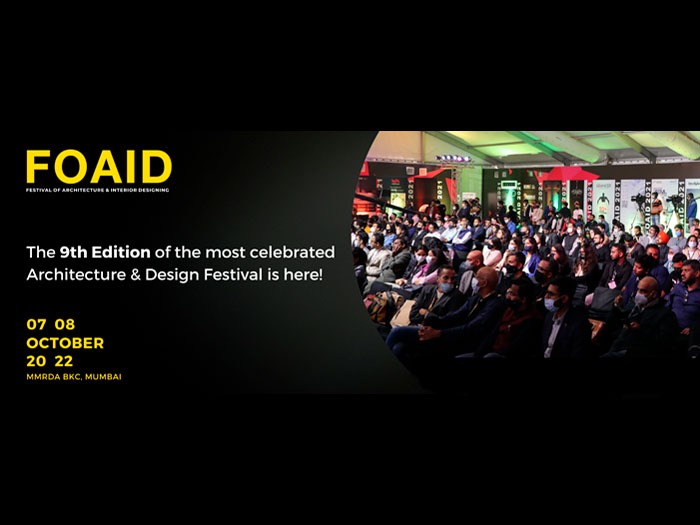 (India) – The Festival of Architecture and Interior Designing will go ahead in Mumbai on 7-8 October 2022, and New Delhi on 25-26 November 2022.
The event gives attendees the chance to lay eyes on some fascinating unbuilt projects by famous architects, be a part of thought-provoking discussions, experience creative exhibits, and much more.
Nine years ago, FOAID embarked on a journey to build a platform for architects, designers, and brands to grow and accelerate together as a community. FOAID has presented more than 74 design shows across the country with 1000+ inspirational design talks connecting 50,000+ audiences worldwide.
FOAID 2022 will include an enticing set of events, talks, panels, and conversations that strive to showcase the rapid growth and variability of the design fraternity.
Some of the events happening include:
The Creative Junction
Design Manthan – An inspiring conference designed to discuss thought-provoking ideas in the architecture and design fraternity with over 80 speakers.
The Beauty of Lighting in Design
Light First – A display of the latest lighting technology by the leading lighting brands, with a chance to witness insightful conversations from incredible lighting designers. 
The 2-in-1 Exhibit
Design Arena – An exhibit of built and ongoing architectural projects.
Appreciation of Gen-Next Designers
Merino Architecture Ideas – An annual national competition crafted to recognise the excellent works of the Gen-Next designers.
Acknowledging the Seniors
Creative Minds Next – A progressive platform intended to award senior, experienced design professionals in the ongoing category of projects.
The Next Generation Creativity
Expressions – The Art Installation Competition is an exhibit showcasing remarkable art pieces made by students.
Ask away!
Uncensored – Designed exclusively for the students of architectural discourse, it's a platform where ideas are communicated and questions are answered.
A Distinctive Display of Art
Art Arena – A unique collection of gallery spaces for artists to display their finest collection of artworks.
To register and receive further information on the event, click here.