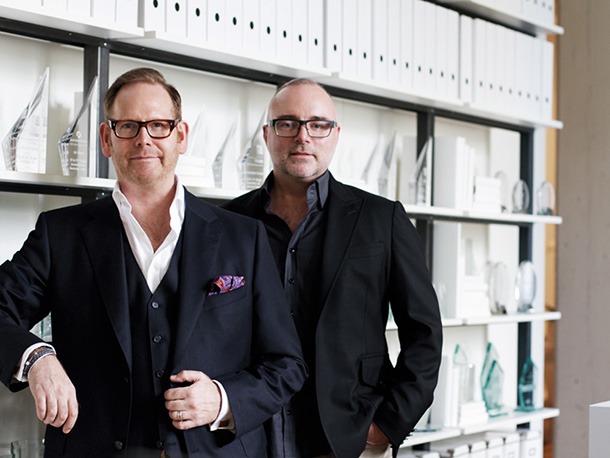 II BY IV Design was founded in 1990 by partners Dan Menchions and Keith Rushbrook. Their shared passion for creating design solutions that are both innovative and functional has seen the firm constantly expand, drawing in a talented team from a variety of design backgrounds. Continually traveling the globe, the team finds inspiration in art, fashion, food and culture, which keeps II BY IV Design in touch with current and emerging consumer lifestyles and attitudes.
The practice's varied portfolio includes projects in a wide range of fields: hotel, retail, hospitality, residential, exhibition, office and bespoke design.
A clear understanding of good lighting design, both architectural and decorative, is a key element in the creation of high end, often high profile projects. In many cases, lighting pieces are custom made to II BY IV Design's specifications, providing the perfect focal point to complete a scheme. Based out of Toronto, the firm has just launched its first international studio in New York.
Beer Boutique
Toronto, Canada
A celebration of traditional craftsmanship, the Beer Boutique caters to local gourmet tastes for artisan beers, lagers and stouts as well as classic brews. Bottles are showcased in curved Beer Theatre displays, which soften the industrial-inspired space.
Drawing upon the neighbourhood's history of manufacturing, II BY IV Design chose interior finishes of reclaimed wood, exposed brick and copper to evoke a sense of being within a brewery. The heritage atmosphere is further enhanced with herringbone plank floors and an exposed ceiling that emphasises a striking custom chandelier of copper pipes linked by LED tubes. Reminiscent of the piping that connects copper stills, this centerpiece, manufactured by Visio, juxtaposes the traditional and modern to great effect.
This prototype design is set to be rolled out to stores nationwide.
RW&Co
Canada (Nationwide)
Inspired by modern glamour and high-energy contemporary fashion, II BY IV Design's concept for RW&CO's flagship store in Toronto has become the template for outlets across the country. The store's structure, a series of planar surfaces and sliced geometric shapes, is tempered by the shimmer of chrome and diamond, from the glowing studs on the store façade to the three-piece chandelier within. The latter is part of the GIA Light series of fixtures developed by II BY IV Design. Long rectangular, polished chrome frames are strung with crystals and suspended from the ceiling by aircraft cable.
The GIA has been used in a number of the practice's projects, evolving into different shapes and styles to suit different settings. The most recent example of this is in the new Trump International Hotel and Tower in Toronto, where circular versions adorn the lobby areas for both hotel and residential suites.
Donato Salon + Spa
Toronto, Canada
With a dramatic colour palate of dark ebony and ivory, the Donato Salon + Spa concept seamlessly melds classic design elements within a contemporary context. The client's objective was the creation of a new flagship location that would strengthen their already-established brand, attract new clients and maximise sales of their new cosmetic line.
Avoiding unwanted shadows and ensuring accurate colour rendering were key considerations for the salon areas, but so too was visual impact. Each zone has its own distinct character, including the entrance space, which was styled to mimic the experience of visiting a luxurious hotel. Two chandeliers, custom designs by II BY IV Design and produced by Eurolite in Toronto, hang above a custom designed counter, reminiscent of a hotel concierge desk, welcoming guests into the space.
Chairman's Suites
Toronto, Canada
Design decisions for the Chairman's Suites, a high-end private members club located within the Air Canada Centre sports arena, were focused on providing a unique upscale venue in which to enjoy the game and entertain.
Rosewood tables, cognac-coloured leather upholstery and polished bronze chairs give the space an opulent finish. Keying in to this aesthetic, custom light fixtures were created, manufactured by Lighting Nelson & Garrett following II by IV Design's specifications. A series of polished bronze fins radiate in a circular array around a central light source – MR16 up- and downlights set within a frosted acrylic diffuser. The piece is present in two styles: a shallower fixture located above the semi-circular dining booths and a taller version in the bar area.
SnAKS
New York, USA
The design of the new tartinerie in Saks Fifth Avenue's flagship Rockefeller Center location balances timeless glamour, New York verve and a charming freshness. The clean lines, sparing details, modern classic furnishings and pale lavender and cream palette are at once lady-like, sexy and fashionable. The multipurpose space provides shoppers with a location to lunch, as well as an additional space for Saks to host shows and launch events.
A row of Zebra pendants from Viso (designed by Filipe Lisboa) hang above the counter, their silver metallic stripes designed to evoke a spectacular idealism and sophistication. "We liked the simplicity of the design and reflective nature of the material," notes II BY IV Design's Keith Rushbrook. "At night the light creates beautiful shadows."