Foscarini launches new range in Milan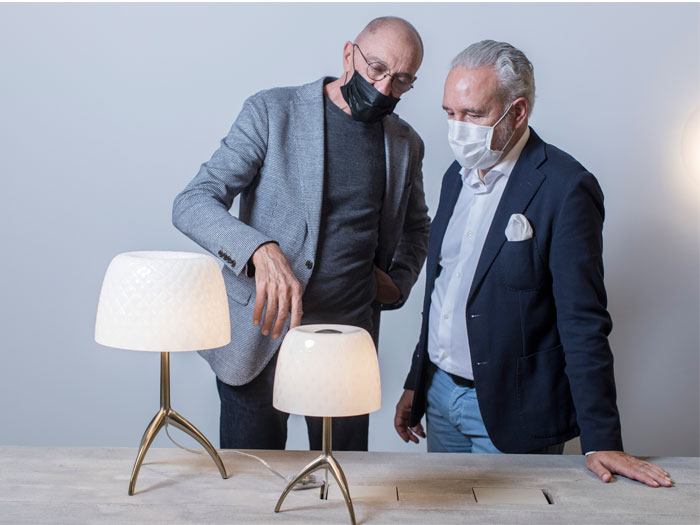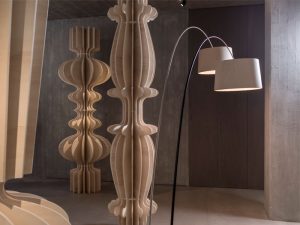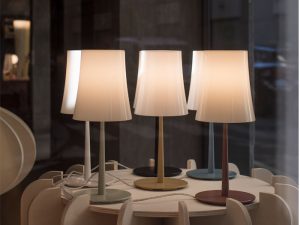 (Italy) – During Milano Design City, Foscarini presents a range of new offerings – table, floor and suspension lamps designed by Rodolfo Dordoni, Marc Sadler, Ludovica & Roberto Palomba, Tord Boontje – in a special installation created by Ferruccio Laviani for the spaces of the showroom on Corso Monforte.
Among the new developments, Twiggy by Marc Sadler has been updated with great elegance, brandishing a diffuser in an unusual material: wood. Lumiere by Rodolfo Dordoni, reaching its 30th anniversary in 2020, celebrates by taking on unexpected finishes, produced with two traditional glassblowing techniques that give rise to two new versions in a special signed and numbered edition.
Ludovica & Roberto Palomba present Bump for the occasion, a new irregular, organic suspension lamp, and a special dual interpretation of Birdie, a popular model that is now offered in a version specially conceived for the hospitality sector. Finally, the Sun – Light of Love suspension lamp by Tord Boontje stands out for its forceful decorative and theatrical impact, and its two identities expressed through different gold or white colouring.
"Every time I think about new displays for Foscarini Spazio Monforte, I do it as if I had to create an installation inside a gallery", says Ferruccio Laviani, "where the pure spaces permit any type of setting, allowing you to radically change the tone through the language of the various displays and the collections of lamps utilised. For this occasion, I have imagined a free, empty space where elements in natural wood fill the setting, creating pathways between abstract, almost childish forms that multiply in space, becoming simultaneously dividers and backdrops between one lamp and the next".
The natural concrete of the showroom, the sculptural forms of the parts in natural poplar and the technology of the products on view all intersect to become a harmonious whole, a single language that narrates the story of Foscarini, as in a book of fables: every page tells of different, intimate worlds and universes.
Milano Design City will also provide a chance to listen to the designers talk about their new projects for Foscarini, in a series of live appointments moderated by Laura Traldi, on the Instagram channel @foscarinilamps:
Tuesday 29 September, h. 13.00 | Roberto Palomba introduces the new BUMP suspension lamp
Friday 2 October, h. 12.30 | Marc Sadler presents the new TWIGGY WOOD
Monday 5 October, h. 13.00 | Ludovica Serafini talks about BIRDIE EASY and ZERO
Friday 9 October, h. 13.00 | Tord Boontje comments on SUN – Light of Love