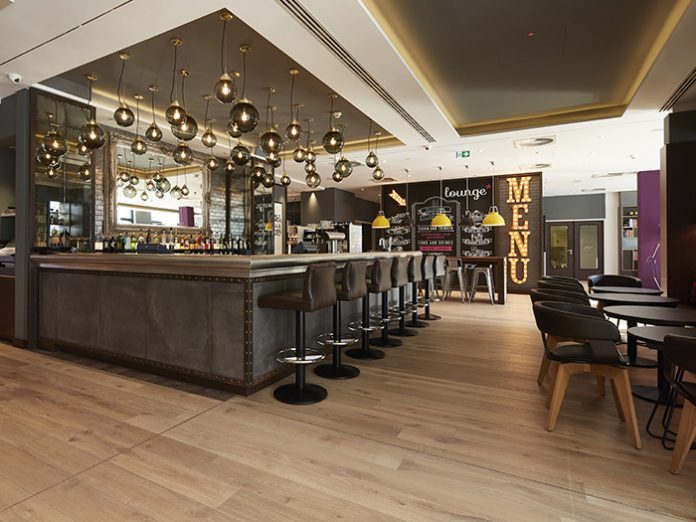 UK hospitality group Whitbread celebrates its first hotel in Germany with an imaginative design for the Premier Inn by Hamburg-based interior architect JOI-Design.
JOI-Design was invited to participate in a competition to create a new design for the Premier Inn hotel brand that would be fitting for the German market.
A quintissentially British hotel chain and the UK's largest hotel brand, Premier Inn has more than 50,000 rooms and 700 hotels in the UK. It operates hotels in a variety of locations including city centres, suburbs and airports, setting the specialist firm of interior architects up for a significant challenge in carrying this reputation.
JOI-Design was advised about the launch of the British brand into Germany by Jeremy Scarlett (JSJ Design), the designer behind Premier Inn's UK hotels. Co-managing Directors of JOI-Design Peter Joehnk and Corinna Kretschmar-Joehnk commented on the process: "Whitbread brought us to London for three days so we could gain an understanding of what the brand stands for in the UK. The concept we proposed won in September 2014, and we started our planning straightaway in October. The hotel opened in April 2016."
The Frankfurt Premier Inn blends the traditional and the modern with a mix of natural timbers and rich, saturate colours. These are brought to life by vibrant accents of turquoise, sunshine yellow and violet. The result combines distinctive British style with a touch of humour, attention to detail and the comfort of an open-plan layout.
JOI-Design experienced Whitbread as an open-minded client during the competition phase, while the actual concept implementation proved a challenge, being so different to its UK properties. As the standard Premier Inn design premise had been tried and tested in UK hotels, the management didn't feel it was necessary to make many changes for the German marketplace.
JOI-Design faced an uphill battle with many aspects to consider transforming their design into an award-winning hotel in Frankfurt. "The brief didn't really change over time, but we refined our concept in response to the evolving requirements for operational effectiveness, marketing and value engineering," said Joehnk.
Kretschmar-Joehnk added: "It was essential that our German perspective upon Britishness would be translated in a clever way, and the lighting elements were key to supporting this. We chose lights from a variety of British manufacturers and craftspeople, for example Original BTC, Made and Northern Lights, to help convey an authentic sense of aesthetics."
As a contemporary take on a typical British library, the lobby is a multipurpose living space, welcoming guests into a modern lounge where busy young travellers can unwind, recharge and catch up on work. The tables in the thoughtfully designed work zone incorporate state-of-the-art data technology to support guests as they prepare for meetings or check emails. Large seating areas with classic Chesterfield sofas and comfortable armchairs invite guests to relax and linger, while open shelves separate the lobby, work zone and dining areas to create a degree of privacy.
Lighting was used to create a different ambience in each zone and enhance the distinct identity of each space. In the breakfast room, bar and restaurant, deep rich tones are accented in violet and turquoise. Other distinctive features include an eclectic assortment of pendant lights, a metal bar, riveted wall panels, and a wide variety of seating such as high-back armchairs covered in checked Burlington upholstery. The word Menu emblazoned in glowing marquee lights injects an energetic vibe that not only combines decorative appeal with way finding practicalities, but also accentuates the motel's motto: "Walk in and enjoy".
"Decorative lighting was hugely important for this project," said Joehnk. "As the Premier Inn is the last in a row of three hotels along the same road, it was essential that our design helped the property stand out from its competitors. Our strategy was to attract attention from those outside by creating a playful and dynamic illumination concept that was highly visible."
As with any project, challenges were faced in the process of bringing the brief to life. JOI-Design used lighting as an integral part of its strategy to convey the German perspective of Britishness. Beyond this, planning permission had already been granted for the building's originally intended use as a boarding house, so JOI-Design was only able to make changes to non-loadbearing walls.
In addition, achieving comfortable ceiling heights in the public areas was difficult because of the way ductwork was orientated, affecting the way they could use decorative lighting. "Eventually, when we arrived at solutions that made everyone happy, we could finalise the placement of the decorative lights."
Working with such a large client as Whitbread, with many tiers of decision making, posed challenges in its own right, while offering a cultural learning experience to both German and British sides.
JOI-Design's work on Frankfurt Premier Inn is almost an exact representation of its original design concept. After achieving such a successful project, the most rewarding part remains its planned expansion of the brand into Germany, including the development of a new guestroom concept to be rolled out in one of the numerous properties.