Gabriel Scott – Luna Series
Helen Ankers discovers a softer side to Canadian design-duo Gabriel Kakon and Scott Richler with their latest lighting launch – Luna.
darc's first encounter with Gabriel Kakon and Scott Richler came during Paris Design Week, September 2016 – we met at the Triode Gallery, where they were presenting their impressive Welles lighting collection. At the time, the Canadian duo's design studio – Gabriel Scott – had only been around for a couple of years and admittedly I knew little about them. Fast-forward to today and through their New York-based showroom, they are firmly making their mark on the world of interior design and lighting, exhibiting at Euroluce, during Milan Design Week, and most recently expanding their presence outside of North America with a showroom in Mayfair, London.
With backgrounds in architecture, fashion and jewellery their lighting pieces are bold and striking in their design, full of geometry and strong architectural lines, making a statement in whatever space they might find themselves. That is, until recently, when the designers launched the Luna Series in Milan, showcasing a more relaxed side to the studio. Exploring a marriage of two lights – tube pieces and blown glass beads – the two work to counterbalance each other and push forward a softer look.
Delving deeper into this shift in design style, Scott Richler tells darc: "From the beginning there has always been an intention to have freedom of creation with our light pieces. So far, we have been known for hard lines, geometry and modularity and while the Luna Series borrows some of those aspects, there's a lightness to it in terms of the colours produced and a roundness to its appearance, so it's a culmination of the familiar design language we have established, but softening it up a bit.
"The Luna Series was actually born out of initial designs for two separate products. I had one idea of round blown glass pieces as beads, so there were all these disks and spheres I was working on… and then there was another fixture that was made up of tubes, so there were two separate light fixtures on the drawing board. I was trying to figure out how we were going to thread the beads together and how we were going to get light into them – we ended up combining the two ideas and threading the beads onto the tubes.
"Like all of our lighting pieces there's still a reference to jewellery and modularity with Luna, but it has what some people might describe as a more feminine look and feel to it. I think you also pick up on the handmade aspect of it thanks to the glass blowing process. When pieces are free blown you are always going to get different tints, shapes and sizes – a lot like artisanal Murano beads would be if you bought them to make necklaces."
While Richler doesn't see this 'softer' approach to lighting as a change in direction for the studio, he does see further exploration of glass as a predominant feature in future designs. "It is something we're definitely going to continue with and there are a lot more pieces to come out of the studio that relate to this collection and bring other types of use – direct ceiling applications, wall lights, floor lights and so on; they're all in the process of being designed. I definitely want to explore glass more as a result of some of the things we've done with our glass table tops in the furniture range – ideas we borrowed from Luna – I've found it interesting and want to reapply them back into lighting; I think moving forward – for now at least – there will be less hard line glass work in our lighting pieces."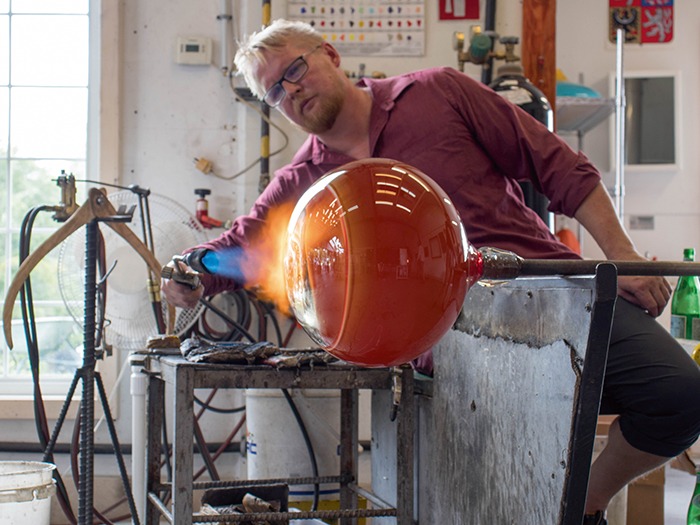 While Gabriel Scott partners with a talented glass blower – who lives and works out in Quebec's countryside in Canada – to produce the beautiful glass shades for their light pieces, when it comes to the illumination of their pieces, the designers have found it more effective to produce their light sources in-house, particularly for the Luna Series, as Richler explains: "All of our lighting pieces use our own COB (chip on board) light sources and Luna was no different – this was an interesting project in that the COB is located either end of the tube and is almost a donut shape; this gives us the possibility to do more with the light source in the future in terms of colour temperatures, so it's a more sophisticated COB than we've developed before.
"We buy most of our chips from big manufacturers like Cree, but it's important to develop our own light sources because we're looking for something really specific and are often dealing with uniquely small spaces. It's risky to buy something ready made because LED design is so rapidly changing – you might buy a module that in six months time doesn't exist, so by developing our own COB we can control the next generation. It's the same with diffusion of light, we have very specific lumen outputs for our fixtures – take the Harlow for example, it uses a very high output that you can't find on the market and so we'll make our own diffusers."
The Luna Series has so far seen interest from all areas of the specification market – from hospitality to residential to commercial and while in the past Gabriel Scott has been specified for the more large-scale signature pieces, what the designers are keen to do with Luna, is produce options for more price sensitive buyers so that the product range can be specified more easily throughout restaurants and hotels etc. "We often get specified for hotels," says Richler. "But it might be for the lobby or reception area. We want to be able to offer a product range that can feature in corridors or hotel rooms and so I think the modularity of the Luna Series, in particular, lends itself to that option.
"We've not shown it yet, but you can add them horizontally or have the pieces stacked and you can mix horizontal and vertical positions. This idea of producing modular fixtures came early on, we wanted to get designers more involved with the products. We were getting commissioned to do these huge fixtures and rather than having to amend an off-the-shelf standard size, which results in an additional 'custom-made' expense to the client, it proved better all round to provide fixtures that could grow organically depending on the project.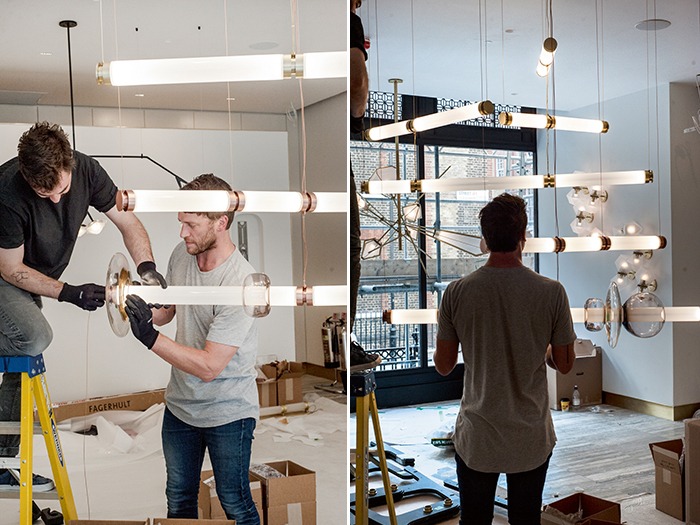 "I do think there has been a natural progression in the lighting industry towards modular lighting pieces, which is a positive I think… it just makes it easier to work on projects of different sizes – the fixture is built into the design."
Having launched earlier in the year during Milan Design Week, the Luna Series can be seen at Gabriel Scott's showroom in New York, as well as the recently opened Mayfair space. For Richler, this expansion into the UK will further cement the studio's relationships with existing clients and allow for closer collaboration within the design community.
"I believe what New York does for the North American market, London does for Europe and some parts of the Middle East," he says. "New York reaches a very deep pool of architects, designers and clients and it feeds into the North American market – it's so accessible. From London you can access a lot of the main design and specification companies and it also provides great links to the market in the Middle East and elsewhere in Europe.
"One of the things that's important to us is to service our markets properly and I believe it's done better with a more personal presence. We could have chosen Milan or Paris and I certainly wouldn't dismiss a showroom in either, but London for me, just has that bit extra and felt like a more natural choice. I'm excited to see how this latest move progresses our position in the market and how the Luna Series is going to be received, there's a lot of creativity to the series and lot you can do with it. I'm looking forward to hearing feedback from designers on what they want to do with Luna and progressing the range from there."