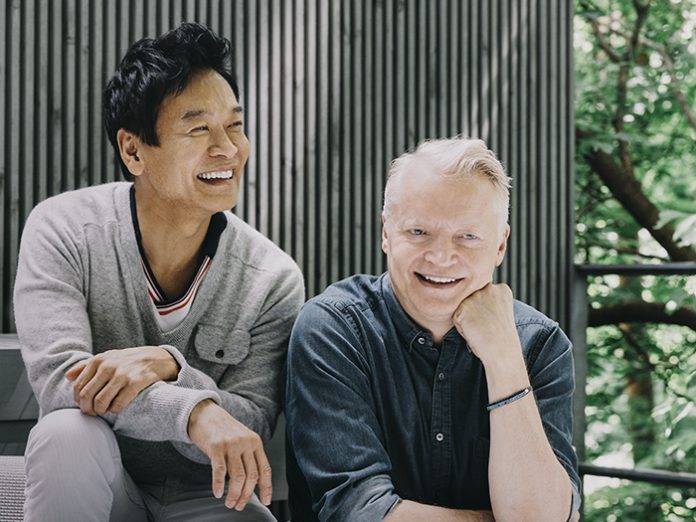 Founded in 1980 by partners George Yabu and Glenn Pushelberg, award-winning international design firm Yabu Pushelberg is world renowned for its timeless and artistic environments. darc met up with the duo at their New York studio to talk aspirations and conquests, past and present.
With offices in New York and Toronto, Yabu Pushelberg has grown to comprise a large and talented team of interior designers, architects and industrial designers working to realise the design firm's vision. For its many prestigious clients and projects, covering specialised retail, luxury, hospitality and restaurant sectors around the globe, the studio's unique design vision extends beyond the world of interiors with collaborations in numerous areas of product design, allowing them to offer a full client service.
Recognised as innovators in the hospitality and retail design industries, George and Glenn have earned countless accolades for their work, including the Hospitality Design Platinum Circle Award and the James Beard Foundation Award for excellence in restaurant design. They have been named Designer of the Year by Contract, and are Interior Design's 'Hall of Fame' inductees, who also named Yabu Pushelberg the 'No.1 Most Admired Firm' as voted by the top 75 hospitality design giants.
In 2013, George and Glenn were appointed as Officers for the Order of Canada for their contributions to design excellence internationally, notably by bringing their creative outlook to public spaces, and for promoting the Canadian design industry. Most recently in 2015, the firm was included in Wallpaper's Power 200 list, Business of Fashion BoF 500 list – an index of people shaping the global fashion industry, and were honoured at Fashion Group International's annual Night of Stars Gala.
At their New York office on Prince Street, SoHo, the duo chatted with darc's Editor Helen Fletcher on how the story began and the design firm's relationship with light…
It all started in 1972, when the two Ontario natives were brought to Ryerson University in Toronto, Canada for reasons that can be loosely linked to kismet. "I think we both had a similar view on going to school," recalls Glenn. "For me, I looked at this design school and thought… This looks like incredible fun! The course took more of an artistic approach than many others, I had the opportunity to leave a small town and head to a big city, it was such a great opportunity."
"I think I had the same 'directionless direction' as Glenn, in life when I was a little kid and I looked at the course and thought, wow no exams?" jokes George. "The greatest thing about the course was that in the first year they didn't teach you any sort of design philosophy, you were left to explore… For me it was about picking up a camera and I chose to concentrate on photography and film making, which were both all about light; the various exposure to the different pieces of equipment to express ideas and communicate, was one of the first instances where I became aware of light.
"When I was lighting these movies with a little Super 8 camera there was something physical to consider, it was my first experience of learning about lighting and its potency."
Post university,  the pair found themselves individually working from home, both doing their own thing and looking for studio space – good timing all round it would seem!
"We ended up finding a space together and ultimately, ended up working on each others' projects," says Glenn, "and it eventually turned into a company. We were doing little things such as coffee shops, shoe stores and so on… We were kids playing to be honest, it was about a passion for creating things and of course the projects got bigger and better as time went on. It was like a snowball that turned into an avalanche!"
And that, was when the call from Taiwan came… "We didn't know where the interest had come from and even had to look Taiwan up on a map having not travelled such a distance before," continues Glenn. "The client had seen some of our work published in Japan and wanted us to design their store. So they flew us over – I remember thinking the flight would never end! This move catepulted our career in Asia."
"One of the great adventures of that huge retail project in Taiwan was that really, at the time, we didn't know what we were doing," admits George, "in terms of merchandising and so on then the lighting… We learned really quickly as we had to do it all and particularly as we had gone into the project as foreigners – they entrusted us with every aspect!"
"We were young and it was an adventure and we were kind of forced to create ways of working, systems and ideas / ways of designing because we didn't have any sort of background in it," adds Glenn. "We always had a great time doing the projects and we always focussed on the principles of our passion for making and creating things rather than the money, but at some point you have to look at being sustainable."
From here, Yabu Pushelberg's reputation went on to grow at a great pace, with projects including everything from a high end residential project in Canada for a prominent art collector, which ultimately led to a theatre project working with artist Frank Stella in New York, to the Bergdorf department store and from there a Carolina Herrera store, both also in New York.
Glenn recalls the moment the duo realised studio relocation was in order: "Canada is a beautiful place but we had a desire to move to New York. We had growing staff levels in Canada and it was a great setup but we got to a point where we decided to change our lives and opened a studio in New York.
"Of course it made no economical sense and it took a while to build up, but 40% of projects we were working on were outside Canada; today, we don't have any projects there."
It was however, important to both to continue with a base in Canada, with George adding: "From an emotional point of view it was important to stay there and also the talent pool we have is so great. We didn't want to let anyone go and it was all set up and with today's tools of communication it really hasn't been an issue."
Some of Yabu Pushelberg's most notable projects include the Park Hyatt New York in 2014, which offers unprecedented luxury in the heart of Midtown and is inspired by the idea of a well-appointed New York home, capturing the verve of New York City itself; FANCL Hong Kong flagship store in 2015, which was inspired by the union of nature and science through which the products are developed. The results define a real destination more compelling than the typical cosmetic shop, redefining expectations; then there is Ports 1961 Shanghai also completed in 2015, which was designed with careful consideration to reflect the transformation of the brand, while also serving as a destination for the discerning consumer.
With such prestigious projects under its belt, it's no surprise that the design practice has become well established in Asia, the Middle East, US and Canada. But more recently it has started to make its mark on Europe, with the Printemps Voile retail project, which completed in Paris in January 2016, testimony to this.
Yabu Pushelberg was challenged with the task of re-establishing the core of the iconic Printemps department store. Instead of relying on a cupola to draw the eye upwards, the new architecture of the space upends the notion of a traditional atrium.
A 'sail' effectively filling the void was devised along a parabolic curve, engaging visitors as the relationship with the physical space changes whether ascending or descending within its volume. Extending seven storeys through the centre of the store, the vertical, curvilinear arc was established as a visual devise, drawing shoppers upward.
The 'sail', a transparent perforated metal panel, was suspended in a parabolic curve opposite the escalators. Drawing inspiration from the original stained glass domes iconic to the store's 1865 architecture, the form is punctuated with the seemingly random, though highly studied placement of petal-shaped coloured dichroic glass pieces. Light, filtered from above, plays with the volume creating an ever-shifting, vivid statement. Back-painted one-way mirrored glass opposite the installation reflects pattern and light, producing a completely immersive expression of light and colour.
Describing himself as a 'closet lighting designer' for George, when working on a project, it is interesting to consider who will be using the space, or stay in the hotel, it's not just about the function of the space but how it appeals to someone.
"Maybe it's a component that's so seductive and can make the environment so seductive that you start realising even more so, the finer precision required for the lighting," he tells darc. "Using lighting to paint surfaces… That's one of the hardest things to explain to clients because it's not so tangible."
While Yabu Pushelberg does work with lighting designers on some projects – with the pair admiring the work of Isometrix's Arnold Chan in particular – they have their own, very specific views on how lighting should be. "For me the key elements are highs and lows," says George, "physically, I like lighting sources from different heights, not just from the ceiling or table lamps. I hate seeing the source of light – I don't want it glaring in people's eyes or hotspots when people are taking photographs.
"I learnt a lot from Arnold, particularly when we were invited to see the Richard Gluckman Picasso museum in Malaga. It was a building restoration project as well as an extension. Arnold painted it so romantically and almost, in some parts – such as Picasso's studio – perfect precision lighting, it had an air of evenness to it – it was magical! You couldn't tell straight away where the light was coming from, but you felt it.
"Later that evening at the gala event nearby Arnold had lined tents in black stretched fabric so the whole interior was black with white table cloths on tables of all different shapes and sizes," continues George. "In the middle of each table was a stainless steel mirrored tray and there were thousands of candles throughout the room, lit against the black interior. I think there were two giant antique chandeliers but that was the only artificial lighting… Everything was shimmering vertically all over the place and you didn't know where the horizon was. It was so simple but really stunning."
"That experience has given us inspiration for lighting a gallery space," adds Glenn. "We've not got round to doing one yet but when we do, we will have a very clear idea of how we want to do it. That museum and event was so architecturally beautiful and we feel that many of today's museums are way too expressive for the art and what's being exhibited there. We feel that if you can make something that's pure, clear and strong and still have a point of view through the lighting and the proportion of spaces, how you move through the space and so on, it's a much better approach."
Turning their thoughts to collaborations and product development, in terms of lighting at the time of writing (July 2016) Yabu Pushelberg were working with Czech manufacturer Lasvit on a huge bespoke crystal, measuring three-metres in height, for a Four Seasons Hotel in Kuwait.
"We started working on this project about a year ago," Glenn says, "we had this notion of doing the largest crystal possible hanging from the ceiling, projecting light onto it so it splashes on the floor and so on because we have this crazy, triple height space to play with.
"Lasvit is making the crystal in pieces… I think we're going to be working with them a lot more moving forward on some more experimental stuff. They've got a great energy and strive for creating new things, coupled with all the history behind them."
Another lighting brand of interest to Yabu Pushelberg, is Rich Brilliant Willing, based much closer to home in Brooklyn, New York.
"They do some great bespoke stuff," continues Glenn. "It's really clean, well crafted, honest, simple lighting that has a presence about it when you want it and doesn't when you don't need it as much, they do some really nice work."
The design duo are also working on their own exclusive range of lighting, which when speaking with darc, they were hopeful of launching during Milan Design Week in the not so distant future. "We're looking at bringing lighting design in house more and more," Glenn explains. "There are some really good lighting designers out there but they are really busy. Plus George has such great sensitivity to light and lighting that we might as well do it ourselves."
Alongside these lighting desires, moving forward for Yabu Pushelberg, the future continues to look bright, particularly as they advance their position in Europe. "Before you know it, people are going to be looking at us and saying 'Oh, I thought they were an interior design firm… but look, they're doing all of this wonderful product'. We feel the industry will see a big shift come 2017. We like to be influencers in projects and one of our ambitions is to influence all of the peripheral things around us. What is the music? What kind of restaurant is it? What uniform are the staff wearing? That's what is interesting to us… It's about creating the full package, providing the complete product. It's more fun, it's better and creates more variety."