Goddard Littlefair wins RBDA Hotel Category award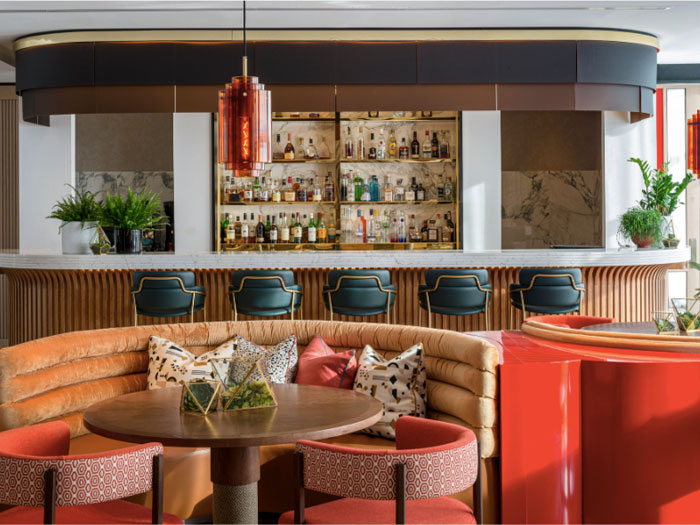 (UK) – London-based interior design house, Goddard Littlefair project The River Restaurant at The Lowry, is the winner of the 2020 Restaurant & Bar Design Awards – Hotel Category.
Goddard Littlefair redesigned the iconic Manchester hot spot The Lowry Hotel, its restaurant and The Lowry Lounge and Bar. The The River Restaurant boasts not only bespoke, chic and luxury interiors but also outstanding locally sourced seasonal food.
Geometric influences come from the very recognisable bridge over the River Irwell, while the playful, soft hued colour pallet comes from the vibrant musical heritage of the city. This complete renovation has been carried out by weaving two essential characteristics into every aspect of the change, luxury and contemporary.
The architectural approach taken by Goddard Littlefair was to create completely bespoke furniture and fittings for the space, while deploying a playful yet elegant colour pallet. The space features exemplary fitted joinery, creating a series of distinct but linked spaces, which has completely reconfigured the space. A grand centralised marble top bar is the focus of the room; the slatted screen design of the bar allows, segments of it to be closed down to make a private event that much more special.
But it is the colours and lighting used, which brings the space together – from bright burnt oranges and reds to calming greens and blues, all picked up and accentuated by the stunning artwork in the space. The bespoke glass lighting is the final touch that not only brings warmth and vibrance in the day but also creates a moody yet sophisticated atmosphere in the evenings.