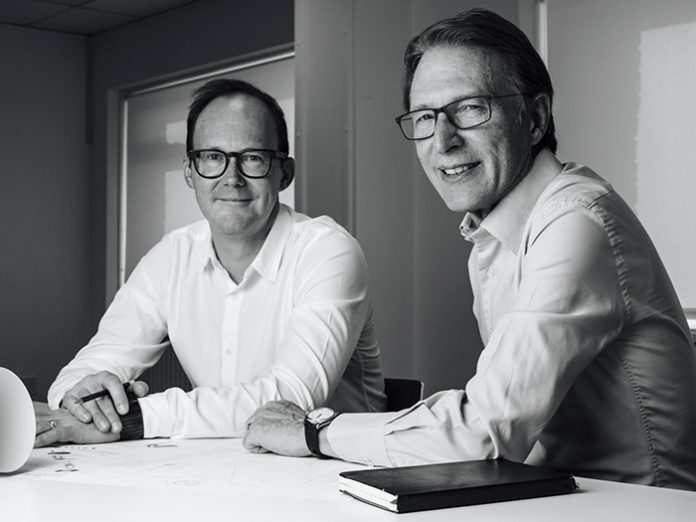 UK product designers John Fearon and James Bassant have 20 years experience in designing for the hotel market. With specialist knowledge of bathroom lighting, here, they share their expertise on how to 'get it right'.
With a shared commitment to British lighting design, John Fearon and James Bassant are passionate about quality and precision and while their company Astro Lighting may have been born out of Bassant's damp and gloomy basement, today it stands 20 years in the industry, working to the creative ethos of its founders – that good design demands simplicity.
With experience of providing lighting to spaces across every sector, Fearon and Bassant understand well the importance of lighting within the hotel sector and specialise in bathroom lighting in particular. As one of the most underserviced areas of lighting, hotel bathrooms can often be poorly lit. An integral element of a guest's stay, this experience can greatly affect the perception of a hotel and the consideration it puts into a guest's comfort.
"No one was taking bathroom lighting on when we started out, but in 2000 new regulations for electrical equipment in bathrooms were introduced, so we went into it in a big way and as such gained a bit of a reputation in that area," says Fearon. "As we got more involved in bathroom lighting we began designing for other areas of hotels; we've become particularly well known for our reading lights in fact."
At the heart of a hotel's focus is the guest experience – lighting plays a huge part in the way someone experiences any space they enter, especially an unfamiliar one. When people go to hotels, they're looking for a home away from home experience a lot of the time. They want instant relaxation in a space to rest and recharge with a good night's sleep.
"Lighting makes an enormous difference to the mood and ambience of a space, particularly as it gets dark," says Bassant. "It makes an enormous difference to how you feel and how you occupy the space. Of course you have to have nice furniture, a nice location and a view, but some of these things – such as a view – you can't do anything about. You can do something about the lighting, and it's important to make the most of that choice."
"You've only got to see how much trouble hotels go through to get the lighting right," adds Fearon. "They do a mock up room with the bedding and everything, but if the lighting looks horrible at this stage, then everything will look horrible. These days, you get a lot of functionality in a high-end hotel. There are so many different types of lighting that you can adjust and set to whatever levels you want. It's really so much more than just a light in the middle of the room."
Each individual hotel requires a different type of lighting design and specification of product to reflect its personality, and often its size. Despite these differences, the importance of lighting remains integral as Fearon explains: "Boutique hotels tend to be more quirky, more personalised. As such, they often use vintage and industrial inspired lighting. I think typically by the side of the bed, you won't get the decorative table light you might get in a big hotel, but you might get something like a task light either side of the bed."
One of the most important differences between hotel and residential or retail lighting is scale. This is something the design duo latched on to in their early years, but as they have moved more into hotels, realised that as scale increased, the lights needed to feel more substantial to match.
"You almost couldn't go too big," says Fearon. "It's what makes the room and the lighting feel different to what you have at home. So I think with independent boutique style hotels, people see the lighting and it makes them realise they could do the same at home."
As part of this process, the techniques of lighting designers in hotels are transferring across to domestic use. "In bathrooms, people are going for two statement pieces either side of a mirror, which makes a big difference," says Bassant. "It's about scale, drama and theatre, and transferring that over to domestic spaces. It might be easier to put a simple backlit mirror in, but when you go to a boutique hotel, or five-star hotel, they don't do that at all. They will have a really nice light either side of the mirror to give good illumination on the face, while keeping the design stylish.
"I think a lot of architects are guilty of taking the easier option of only using recessed down lighting because it looks great on the plan, but actually it doesn't offer very good illumination in the bathroom because it's rather flat. When the light is bad, it make you look about ten years older than you actually are by casting shadows under your eyes, nose and chin. If you put a light either side of the mirror, you get nice even illumination, and you look how you actually look."
With Bassant and Fearon's wealth of experience in the industry, they have also seen decorative lighting trends within hotels change over the years, becoming more sophisticated with an increase in quality. Switches either side of the bed have become more prevalent, while an increase in LED lighting suggests that hotels are prepared to take lighting more seriously with appropriate budgets. They are recognising how it enhances the space and the guest experience, while giving them an edge over competitors who do not consider it an essential feature.
"Lighting scheme designers are relatively new," said Bassant. "It's quite a big business now, whereas before you might have gone into an old fashioned hotel with nothing particularly creative. Now there's a stand alone designer who just concentrates on lighting working with an interior designer doing the colour scheme and fabrics to make sure these elements come together properly. I think that says a lot in itself."
A particular trend that has found its way to the forefront of lighting design in hotels is the use of dimmability and colour change, in tune with circadian rhythm.
Fearon explains: "First thing in the morning, you have a whiter, nearly blue light, to wake you up and stimulate. During the day, as it reaches evening, it starts to draw back to a redder spectrum, and as you get closer and closer to bedtime, the light reaches a deeper and deeper red. It tunes in to the circadian rhythm in the body to be ready for sleep. When you're staying in hotels and flying through time zones but your body is fighting against you, the lighting can work to trick your body into thinking it's a different time of day. I think that's going to catch on more and more."
In terms of decorative fixtures in hotels, we're seeing a wider variety of different finishes, with matte gold taking first place. According to Fearon: "People want drama and scale. Big antique brass finishes as well as matte brass, are things we're seeing a lot of. Once upon a time we could have just done chrome for hotel bathroom lighting but now we're doing black, white, chrome, nickel, brushes, stainless steels, copper, matte gold and antique gold! I think people just want to be different. It may take a while to get used to, but people want options."
From a technical point of view, an awful lot of time is now spent converting popular lines to LED. "LED is lighting nowadays," says Bassant. "Pretty much everything we have, we do an LED version of, and that's important. We need to keep going in this direction, as well as continuing to provide people with choices and versatility."
Through a combination of chance encounters and an unwavering dedication to succeed, Bassant and Fearon have built their reputation into what it is today – having started in a basement with two desks and a phone line, into leading designers of decorative lighting products that light up spaces all over the world. Their products provide hotels with the variety and choice they seek in working to satisfy guests, rendering decorative lighting an integral character in the guests' stories of their time spent in a home away from home.