Haveli Restaurant, Germany
The Haveli Restaurant, opened last spring in Kiel, Germany, offers an interesting experience of Indian food and wine culture, proposing an ambitious menu à la carte that reinterprets traditional food with modern cooking and service methods.
The restaurant is housed inside the Portwich Villa, a residence built in the late nineteenth century and recently renovated, at 100 Holtenhauer Strasse, a renowned address, located in one of the most famous shopping streets in the city.
The atmosphere of the Haveli Restaurant is inspired by the intense colour of curry spice: the flavour of the main ingredient of Indian cuisine 'explodes' in the dish recipes, while its colour is the recurring theme of all details in the interior's decoration and furnishings, featuring a skilful minimalist style.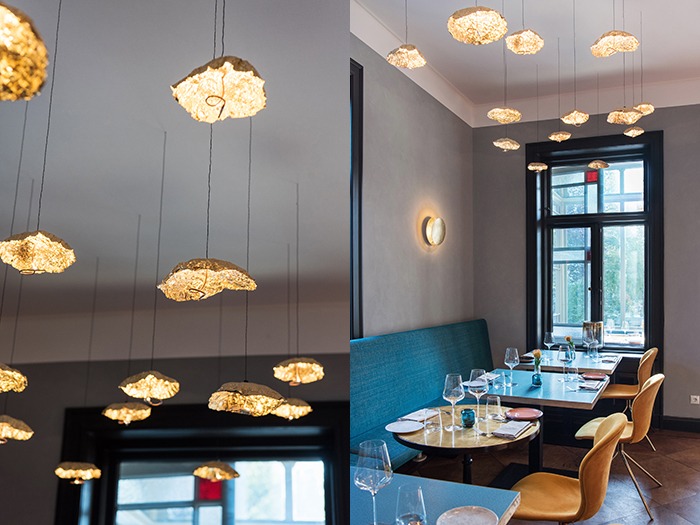 The lamps made by Catellani & Smith immediately appeared as the ideal choice for the restaurant's lighting scheme, perfectly meeting the concept of the project. The gold-coloured leaf finish, which warms the ambience and adds a touch of preciousness to the rooms, has been chosen for all the lamps selected for the location – Gold Moon and Lederam W – to enhance the vivid ochre colour of the chairs.
The Gold Moon composition fills the rooms of the restaurant with light, thanks to its golden discs with irregular surface, which hold precious copper curls and tiny LEDs.
On the walls, a series of Lederam W lamps diffuse golden lighting effects around their discs: they are made of two aluminium overlapping discs: one is fixed to the wall and the other can swivel, to modulate the lighting produced by a LED module hidden between the two discs.