HD Expo + Conference set to go ahead in August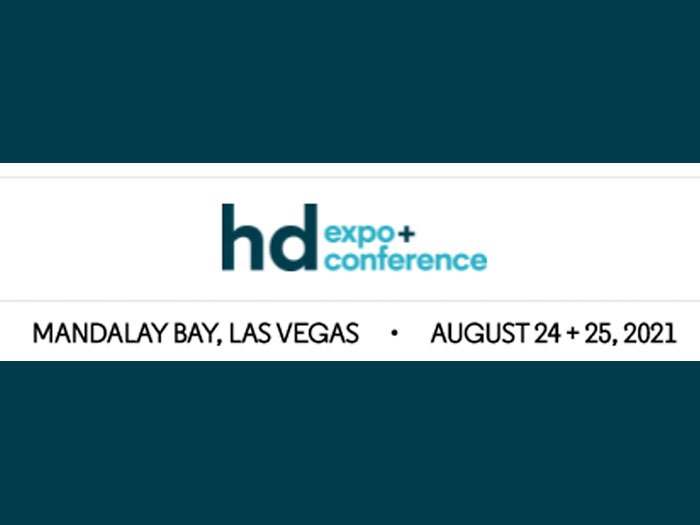 (USA) – HD Expo + Conference is set to return to the Mandalay Bay Convention Center in Las Vegas on August 24 and 25 after the cancellation of its 2020 event.
Now in its 30th year, HD Expo + Conference attendees annually come together to see the launch of innovative products and resources, and to stay on top of industry news and trends through thought-provoking conference programming curated by Hospitality Design (HD) magazine.
"After having to cancel last year's show, and then postpone this year's from May till August, we can't wait to finally bring the industry we love back together for two days of education, networking, and inspiration," says Stacy Shoemaker Rauen, editor in chief of HD magazine, and SVP, Design Group, Emerald. "We want this to be a celebration of the great design and innovation and resiliency that has continued, despite the challenges we faced over the past year."
"We're excited to get back to business, safely. For those who have attended in the past, yes—the show will be a bit smaller. What won't be different is the strength of the connections made, the innovative products discovered, or the depth of insight and experiences shared. It's going to be everything the hospitality design industry is about—community, networking, discovery, and encouragement," added Kevin Gaffney, Group Show Director, and Vice President, Emerald.
HD Expo + Conference will debut several new activations, serve as the launch event for hundreds of product manufacturers, and feature a robust lineup of industry veterans, thought leaders, and ones to watch in nearly 30 conference sessions. HD Park, inspired by the industry's many immersive outdoor experiences, will host all CEU-accredited conference sessions with brand updates and deep dives into new hybrid concepts, while talks at the DesignWell Pavilion will explore the ever-evolving wellness industry in a desert oasis-inspired space crafted by BHDM Design.
The adventure will continue from 2019 for Hilton and HD's The Box design competition, where the winning indoor-outdoor concept by Urban Robot Associates will be previewed in a VR-led installation until the full concept is realised in 2022. And finally, the HD Social Hub will return with an elegant design by 21c Museum Hotels and feature intimate in-depth conversations throughout the day on wide-ranging and top-of-mind subjects from the business of design to a purchaser roundtable.
Featured conversations include tennis star and founder of V Starr Interiors at the DesignWell Pavilion. The most recent guest editor of HD, she will dive into the importance of wellness and community, sharing her goals and ideals that help transcend barriers. Todd-Avery Lenahan, president and chief creative officer of Wynn Design + Development, and Steve Wilson, founder, 21c Museum Hotels, will headline the Social Hub, diving into the new chapter for Wynn, and the art of design, respectively.