Holloways of Ludlow opens new showroom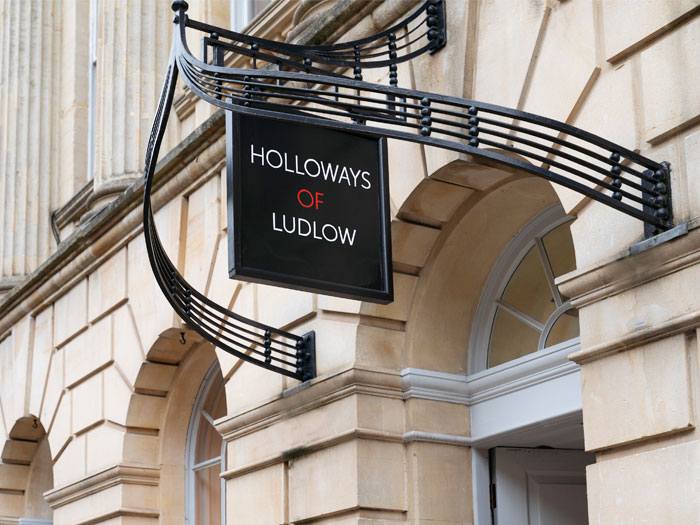 (UK) – British lighting and furniture retailer Holloways of Ludlow has opened its largest store yet in Bath, building on the success of its established showroom network in London and Kent.
Located on Milsom Street in one of the city's busiest shopping districts, the new store brings together some of the best European and Scandinavian modern designs, spanning 20th Century iconic pieces to future classics.
Set over two floors of a former bank measuring over 4,000sqft, and complete with the high-ceilings and original plasterwork typical of Bath's Georgian buildings, the new outpost from Holloways of Ludlow provides a striking backdrop for a curated selection of contemporary lighting and furniture. International brands featured range from Northern, B&B Italia, Cassina, Carl Hansen & Søn, Gubi, Hay, &Tradition and Finn Juhl among others.
While lighting installations from the likes of Bocci and Moooi are dispersed throughout the building, the ground floor of the store also sees a dedicated lighting area showcasing both established and independent manufacturers; from Flos and Louis Poulsen to Buster + Punch and Tala.
A new design destination for Bath and neighbouring regions in the southwest of England, this latest store from Holloways of Ludlow offers local customers the opportunity to browse its comprehensive collections in person and seek advice from its experienced showroom team. The Bath opening also coincides with the relaunch of Holloways of Ludlow's website later this Spring. The revamped site – designed to deliver an enhanced shopping experience – will feature an online shop for consumers, and a new dedicated platform with improved tools and functionality for interior designers, design studios, architects and specifiers.
As part of its Bath launch, Holloways of Ludlow has introduced a whole host of new furniture, home accessories and lighting in-store. Showcased in the UK for the first time, the 2022 collections feature brands including Carl Hansen & Søn, Hay and Northern, in line with the British retailer's long-standing commitment to championing design innovation from Scandinavia and the Nordic countries.
Meanwhile, the showroom is also playing host to the first UK showcase of contemporary works by Danish artist Carsten Beck. Represented internationally in Milan and New York, Beck's work is characterised by bold geometric colour and monumental works in black and white, drawing inspiration from concrete art – a form based on a simple non-figurative idiom and clean lines and popularised in the mid-20th Century. Oil paintings by the artist, created exclusively for Holloways of Ludlow, are on display in the unique setting of the store among its extensive range of furniture and home accessories. The displayed works are limited-edition and available to buy via the retailer only.
Mark Holloway comments: "Our digital platform has been an important part of our business for almost 20 years. We continue to invest in it significantly, including our soon-to-be-relaunched website. However, we believe hugely in showrooms and know that our customers still want to touch and feel our products and interact with our team of experts in person."
He adds: "One thing that we've increasingly noticed among customers is the desire to shop locally. Most of the UK has been underserved with high-end design furniture; our approach is about bringing great design closer to home. With our Bath store opening, we see the opportunity to connect with a growing customer base in the area and around Bristol, the southwest and the Cotswolds.
"Ultimately, we want to offer our customers multiple touchpoints and make it easier for them to shop with us – whenever and wherever they want. We're delighted to bring our unique brand experience to Bath."
Artist Carsten Beck comments: "I'm excited to be bringing my works to Holloways of Ludlow this Spring. Being part of the interactive experience between art and design is something that fascinates me. For me, exploring simplicity in concrete art and in furniture design are not that far from each other – it's all about the simple details, form and function."
Beck adds: "I'm interested in interacting with shapes and enabling them to interact closely with movement and composition of the elements. And if you look at design, it is the same movement too."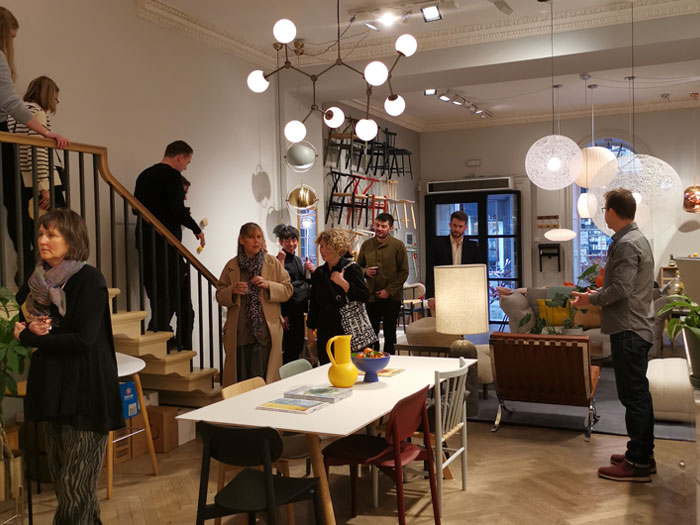 On 2 March, 2022, darc's Editor Sarah Cullen was invited to the official press launch of the showroom, which included a guided walk through of some of the outstanding pieces on display by CEO Mark Holloway, as well as comments from Daniel Kring Belert, COO of Northern, and Ove Rogne, CEO of Northern.
When asked how the business has weathered the last couple of years during the international pandemic, Holloway comments: "Like all businesses, things have been tough. Fortunately, we already had a comprehensive website and so, when we had to close our stores, customers were still able to shop online. 
"We were also fortunate to be in the interiors sector. With everyone working from home many customers used the opportunity to update their living spaces, home offices and gardens. It would, of course, have been preferable to keep our stores open but things could have been worse. 
"It is, however, a huge relief to be back open. We passionately believe in the value of real stores where customers can touch, feel and try products before buying. Customers can also look to our well trained staff for design advice, whether it be a technical lighting query or fabric advice for a sofa."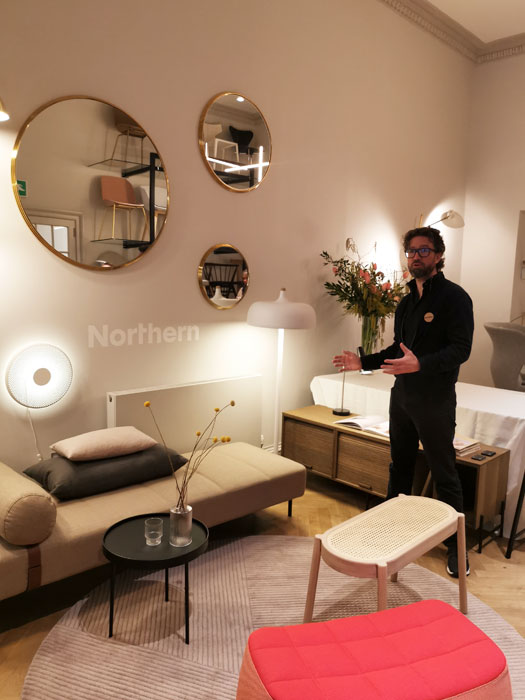 With regards to the UK's national lockdowns, darc asked if Holloway had witnessed a change in customer behaviours? "Definitely. Our customers are craving in-person interaction having spent so much time at home over the past of years. I believe that if you're making a big purchase, like a sofa, you want to try it, see fabric samples and ask our staff questions in person. My approach is always about having great design closer to home. 
"Previously, if you lived in Bath, you would have to travel to London to see top brands such as Flos, Bocci, B&B Italia and Carl Hansen & Son. Now these, plus over 400 other leading brands and designers, are available in the centre of Bath. In my view, this is better for the customer and better for the environment."
During his walkthrough of the new showroom, Holloway mentioned the importance of selecting the right products for the new showroom's location. He says: "For us, understanding our customers is crucial to our success. For instance, in Bath, we know that there's a strong appetite for high-end Scandinavian designs having seen the success of our predecessor, the HAY store – whose full range is still available in our Bath showroom. The local Georgian architecture, with high ceilings and the pared down aesthetic perfected by the likes of Nash and Wood, also provides the perfect setting for minimalistic, modern designs. Our Bath customer is design savvy and well-travelled, hence we have introduced brands such as David Trubridge from New Zealand, Nuura from Denmark, Marset from Spain, and Northern from Norway. 
"All of our brands are available in every store, but we allow the local architecture and customers to help shape what we display and how the showroom looks. 
"Our new store in Winchester is a far cry from the Georgian elegance of Bath. A 1960s building, it is much more industrial with concrete columns and a steel staircase. It's going to look amazing when it opens in April 2022. Whilst the core range remains the same, the showroom will also feature more industrial-looking pieces from brands including Buster & Punch, Jielde and Vitra."