Holloways of Ludlow to showcase Delight in Light finalists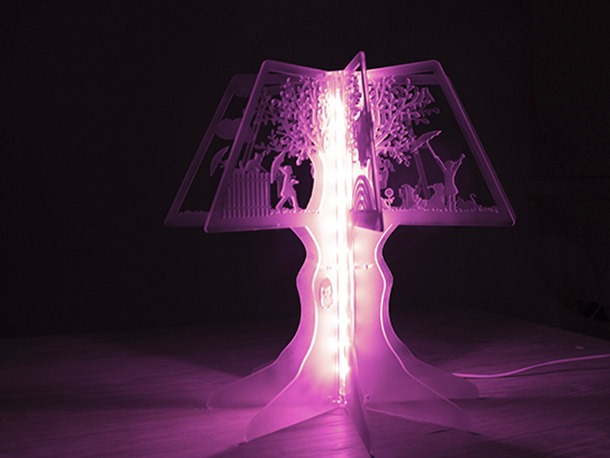 (UK) – 'Holloways of Ludlow' will mark its 30th anniversary in March 2015 with five finalist lighting designs from 'Delight in Light' 2014.
A national student competition organised by Lighting Industry Association, the finalist designs will be displayed in the window of Holloways of Ludlow's contemporary showroom, located at 115 Shepherds Bush Road, and will be profiled on the Holloways of Ludlow website.
Alison Smith, BA (Hons) Decorative Arts graduate from Nottingham Trent University was one of the final four designers with her 'Geometric Pendants' range, designed for bespoke city interiors. Inspired by the concept of perspective from exterior architecture and how structure and form play an important role through city buildings, they are ideally displayed as a cluster of five to make one focal piece in public spaces, eliciting connotations of beauty, power and strength.
Becky Creed, Contemporary Crafts graduate from Falmouth University handmade her 'Turned Paper Lighting' collection of lighting solutions made from paper and cardboard. Becky used hundreds of sheets of recycled and hand dyed paper, layered and laminated to make a solid material that could be shaped and turned into pendant lights or lamp bases. Becky's use of recycled materials replaces what would commonly be wood, metal, plastic or ceramic in the lighting industry.
Kate Caven,  BA (Hons) Product Design Student from Edinburgh Napier University designed 'Fortryllet', a mood light made from sand blasted acrylic components arranged in a 360º traditional lamp form. 'Fortryllet' provides the user with a positive experience through the use of colours and the hidden story seen within the eight scenes that are linked together with three easy to assemble clips.
Andrea Vargas, an MA Art and Design Practice Student from Bucks New University, will present her 'Corde' chandelier. The sustainable design, a play on the traditional chandelier, is made from an upcycled climbing rope that has been cut and had wire inserted in it before being hardened to the desired chandelier-inspired shape, and features five LED bulbs.
Finally, Oliver Hammond, a BA Furniture and Product Design student from Nottingham Trent University will display his table lamp design 'Mantis', using a tie-off system on the cord to provide variable angles of light dependent on the task or atmosphere. Inspired by modern architecture, the Mantis lamp has a textured surface with a contrasting walnut and brass structure.