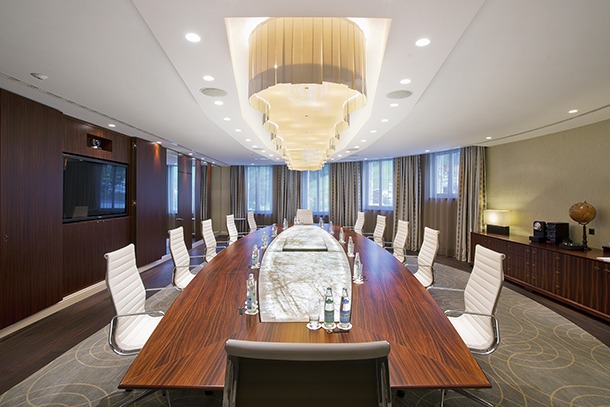 Perched 1000 metres up, atop Mount Bürgenstock, the Hotel Villa Honegg boasts some of the most majestic views in Switzerland. Built in 1905 in the rare Scandanavian 'Gustavian' style, the five-storey chalet style hotel recently completed an extensive refurbishment by Jestico + Whiles, delivering a fresh look for its suites, guest rooms and communal spaces.
The design team were drawn by the golden light that porcelain casts over an interior and commissioned Boatswain Lighting to produce a series of chandeliers for the hotel's lounge and board room. They chose a two-tier Drum chandelier with long vertical filaments that juxtapose the diagonals of the shelves. As a place of relaxation, the lounge suited the subtle tones of warm light that a porcelain piece provides. Even when not illuminated the chandelier's ivory ceramic blends well with the colour scheme.
Inspired by a Boatswain installation at the Lutyens Restaurant in London, the design team decided to use a further piece in the Hotel's board room. Despite an established reputation for lighting restaurants and convivial leisure spaces, this was the first time one of Boatswain's designs had been used in a business meeting room setting. Their Nuage light feature softened the metal and marble and added an important ingredient of hospitality to formal surroundings.
As Boatswain Lighting's General Manager Jason Boatswain notes, the pieces chosen proved the perfect bridge between traditional and contemporary design aesthetics. "The Hotel Villa Honegg was envisaged as a luxurious private retreat, a place you can escape modern life without leaving modernity behind," he says. "The contemporary porcelain design offered the ideal tone of light with a style that proved easily compatible with the rejuvenated interior."