ICFF + Wanted Design a success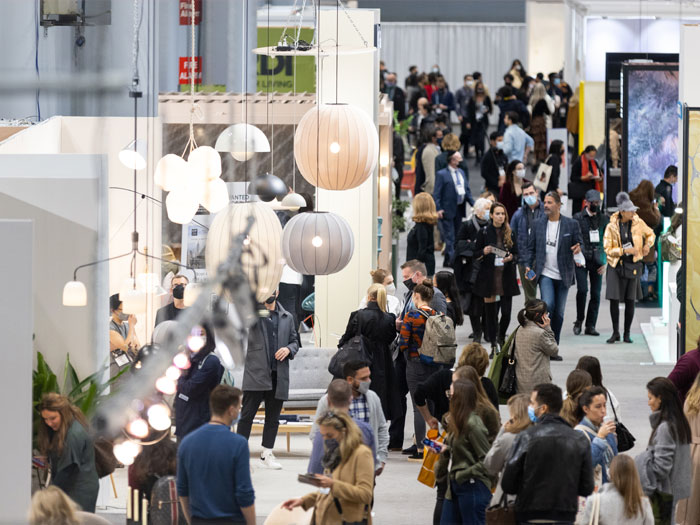 (USA) – ICFF, one of North America's leading platform for contemporary furnishing design, and WantedDesign Manhattan, a trade event for high-end North American studios and international emerging designers, wrapped up their first in-person and co-located event on November 14-15, 2021, to positive acclaim from exhibitors, editors and the trade community alike.
Together the two trade fairs welcomed 230 established and emerging design brands from 19 countries, all featuring new, innovative and design-driven products for the residential, contract and hospitality markets—including furniture, lighting, kitchen and bath, textiles, seating, wallcoverings, carpet and flooring, accessories and materials.

"After a 30-month hiatus, it was gratifying to come together again in person to experience the new designs our industry has been producing behind the curtain, and to celebrate the perseverance of the community," says Phil Robinson, Show Director, ICFF.
WantedDesign co-founders Odile Hainaut and Claire Pijoulat add: "For WantedDesign Manhattan, bringing the show from our original venue to the Javits with the same creativity, energy and welcoming experience, while focusing on emerging design to complement what ICFF offers, was our main goal. We knew it was a challenge, especially in today's context, and we are thrilled with the results. We see the importance of in-person shows and the potential for making ICFF + WantedDesign Manhattan the No. 1 destination for the design industry. We look forward to May 2022!"

Combined, the two design fairs brought more than 4,000 architects, interior designers and contemporary retailers to the Javits Center in New York. By co-locating with the 2021 BDNY trade fair, one of the leading shows for the hospitality design industry, that number tops 9,700.
Some of the highlights of the show included conversations with leading industry and rising stars alike – from Ini Archibong and Dror Benshetrit to the Emerging Designers Showcase – throughout the two days at the ICFF+WantedDesign Manhattan Talks and the Float Studiodesigned lounge.

WantedDesign's Launch Pad, a platform for emerging designers to showcase new concepts and prototypes presented with media partner Design Milk and sponsored by American Standard, announced its 2021 winners: Echo Zhan for Lighting and Tomma
Bloom for Furniture/Accessories.
A jury of celebrated design editors honoured 13 standouts for the ICFF Editors Awards, including Opiary for Best in Show.
Bandido won in the Lighting category.

Next year, ICFF and WantedDesign Manhattan will take place May 14-16, 2022. The ICFF+WantedDesign Manhattan Opening Night Party will be held on Saturday, May 14, at the Javits Overlook. ICFF will continue its 16-year partnership with Bernhardt Design to bring the next generation of emerging talent to the forefront through the juried ICFF Studio competition.

WantedDesign Manhattan will bring back Look Book, a dedicated programme for high-end North American designers, makers, and studios that serves as an in-person portfolio for the A&D community, and Launch Pad, an outstanding international platform for emerging designers that introduces new concepts and showcases prototypes of furniture, home accessories, and lighting.

ICFF+WantedDesign Manhattan Talks will continue in 2022 with a lineup of panel sessions, keynote presentations and intimate conversations to provide critical context for how to stay ahead in the residential and commercial design spheres.
The ICFF Editors Awards will be back to celebrate the best products across both ICFF and WantedDesign Manhattan.
In the meantime, ICFF.com will continue to be a year-round resource for design news, projects, products and inspiration.