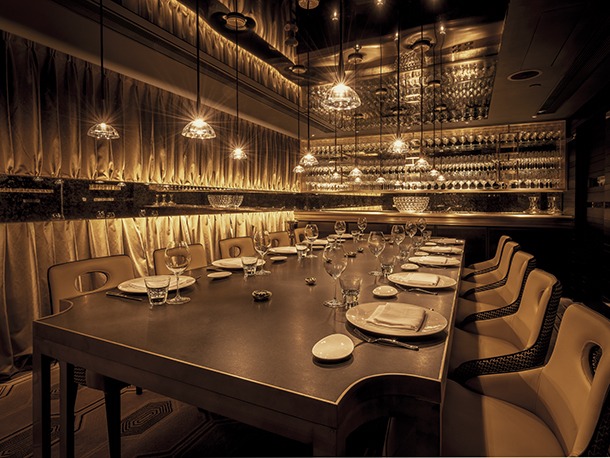 Il Milione in Hong Kong is the first Asian venture from Michelin-starred chef Marco Gubbiotti. Operators the Savors Group wanted to create a chic, elegant setting befitting Gubbiotti's high-class Italian cuisine and so turned to UK-based designLSM to produce interior design and brand identity for the new restaurant space. Associate, Anne Rhind and Architectural Director Simon Spiteri headed up the designLSM team, creating a luxurious theatrical scheme.
Diners enter the venue through a grand, golden doorway before climbing a narrow stairway towards the main dining room. On the way, they pass an intermediate level space that accommodates an informal bar area.
The main room is a windowless space that receives very limited levels of natural light. This, coupled with a low, fixed ceiling height, meant a number of visual tricks were required to ensure the space felt cosy, rather than confined. As part of this process, designLSM contacted Into Lighting for help bringing their designs to life.
The lighting design creates layers of warm white light that glows from concealed architectural details and from bespoke 'halo' feature fixtures.
The halo pieces cover the entire ceiling of the main room. Each comprises a shallow bowl shape, designed by designLSM and manufactured in China. Flexible Luci-Led strips, specified by Into, sit within each piece, concealed by a circular mirrored panel that helps to create the illusion of an increased ceiling height.
Into specified a DMX dimming control system from Lutron to ensure all LED lighting could be brighter during lunch service and then smoothly dimmed to a very low level in the evening.
Between the ceiling halos, surface mounted, low-glare fittings from Precision illuminate the dining tables. Long snoot and honeycomb louvre accessories ensure minimal glare, even when lighting tables at an angle.
To complement the circular ceiling pieces, Into drafted in UK-based luminaire producer Enigma Lighting to realise a series of decorative fixtures in line with designs by designLSM. Into provided the technical specification for these bespoke fittings with Enigma then developing the most suitable manufacturing techniques.
As well as delivering all pieces on budget and within the project's tight lead time, Enigma had to ensure they were robust enough to survive the journey from the UK to Hong Kong, so specially designed timber packaging was developed to remove the risk of damage in transit.
The first of these pieces sits at one end of the restaurant bar. A steel framework with a powder coated gold finish supports a black dupion silk shade with gold silk lining. This structure is echoed and inverted in the design of three ceiling pieces that hang at the bar's other end, though this time the frame is used to hold incandescent architectural tube lamps.
Within the main room, a line of custom brass lamp holders fitted with traditional-style filament bulbs hang above the server counter. Their twisted braid silk flexes provide a luxurious, period finish.
In one narrow section of the restaurant, a line of Artek Golden Bell A330s were used. These classic pendants in ring polished brass were originally designed by Alvar Aalto in 1954 and blend seemlessly into the rich, retro-inflected interior scheme.
The restaurant's private dining room features Swarovski Sinar 100MM pendants. The precise faceting of the Sinar crystal reflector ensures light is distributed evenly below, while throwing scattered bands of light out around its edge.
As Spiteri notes, the high-end finish of Il Milione is particularly impressive given the international scope of the project and the difficulties posed by such a restrictive location.
"Overall, the project is a testament to the careful attention to detail given at site level and despite the challenges, the project has turned out beautifully and beyond everyone's expectations," he concludes.