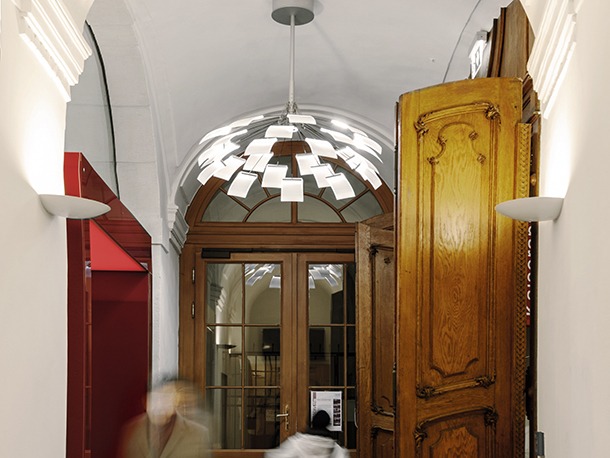 Denise Hachinger of neonwhite design is the designer behind the LC 1.0 chandelier in which the classic roots of the Hofburg Imperial Palace meet modern influences. Located at the entrance to Sisi Museum, the Imperial Apartments and the Silver Collection, all part of the Hofburg Imperial Palace complex in Vienna, the chandelier appeases the space with each piece unique – from the coating of the light surfaces to the colour of the frame and LED lights.
The chandelier adds space to the Hofburg's entrance by drawing up light with the spaces between each piece of the chandelier. The translucent medium allows the large chandelier to make a statement without invading the entrance, reflecting off and complementing the light ceiling and arch way.
As the flagship product from neonwhite design's catalogue, LC 1.0 can transform from a contemporary, yet elegant chandelier into a discrete but efficient uplighting at the touch of a remote control. Handcrafted in Munich, Germany, the chandelier is available in different technical and aesthetic finishes and combines LED lights with award winning design and German technology.
Each element has been individually chosen and varied, with the length of the chandelier also specially adapted to the given ceiling height. With the aim of creating a versatile and transformative light, Hachinger designed LC 1.0 to be opened and closed freely, creating different lighting moods to suit different situations. Using the remote control, the light effect can produce the full spectrum – from focused lighting to full room lighting as required.
Adding to its versality, LC 1.0 is customisable with logos or engravings, coating with crystals or gold lead, through to colour lacquering and anodising, or chandelier pendants. LC 1.0 is both a work of art and a decorative item, using state-of-the-art lighting technology to create the chandelier's modifiable external shape to diversify its functionality.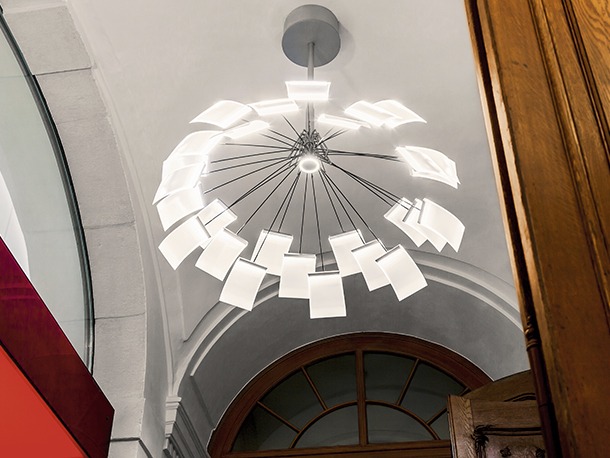 Ideal for lobbies, stairways and rooms with high ceilings in hotels, corporate headquarters, or restaurants, the LC 1.0 has been awarded several design prizes in Germany and Austria, including the German Design Award and the Prize of the State Salzburg.
All the features of the chandelier lend themselves naturally to the entrance space of the Hofburg Imperial Palace, shedding light on the history of Vienna, and lighting the way for guests to immerse themselves in the building's past.
Project Details: Hofburg Imperial Palace, Vienna, Austria
Client: Hofburg Imperial Palace
Lighting Design: Denise Hachinger, neonwhite design