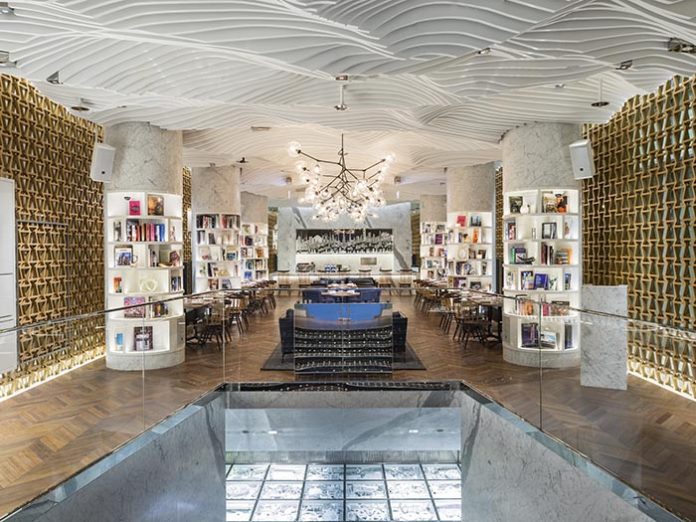 With bespoke lighting features from Lindsey Adelman incorporated into luxurious interior design by Masamichi Katayama, Intersect by Lexus brings an innovative new concept to Dubai.
Intersect by Lexus in Dubai's iconic DIFC, is the first of its kind outside of Tokyo, a unique luxury space where people can experience what is truly quintessential of Lexus without getting behind a steering wheel. Neither a dealership, nor a traditional retail space, guests are able to engage with Lexus through food, design, art, fashion, music and technology at its inviting eatery, curated library and innovative garage.
"Intersect by Lexus, is a unique, versatile and multipurpose space. Its inspiring décor and carefully curated library makes it the perfect place for people to work remotely amidst creative, like-minded people. It also serves as a destination to relax, meet friends, grab a healthy bite, or a post work drink without the fuss," explains Benjamin Nicholas, Head of Intersect by Lexus.
Masamichi Katayama, world-renowned interior designer and founder of the interior design firm Wonderwall, is the man behind the development of both the Tokyo and Dubai concepts. Based on the successful formula created for first Intersect by Lexus, the Dubai venue features some local touches that evoke the essence of the UAE through the beautiful white ceiling inspired by sand dunes.
"This project is not just about creating a restaurant but rather an environment," explains Katayama. "As an incubation platform generating new innovative ideas and concepts, it has been designed to capture the feeling of a lounge, allowing people with shared values to come together and interact in a relaxed yet inspiring atmosphere."
Intersect by Lexus is distinguished by an intricate bamboo façade that filters natural light through miniature spindle grille motifs, the same spindle grille that carries the new design direction of Lexus cars.
The first floor features a 1,850sqft eatery serving 'feel good cuisine' and a curated library featuring English, Arabic and Japanese literature specialising in design, art, architecture, film and travel. There is also the Crafted for Lexus boutique showcasing a collection of contemporary lifestyle items born out of a series of collaborations between traditional Japanese artisans and young designers.
Leading guests to the lower floor, a spindle grille-shaped staircase covered with hexagonal black and white tiles, resembling tire tracks, leads guest to the garage and event space. Uniquely designed with over 155 hand-painted Lexus car parts covered with reinforced glass that holds Lexus' newest concept cars, the space gives guests the ability to understand Lexus through a never before seen artistic lens.
Commenting on the use of lighting within the design of Intersect by Lexus, Katayama tells darc: "When we designed the first Intersect by Lexus in Tokyo, we chose pendant lighting to give an intimate feel, like a living room. In Dubai, I wanted to have this kind of intimate feeling on the upper floor so I asked the same designer, Lindsey Adelman, to design the perfect size lighting for this new space.
"Her lighting design is rich with elegance and craftsmanship and this connects to the Lexus brand. It is very important to choose the lighting that enhances the space's identity, rather than just being beautiful lighting on its own.
"With the help of a true professional the space became exactly how I had imagined it in my head," Katayama continues. "Working with good interior designers elevates the effect of the space. We also worked with lighting designer Masaki Yasuhara of Plus y lighting planning office, from an early stage, explaining what kind of lighting effect we wanted. He then explained how we could achieve it.
"The lighting at Intersect by Lexus brings depth and different expressions," says Katayama. "I'm often asked which material I would choose if I could pick one and I always say lighting."
Reflecting on the project, for Katayama his design intention was well expressed, was unique, beautiful and strong. "Each project is so different, nothing is ever the same. Here, the upper floor ceiling has a lighting system with the shape of desert dunes that is more like a sculpture," he says, "and the lower floor has a beautiful car-parts floor with lighting. These are stand out features for me and I believe this space has become a one of a kind."