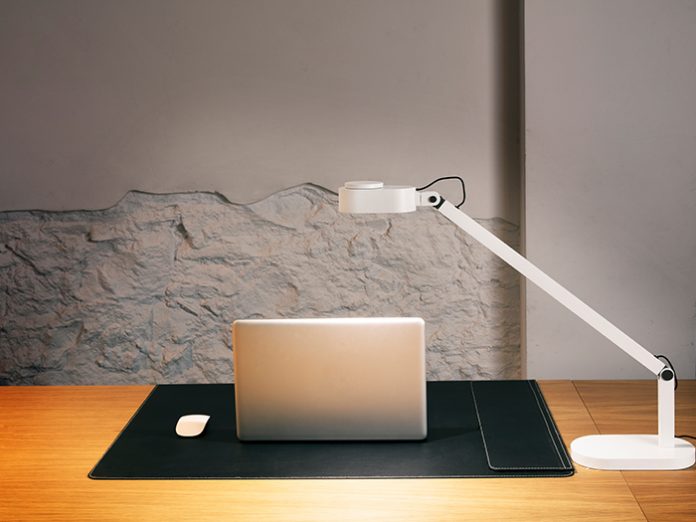 Winner of the iF Award, the German Design Award and the Red Dot Award, Faro Barcelona's Inviting task light is an individually controlled light that can be used in a professional environment but foremost in a domestic office setting.
Different tasks require different kinds of illumination and also require different work zones, whether the kitchen table, sofa or the bed. You shouldn't have to sacrifice light quality. As such, Faro started looking at how to accommodate different user needs and especially how to get people to actually interact with, and change the light to suit their own needs.
The designers behind Inviting, Johan Bohman and Isak Folenius, speak exclusively to darc about the product's concept: "We wanted to create a family of lights that could provide high-quality task lighting for both a conventional workplace and a home office. We also wanted to give the user the possibility of choosing between different light depending on their current mood and needs. For the user to interact with the lamp in such a way we tried to make the interaction playful and 'inviting'; but at the same time, it was important for us to achieve a consistent interaction within the family.
"We first stated working on the concept in 2016 before refining the design in 2017 when we compiled a family to be shown in Milan. Faro Barcelona took over the production work and made it ready for market and it was fully introduced towards the end of 2018.
"The design process was a very hands-on approach. We played around with different kinds of LEDs, testing and exploring light and interaction through mock-ups made out of cardboard, paper, wood and already existing mechanical parts.
"When we found a way in which to achieve this, we started playing a lot with the proportions of the main interaction point – the circular knob. A lot of creative process focused on detailing the artefact so it would fit peoples' homes, both aesthetically and functionally. The main material used is cast and machined aluminium with a powder coated surface treatment in white, black, metallic grey and yellow and for the joints we used plastic."
For Bohman and Folenius the biggest challenge with this project came down to timings as it had to be ready for Faro's upcoming catalogue at the end of 2018; this meant going from a working prototype to final product in six months. "As well as this, trying to fit all the electronics inside the head, without increasing the size and then still getting a smooth sliding and rotating feeling of the knob was a big hurdle," they tell darc. "Let's put it this way, there was a bunch of cables in there for the first prototype!"
Asked to describe Inviting in three words, the designers respond: "Playful, Scandinavian and Human-Centric."