James Bassant and Riley Sanders
The Capsule Collection from Astro Lighting is a trio of limited-edition designs that aim to transcend seasons and trends, by being functional yet beautiful. Focused on precision and restraint, products from the Capsule Collection are designed to stand out but also stand the test of time.
For the designers behind the lighting line – James Bassant and Riley Sanders – honesty and emotion are key elements to successful product design as they explain further to darc: "You have to ask: 'how does it make you feel?'," says Bassant. "The answer to this is completely different for each individual… I have no interest in creating for the sake of it but designing a light that I feel has purity of form, proportion and detail brings me joy."
"Honesty, both in the form, materials and processes used to make the product is key," adds Sanders. "The 'io' from the Capsule Collection is a great example where the material and process used to make the extruded fluted glass, is the hero of the product and every additional component has been designed to accompany the glass seamlessly."
Founded in 1997, John Fearon and James Bassant came together to create Astro Lighting with a shared commitment to British lighting design and a passion for quality and precision. Astro's creative ethos has remained consistent throughout – that good design demands simplicity. It all began in the basement of a house in Sevenoaks. Fearon and Bassant shared a passion for British lighting design, even if it meant descending a ladder to get to work!
"Design floated to the top of my thoughts as a career choice during my A levels, I basically lost interest in my other subjects which I subsequently flunked, apart from 3D design, which I then wanted to pursue at degree level," says Bassant. "I went on to attend Winchester Art School where I did an Arts Foundation course, then furniture and product design at the highly regarded Kingston University; I was very lucky to find a job in design straight after leaving.
"Fortunately, I feel like designing lights is one of my hobbies as well as career; I love nothing more than sitting in the garden with a glass of wine having a doodle."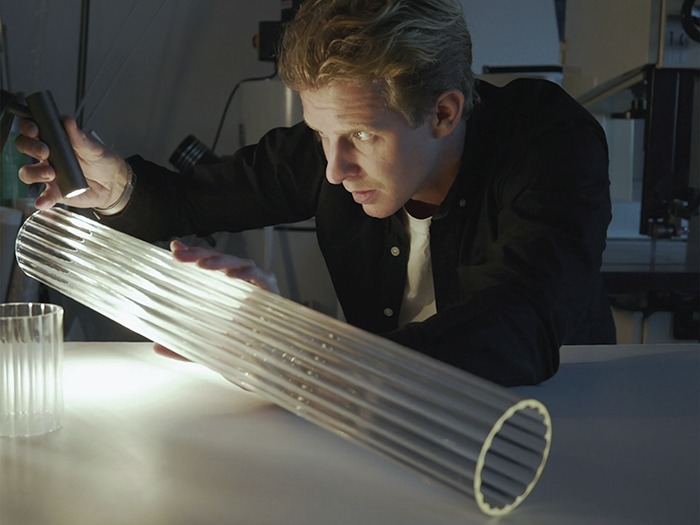 For Riley – who has been part of the Astro team for the past three years as Senior Designer – having grown up in New Zealand, where there is a strong design community, has had a major influence on his career choice. "It has a very DIY, hands on approach to design, which encourages experimentation with material and processes, producing some amazing innovative works, from some very talented people," he tells darc. "It seems, through necessity, everybody has their own niche in New Zealand – helping to make it a unique, eclectic design community.
"When I was starting out, I was really influenced by the local designers – a great example is the Resident design collective, which consists of an impressive list of local talent… After completing my degree in Industrial Design, I moved to the UK in search of design (and life) experience and never looked back!
"I started a small label under which I designed, marketed and sold a small range of products, one of which was a flat-pack LED table light made primarily from oak dowel. The designs were produced as a small batch run limited to 50 units per item and was a priceless exercise in fully understanding the entire process of product design and manufacture from start to finish. It was my first experience of that amazing feeling when people buy and appreciate you work. It gave me clarity that I was on the right track with a career in product design."
When asked about early influences, Bassant reflects on the "slightly intangible influences that matter and impact design", the detail of a tap, a door handle, half glimpsed architectural motifs, the compound curves of a bottle, a vase… "It is about being open to visual stimuli and enjoying the excitement of using those in a light," he says. "Designers I admire include Jasper Morrison's super normal, Dieter Ram's design purity, Castiglioni's genius lights and Terence Conran's articulation of a contemporary British design.
"I love the specific challenge of designing lights," Bassant continues. "They are essentially a piece of furniture to enhance and add to a design scheme, but they are being specified for a single reason – to illuminate a space."
With that in mind, for the Capsule Collection, the design process was completely unique to each product – from the materials and production processes used, through to the individual challenges that had to be overcome. "Mechanical machines have always fascinated me," says Bassant. "Gears, cogs, chains and their interactions in analogue mechanical devices. Mechanical perfection seems crystalised in an orrery, a mechanical model of the solar system and at its centre, my other design obsession light, the sun.
"My love of lights and fascination with orreries drove me to design the orb, an orb of light at its centre about which a planet mirror orbits. For years I kept coming back to and refining the design to capture the essence of an orrery into a functional light like the orb."
The inspiration for the io fixture came from the fluted detailing of the ancient Greek pillars, as Sanders explains further: "We used the unique production process of gravity-fed glass extrusion for the first time, which involved taking a circular 2D design and extruding the glass downwards, to create a perfectly ribbed cylindrical form. We could then discreetly hide the luminaire's components within the glass, allowing it to be the hero of the product.
"While the concept for the Halftone began as a basic pencil to paper sketch – focusing on the simple form of a circle. I then started to look at how an engaging, etched pattern could be used to bring translucent, clear acrylic to life.
"The subtle, gradient-like etched pattern we created starts from the edge of the disc and increases with intensity, creating a vivid ring of light. The transparency of the acrylic allows the wall to still be visible, both when the light is switched on and off. Designed in two sizes and depths, Halftone can be layered to produce more intense and striking illumination that adds interest to the surrounding architecture."
As with all designs, there were of course, a number of challenges the design duo had to overcome along the way. First and foremost, the engineering of each product had to be of the highest standard and needed to operate effortlessly. "At the heart of simplicity of form, often lies a complicated engineering solution," says Bassant. "This was true with orb, the delicate moving parts had to be robust, but with a sense of lightness that has been wonderfully executed by our in-house engineering team."
For the Halftone, the particular challenge came down to how the design team could create an engaging piece when illuminated, but which disappears when turned off. "Once the idea of using etched acrylic had been proven, designing the Halftone became as much a graphic design exercise as it was an engineering one," says Sanders. "Balancing the aesthetic of the graphic pattern while maximising the lumen output."
"Much of Astro's ethos and success has been in designing lights that sit quietly but confidently in a scheme," says Bassant. "Casting light where needed but expressing great quality and detail when attention falls on them. There are different requirements for many types of lighting – a bold, statement light can be the star of a space and define it completely. On the other hand, lighting designers create beautifully lit spaces almost without any products being seen."
"Lighting must create an atmosphere appropriate for the environment," adds Sanders. "However, decorative lighting products need to do a little more. As well as providing the right amount of light to a space, a decorative luminaire needs to be a beautiful object, an object of desire and something a customer would be proud to display in their home. They need to have an element of sculpture about them."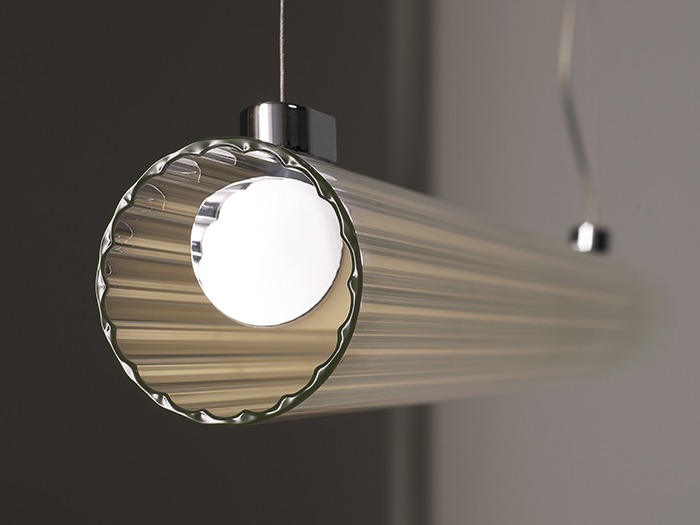 "I strive to design lights with a purity of idea that imbues a timeless quality," adds Bassant. "Astro doesn't want to fill the world up with more and more lights just to sell more… we want a light that performs well and looks great now and for many years to come."
And thanks to advances in technology, performance is something Astro customers can be sure of, as Bassant outlines: "In the sphere of technology, the internet of things and in particular, connectivity in lighting is a really exciting area that we are actively developing into our design process at Astro. Trends in lighting seem to proliferate like every area of design, whether that is new styles of decoration or increasingly becoming more minimal. Keeping a clear idea of the visual elements that constitute an Astro product and designing for longevity must be one of our core principles."
Technology has played a massive role in the direction of product design, especially in lighting with LED technology constantly improving in leaps and bounds. However, for Sanders, with the pace in which it moves and changes, it often makes a product obsolete before they've really had a chance to shine. "I think we'll see a shift," he says, "especially in decorative lighting, back to replaceable light sources. It dramatically increases the lifespan of the product, as the customer can replace the light source when it fails and with all the great new LED lamps out there, it just makes sense. It also challenges us as designers to focus less on following trends and more on creating timeless pieces that last longer than the life of the light source."
Astro Lighting's Capsule Collection presents products with a strong self-identity but with a timeless restraint to suit the specification market; remaining true to Astro's design ethos of enhancing a space without screaming loudly to do it. "We see it not as a change of direction, but further broadening the breadth of our product range for designers," concludes Bassant. "I am always excited by the new. Taking the Astro brand further into more diverse areas of lighting and designing, with a real sense of purpose excites me. The main purpose of any luminaire is to produce light; how the object looks and functions within a given space is the enjoyable challenge of designing lights."