Designer Javier Robles founded New York-based lighting, furniture, and objects studio Lumifer in 2015 as a reaction to his continuous search for products to specify in his architecture and interior design projects. As a result, he created a studio that produces his "ever-evolving collection of contemporary work inspired by his global cultural experiences and his multidisciplinary approach to the design field". 
Robles sat down with darc to walk us through his personal design journey and dive into these cultural experiences he draws upon in his work. 
"Growing up in Trujillo, a coastal city in northern Peru, has been instrumental to my identity and my work," he kicks off with. "Since a young age, I have found inspiration in my rich cultural heritage, a blend of Spanish and Incan traditions, and the surrounding landscape; the Pacific Ocean, the desert, and the ancient archaeological sites in the foothills of the Andean mountains.
"It was while studying architecture in São Paulo, Brazil that I began integrating a strong modernist reference into my passion for history, travel and culture that helped serve as the foundation for my signature design vocabulary." 
Robles continues that his "nomadic spirit" led him through South America, New York City and then London to live and work. It was through these cities he gathered influence from multicultural and dynamic artistic hubs that he established his practices, and went on to design, develop, and build a range of cultural projects, luxury homes and collections of bespoke lighting and furniture. "Through the years, I am always brought back to my origins in Peru and Brazil, a connection that continues to strengthen my design methodology and inspiration. More than ever, I am humbled and honoured to use my cultural heritage as part of my design signature and reference in my buildings, interiors and products," explains Robles. "My appreciation for history, culture and lifestyle and my vast experience in the interiors luxury industry, consequently gave me the foundation to establish Lumifer; a product design studio where I am able to express my appreciation for craftsmanship and uniqueness by working with the best local vendors and artisans in pursuit of the highest product quality." 
When it comes to the forms and names Robles' designs take on, he says his greatest influences come from "science, nature, astronomy, aerospace, as well as my cultural heritage and archaeology, but a lot of my direct inspirational drive arrives through travel". 
A natural flâneur, Robles says he becomes more actively creative from "visiting galleries or museums to showrooms or vintage shops, but also by just sitting out at a café or attending a social venue and experiencing different foreign routines, languages or observing people's moves or fashions.
"I spend quite a lot of time travelling; surrounded by aviation aesthetics, I found these moments from the solitude inside my seat quite inspiring. Looking out at the sky or the Earth down below, surrounded by a high-tech environment, removes me from reality and forces me to concentrate on my inner space and at the same time to project my visions out to the world. I tend to sketch and write a lot during flights and I found these experiences rather fruitful moments where creativity comes in full."
Taking these sketches from an idea and concept into a completed piece takes multiple, repetitive stages of refinement. As Robles describes, it's an "evolution of ideas and an attempt at perfection through repetition". "Many things come together in a rather simultaneous brainstorm of ideas, inspiration, materials sourcing, technology and aesthetic references. All these influences are translated through sketches, CAD and numerous renders of the piece before a mock-up goes into production.
"Timing is always rather unpredictable," he continues. "Sometimes a design for a product can take weeks or even months, but sometimes an idea strikes in my mind and with few sketches and drawings, a new product is born. Some of my more popular pieces have even been developed as a prototype from a single sketch on a cocktail napkin."
Progressing from the concept stage, the construction stage again takes multiple forms and generations before the final product is settled upon. Robles elaborates: "[When] working with different local artisans and vendors there is a lot of back-and-forth communication and testing at the shop to refine a concept that sometimes takes many prototyping versions until the idea is ready for final production. In this process, the designed object also evolves, and sometimes spins up to something else and can even be the genesis of a new design that is generated out of the shop while testing and playing with a particular component or material.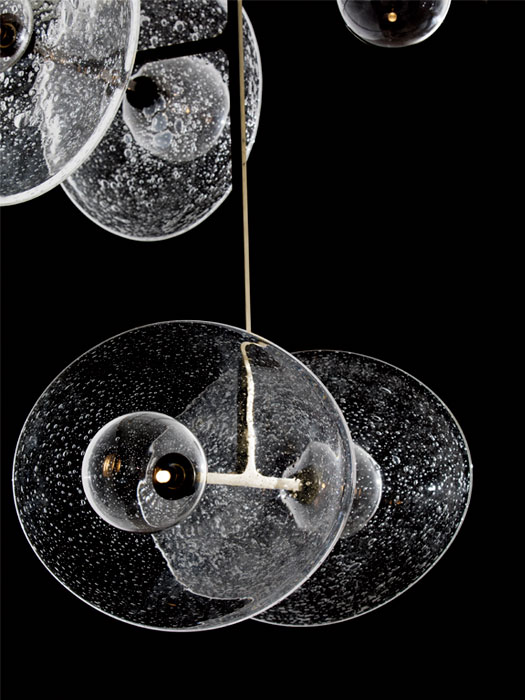 "That is the case with our three most popular lighting collections, where each collection was an evolution from the previous one. I believe in designing systems where components or parts can be adapted into an array of options from lighting to furniture and objects. Creating signature components allows me to play with different applications like a matrix that gives me opportunities to design different "lives" whether by changing scales, adding components or arranging the application beyond one single use. 
 "This exercise and rigour behind the creative process is the story behind all of my products for Lumifer." 
Turning to look more closely at the three collections mentioned above, Robles walks us through the design journeys for Navis, Helix and Stellar. 
The Navis wall sconce was originally designed in 2015 using a single brass T-shape as a main axial from which the articulated shades can pivot. This design lay the foundations for more to follow. 
"This design is a figurative extension of the Latin word for ship or vessel, which influenced the sleek design of this lighting collection. Propeller design and mechanics served as the naval/aeronautical aesthetic reference for the Navis fixtures. The sharp geometry of each shade is accentuated by the thin rectangular cut allowing light to emanate in multiple directions," explains Robles. 
"As with all my work, from one type, in this case, a sconce, the rest of the collection (pendant, floor and table lamp) is created using the same family of custom-cut components.
"While reviewing a production run of the Navis sconces at the metal shop, I began arranging some of the recently milled Navis T-shapes and saw that by adding each component (more elongated now) into an axial sequence and switching it 90 degrees, a new frame was created giving life to the Helix collection. Adding a new element, a hand-blown glass globe, and a new square-to-round rosette brass component gave a softer and brighter language. By the Autumn of 2016 the Helix Collection was introduced at Maison Et Object, and soon became our bestselling light and in turn a central theme of the Lumifer design DNA."
Following on seamlessly, the design journey of the Helix collection began. "The Helix collection is designed as a system of T-shaped hand-finished brass modules. Each light point gracefully transitions to a uniquely designed rosette to house the hand-blown glass globe. Each cascading "T" module forms a subtle helix rotation; creating a mesmerising cylindrical aura that touches on the origin of the natural world.
"The result is a delicate, simple and versatile light, with seamless and beautiful details, resembling vintage 1960s Italian lights with a contemporary and industrial aesthetic that characterises the revival of luxury American design.
"One year later in 2017, I began sketching the "T" component with a more spatial arrangement rather than a linear one (as with the Helix). This lead to a double light point system, and with the addition of a concave/oval glass disc, the Stellar collection was formed. Inspired by the latest images of our universe from NASA's deep-field telescopes, this lighting composition is based on orbiting binary stars as well as the massive galaxies they inhabit. Light beams project outwards from each glass globe and are reflected and intensified by the paired glass oval disc."
What will the next evolution of the T-shaped structure be from Lumifer? Now borders have re-opened and travel is very much back on the cards for the world, what future inspirations will Robles collect to inspire his new pieces? We look forward to what's coming in 2023 from the New York studio.