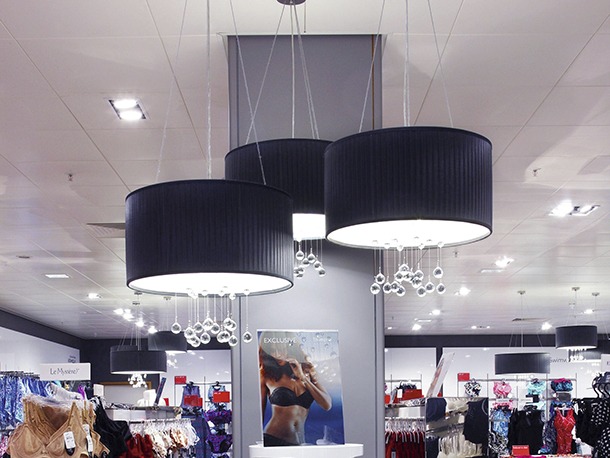 A series of bespoke chandeliers, produced in collaboration with Austrian lighting specialist Kolarz, bring a contemporary glamour to John Lewis's jewellery and lingerie departments.
For many department stores – particularly those that have long remained rooted to their historic homes – the creation of an effective, engaging interior can throw up a constantly evolving series of challenges. The benefits of occupying a prime retail location are often accompanied by the restrictions of a tight floorplan and the pressures of fitting a 21st century shopping experience into a 19th century space.
Over the years, the high street's major players have become well-versed in adapting these interiors to produce the ideal image for the product sold within each specific area.
The flagship John Lewis department store on London's Oxford Street has undergone many evolutions and renovations over its lifetime, each one designed to keep the store relevant to modern tastes. Most recently, the brand's internal design team focused their attention on the jewellery and lingerie departments, developing a look that could be rolled out to stores across the UK.
To achieve the right balance of style and glamour, the team worked with Austrian lighting manufacturer Kolarz to create a series of bespoke, decorative pieces.
"In developing our concept for jewellery we wanted a signature chandelier that could be adapted to the different requirements of each shop," explains Nicola Bover, Retail Designer Interiors for John Lewis. "Working together with Kolarz we designed a chandelier which fitted our brief, was contemporary in its design and gave the jewellery department a stunning focal point."
The lights were specially designed and produced at the Kolarz factory in Austria. Over 8,000 sparkling Kolarz crystals on each structure were combined with 200 LEDs to provide a suitably subtle light level that is low maintenance and energy efficient.
The pieces introduce a sparkling light that is picked up in glass surfaces throughout the space, while its shape provides a visual flow that draws the eye across the room.
In the lingerie and fashion advice departments, the designers took a more intimate approach. Clusters of silk organza shades, strung with Kolarz crystals that appear to float below each pendant, create a series of seductive focal points. The warm, sensual mood lighting produced perfectly complements the products on display.
www.kolarz-leuchten.at