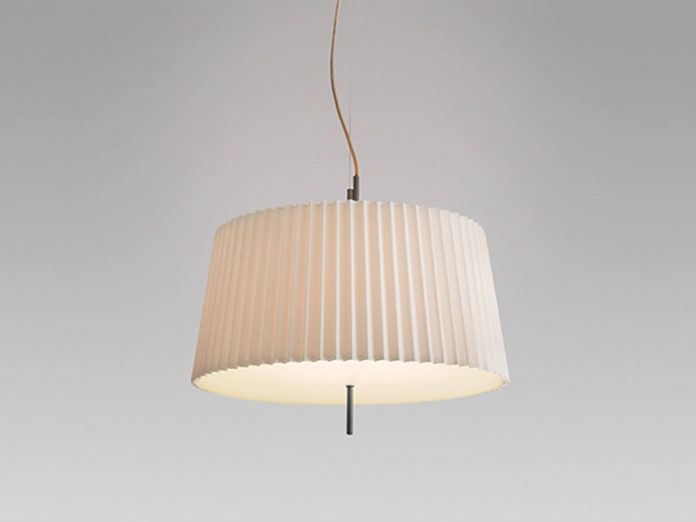 (Austria) – Vienna-based lighting brand Kalmar Werkstatten will exhibit at both IMM Cologne and Maison et Objet Paris in January.
Kalmar presents Ilse Crawford's redesign of the successful Billy TL table lamp and the new pendant light Fliegenbein HL, expanding the recently awarded Fliegenbein product family.
For the Billy TL table lamp by Kalmar Wekstatten, Ilse Crawford has chosen rosewood for the lamp's stem standing on satin-brass feet and supporting the lampshade in a duotone finish in black and brass. The warm colours and materials selected by Ilse Crawford emphasize the character of Billy TL, celebrating materials, functionality and a human scale design. Carefully curated in every detail, the Billy TL Ilse Crawford Edition is also equipped with a new textile power cable who colour fully resolves to the chromatic palette, thus enhancing the ultimate sophistication to a perfectly shaped object.
Conceived in 1958 by Julius T. Kalmar, the iconic Fliegenbein BL floor lamp over the years has become the basis for a range including table and standing lights. This year marks a further step in the evolution of the Fliegenbein collection thanks to the launch of Fliegenbein HL pendant conceived by the Creative Director of Kalmar, Garth Roberts.
Producing overhead ambient light that filters through a pleated silk shade and a frosted glass diffuser, the new pendant's voluminous shade has classic appeal, while the dialogue between shade and slender armature injects modern personality into a space. HL also features single and double tub – available in light grey, dark grey, or brown matte lacquers – in its shade and mounting plate that harmonise with the overall Fliegenbein series' signature splayed leg. A wheat-coloured electrical cord dances around the fixture's braided-steel suspension wire.