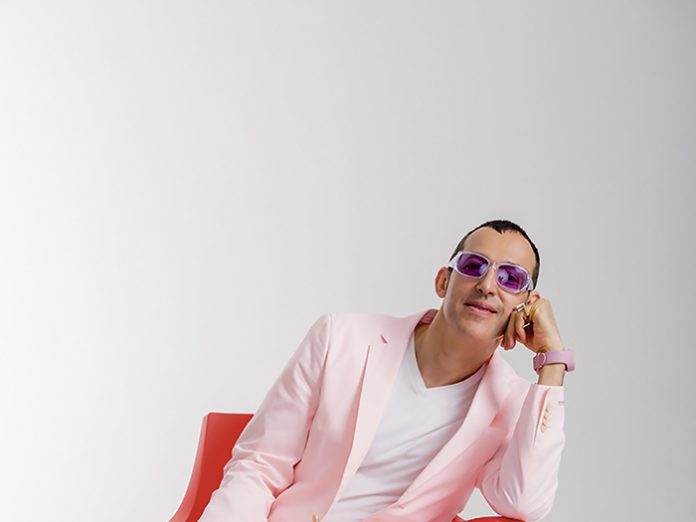 Karim Rashid is considered by many as one of the most prolific designers of his generation. Over 3,000 designs in production, over 300 awards and working in over 40 countries attest to his legend of design. Here, darc gets to know the man behind the design.
Karim Rashid's diversity affords him the ability to cross-pollinate ideas, materials, behaviours, aesthetics from one typology to the next, crossing boundaries and broadening consumer horizons.
With his work featured in 20 permanent collections, he exhibits art in galleries worldwide and is a perennial winner of the Red Dot award, Chicago Athenaeum Good Design award, Interior Design Best of Year award, and the IDSA Industrial Design Excellence award. He holds honourary doctorates from the Ontario college of Art & Design and Corcoran College of Art & Design and is a frequent guest lecturer at universities and conferences globally, disseminating the importance of design in everyday life.
Having presented at the 2016 INDEX show in Dubai, UAE, as part of the Design Innovation Forum, Rashid aimed to inspire the audience to see the world around them and the objects they interact with "in a new revolutionary light."
"I preach about how design shapes the future and culture," he tells darc. "I believe that design is extremely consequential to our daily lives and can positively change behaviours of humans. Products and furniture must deal with our emotional ground, therefore increasing the popular imagination and experience.
"People like to assume that design moves with more superficial trends but it is technology that drives us. Industrial design is driven by designers embracing new technologies, whether it is material, production method, or mechanical invention. So future innovation will depend on how we as designers embrace newness.
"For young designers I always give the advice: be smart, be patient, learn to learn, learn to be really practical but imbue poetics, aesthetics, and new paradigms of our changing product landscape. You must find new languages, new semantics, new aesthetics, experiment with new material, and behavioural approaches. Also always remember obvious 'human' issues in the product, such as emotion, ease of use, technological advances, product methods, humour, meaning and a positive energetic and proud spirit in the product. This is what is missing! Many products have a very short shelf life, and they must capture the spirit of the time in their product lines and not worry about looking, behaving and performing like everyone else."
When asked at what point he realised he wanted to be a designer Rashid simply answered: "I don't think I became a designer; I think I always was a designer. I realised my life's mission at the age of five in London. I went sketching with my father in England drawing churches. He taught me to see – he taught me perspective at that age – he taught me that I could design anything and touch all aspects of our physical landscape. I remember drawing a cathedral façade and deciding I did not like the shape of the gothic windows so I redesigned them. I drew them as ovals. I also remember winning a drawing competition for children – I drew luggage (my own ideas of how to travel)."
When applying to university at the age of sixteen, Rashid found himself torn between architecture, fine art, and fashion and originally applied to study architecture at Carleton. However, too late with his application the program was full.
"They told me they could accept me in the 'architectural stream' of Industrial Design. So I went to Carleton University expecting to study architecture, but fate had it, that the second I took some industrial design courses I knew that was what I wanted to do."
After University Rashid worked for seven years with KAN Industrial Designers in Toronto, Canada, designing x-ray equipment, a mammographer, power tools for Black & Decker, trains seats, 3D glasses for IMAX and mail boxes for Canada Post.
In 1991 he left Canada to teach at RISD, which would turn out to be one of the most significant moments in Rashid's career. "I was fired from RISD in 1992. I was told I was teaching 'philosophy and theory', not design," he says. "The reason is that many schools at that time were steeped in craft, not in industrial design."
This was perhaps the spur Rashid needed to eventually open his own office in NYC in 1993. "I had no connections, no money, no one. It was really difficult, many times I thought I would just quit and become a full-time academic. But I persevered and was determined to build my own practice and be successful. It took about five years before I actually had some success in the world and now I have had my practice for 23 years in NYC."
A second significant time in Rashid's career was the design of a restaurant for Morimoto the Iron Chef in 2001, which won numerous awards. "Being a successful restaurant interior afforded me many more interior projects," says Rashid. "My first condo for HAP investments in NYC opened the doors for me to design so many residential interiors and buildings. I have two in Miami, four condos in NYC, private residences in Kado, Lativa and La Jolla California."
Talking influences, for Rashid inspiration doesn't come from any one place or thing, but from being creative within the criteria of a project, and from functional needs and desires. "I travel constantly and get inspired usually by the unfamiliar," he says. "So even the lost local places of industrial parks, airport hotels, alleyways in big cities, taxis in London, a gym in Hong Kong, a bathroom in Paris, a prop plane in Sweden, a cinema in Milan, a Renault in Sweden, food in Qatar, shanty towns in South Africa… Anything that is new to my senses, unusual, odd, inspires me. Beauty is in everything if we want to see it."
Having worked on numerous lighting designs for brands including: Artemide, Martinelli Luce, Fontana Arte, Axo Light, Studio Italia, Kundalini, and Foscarini to name just a few, Rashid tells darc of his lighting experience: "Light can be very sculptural – how it throws shadows and streaks of light. I try to bring artistic form to the physical lamp. I like the idea that the light is hidden and only penetrates out of and enhances the form of my lighting designs. Light is ethereal beauty."
And in terms of lighting within interior design, for Rashid: "Lighting should liven up a space, bring complementary conditions, move the eye and break up surfaces, bring illusion or entropy, and embellish and give richness to surfaces and materials and objects.
"I am proud of my collaboration with Artemide to design and produce Cadmo, Doride, Emperico, Nearco lamps and my most recent Solium floor lamp. I feel that these lamps have touched a moment in time, a presence of energy, of the tech organic world in which we live. My designs are a manifestation of my soul, like a composer creating music. I get really passionate about designing a pen, jewellery, perfume bottle, liquor bottle, coffee cup, as much as I do designing a brand identity, a carpet, a flooring, furniture, interior design, or a building I can shape an entire human holistic experience from the micro to the macro.
"All objects and spaces have semantic language. I believe that it is important to not necessarily over-embellish – to keep a certain truth to a product or space or building. I call my work sensual minimalism because it is not laboured with embellishment yet has a more human, more sensual connection with us."
In five years time, Rashid will turn 60-years-old and while you might think he has conquered all, you would be wrong. When asked 'what's next?' he replies: "Well there is next, meaning this year, and next, meaning five years. This year I showed a new mobile phone for SIRIN LABS, and have about four hotel designs being launched in Bergen, Norway, Amsterdam, Tel Aviv, and Hamburg. I have three buildings being completed in NYC and Miami. This year I have a new kitchen design going to market in September for Rational, Germany, new furniture being released with Skandiform, NC Nordic Care, and Materia, as well as furniture with Maiori (France), Riva1920 (Italy) Cizeta (Italy), new Pepsi bottle will be released globally this fall, several shoes and other products in Korea under my own brand, Kreate by Karim (my own brand of housewares) distributed globally, and new products with Push and Shove, EOS, Fontana Arte, and so much more!"
And by the time he is 60? The list just keeps going… "I hope to have a fashion line branded by me, a Karim perfume, a book about the design business, my own art gallery, my own coffee shop in NYC, design an electric car, design my own house on the sea somewhere in the world, have another child, create several iconic small buildings in the world, do lots more hotels (one in each major city) have my body fat down to five percent and grey hair…"