Kate Wilkins and Sam Neuman join forces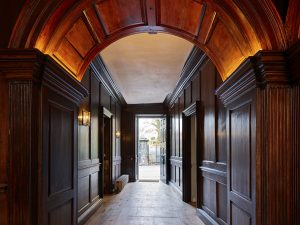 (UK) – London-based lighting designers Kate Wilkins and Sam Neuman combine years of collaboration to launch portfolio of projects and new web-site.
Wilkins and Neuman focus on lighting as an essential part of business identity, as in their work for Wahaca restaurant group.  Aiming to bring out materiality and detail of architectural interiors and exteriors, the pair use lighting as a narrative in space. Most recently, they completed the distinctive lighting scheme for Wahaca Cardiff, involving the installation of Booo soft rubber pendants each supplied with a 2,700k 650 lumen LED with mains dimming down to 10%. Working with the colour palette and reacting to the warmer tone light waves, pendants were fitted with custom yellow and orange flexes, creating an amicable scale for dining whilst maintaining its grand size.
The studio also recently completed the lighting for award-winning Llanelly House in Wales. The building was restored for public use, incorporating retail, function rooms, exhibition space and a restaurant. Wilkins and Neuman used lighting to highlight important artworks and architectural details. They look to explore the role of lighting in conservation and historic buildings further in the future.
Previously featured in mondo*arc, Wilkins and Neuman's installation in Gothenburg is due to move to its next home shortly.  Entitled Radio Cineola – The Inertia Variations, the project inspired by John Tottenham's poem of the same name is a collaboration with musician Matt Johnson from 'The The' and visual artist and film maker Johanna St Michaels. The transmission of The Inertia Variations is the first instalment for this cross-disciplinary work that will move between Sweden, the UK and the USA.