Tekna – Kembleford Collection
Tekna's Kembleford collection has been expanded to create a full family of fixtures that bring a modern yet classic addition to the company's portfolio.
Belgium-based lighting manufacturer Tekna has expanded The Kembleford fixture, designed by Kevin De Koning, into a full family collection that includes a pendant, ceiling, wall fixture and table version that is due to come to the market soon. The Kembleford collection is a new, modern and more bold addition to Tekna's lighting range but still holds true to the manufacturer's firmly held core values and materials seen in previous lines.
De Koning sat down with darc to discuss the design process and inspiration behind the collection. "The inspiration came partly from another of our fixtures, the Mercer. What inspired me was the way the light reflected from all the individual glass rods. I knew that I wanted to use this effect and started sketching until the Kembleford came to be. The design feels both new and familiar at the same time," says the in-house designer.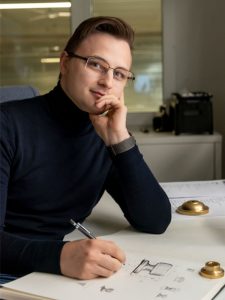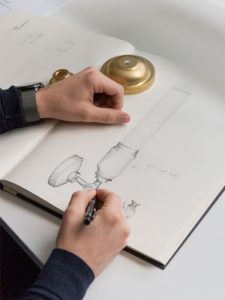 Speaking of the concept behind the Kembleford collection, De Koning adds how he likes the "contrast between heavy and light" and was keen to use this in the design. "The main body of the pendant is constructed from a special glass tube. On each end are two brass caps. Instead of using stamped sheet metal for these caps, we had solid brass blocks machined," he says. "This, combined with the glass, gives everything a qualitative, sturdy but also heavy look and feel. This was exactly what I wanted. To contrast the visual weight, I used thin hoops of brass in the middle that look very delicate."
In order to create a seamless design, one of the main challenges De Koning faced was finding a way to hide all of the securing elements, such as screws and bolts.
"Everything would be a thousand times easier if they were visible. But not having any visible bolts makes the fixture look a million times better," he says. "It's this extra effort and attention to detail that I put in my designs that makes them impressive, both far away and close up.
"The materials used are mainly glass and brass. We work with skilled craftsmen and women that have been working with brass their whole lives. They have a passion that they put in their work and in many ways this passion can be felt in the finished piece. This is why I will always choose brass over any plastic.
"I would say the combination of glass and brass is a successful one. Both these materials work together nicely, they stand for quality and are made to last. Along the way, the design changed very little. Refinements were added but the fixture never strayed too much from the original sketch. Very often in cars the finished product only faintly resembles the original concept. Much of the magic gets lost when the concept has completed its journey to a production model – but not here. Design comes first; if a problem has to be solved, it is solved in a way that doesn't affect the design. When it comes to technology, we have kept it simple. We design our lights to be timeless. By adding unnecessary technology, it would date this fixture enormously, think about how it would be 20 years from now? By keeping it simple we can ensure this fixture ages gracefully."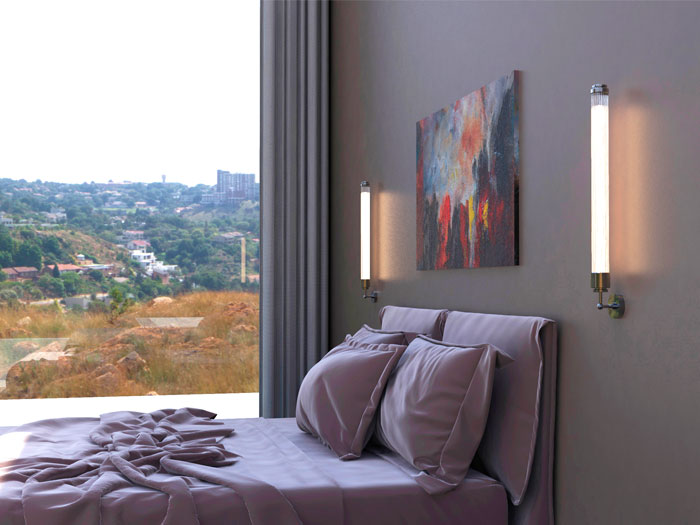 Upon reflection, De Koning describes working with light as both "the single most difficult thing and the most rewarding thing I have ever done".
"The Kembleford brings class, quality, elegance and of course a beautiful light to any room. It's not out of place over a dining table, a desk or perhaps even a grand piano. But really the possibilities are limitless.
"Much of what makes this pendant light special is in the smallest of details you can only fully appreciate in real life."