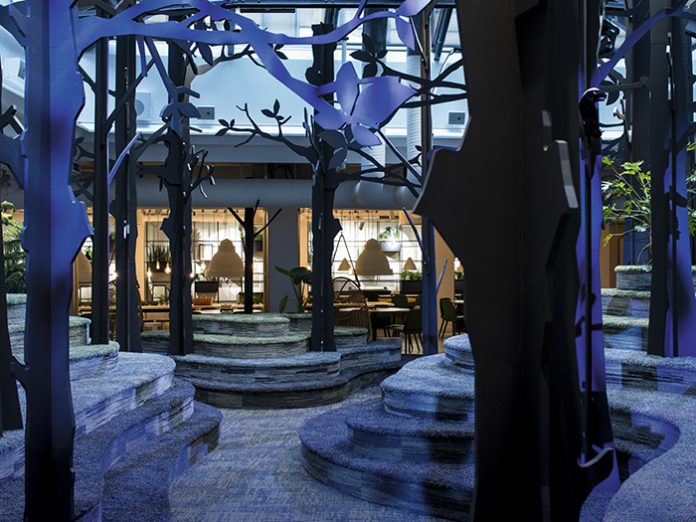 King, creator of Candy Crush and one of the world's leading game development companies, appointed Adolfsson & Partners to work with lighting practice ÅF Lighting on finding nature a home within its new office, K36, in Stockholm, Sweden.
Originally designed by German architect Cyrillus Johansson, the building in which the K36 office resides is a striking brick structure influenced by North German brick architecture in the turn of the 20th century. Since its construction in 1931, the building has been home to numerous professions, from a pastry-shop to a Swedish bank. Now named after the office's address, Kungsgatan 36, K36 stands at the intersection of two of Stockholm's major streets, surrounded by a vibrant crossing in a district that now works as a melting pot for the media industry.
Swedish interiors and building company Adolfsson & Partners worked in close collaboration with lighting practice ÅF Lighting and Czech interactive video technology experts 3Dsense to develop functional and ambitious concepts for turning light into something unique.
Adolfsson & Partners was responsible for the interior design and decorative lighting scheme, while ÅF Lighting was responsible for the architectural lighting design, and developed interactive elements with 3Dsense.
Adolfsson & Partners recently worked for King on creating its other office at Sveavagen in Stockholm, which resulted in a unique and inspirational place full of colour and creativity with graphics from King's world of games.
Founder of Adolfsson & Partners Hans Adolfsson commented on how the King offices differ: "In comparison to the other office, K36 was developed for a team that creates more realistic looking games and therefore the concept of the venue follows that style." For K36, the inspiration  came from Swedish nature – a place to be free in both mind and spirit.
Working at King, where teams change frequently depending on the project, the office space needed to be flexible and provide multiple places suited for all types of operational methods. At the same time, Adolfsson & Partners had to focus on how King's world is driven by creativity and playfulness. As a company that constantly uses energy and power to search for new ideas, King needed an office to match that drive.
K36's interior from the entrance on ground level to the lower level working zones is an extraordinary combination of playfulness, stimulation and calm. "With a strong vision from Adam Schaub, King Studio Manager, we took this project to heart and came up with a concept that has its roots in the Swedish forests," said Adolfsson. "We decided we wanted to apply the same inspiring and calming effect that you get from spending time in natural surroundings, to the new King office. From the moment you step inside the doors of K36, you are struck by how this concept goes to the next level."
The central idea to ÅF Lighting's scheme was to allow the light to create an inspiring environment that felt natural and enhance feelings, where darkness would also be part of the experience. The light was to be largely based on actual activities and work done in the office as an honest interaction with nature.
The reception wall, set off by Muuto's E27 pendants, is entirely covered in treated Norwegian lichen, a type of moss, immediately setting the tone for growth and natural inspiration that progresses throughout the entire office.
Head of Design at ÅF Lighting and project Design Manager Kai Piippo commented: "This foam-like wall actually made it very difficult to fit lights. With the building construction time being only six weeks, we didn't have much time to question anything, so we had to think fast in finding solutions."
Walking past ice hockey tables and pinball rooms with Zero's Par table lamps, NUD Collection's BASE lampholder and textile cables lead employees down the spiral stairs to the working space, a setting enhanced by painted plywood silhouettes of trees. "Combine that with soft woven fabrics and the result is both organic and sculptural," said Adolfsson. "This works well with the colour theme of warm green and different shades of grey on both floors, walls, textiles and tables."
Stepping into the working space at the lower level, employees are greeted by greenery where the concrete jungle of a city meets the Swedish forest. Beneath an atrium skylight, a digitally interactive forest uses a combination of Crestron light control solutions with the flow of natural light to dark from overhead to create this organic, digitally innovative scene that serves as a meeting hub, a lunch spot or simply to spark imagination. The forest uses lighting design to reflect the changing seasons, so at the touch of a button, wintry ice can appear to crack in the river underfoot, or leaves turn green in an abundant summer scape.
Surrounding this indoor forest in an open plan fashion are the office's 121 work spaces, each equipped with custom desk lamps manufactured by ateljé Lyktan, designed by Mia Cullin at Adolfsson & Partners in collaboration with ÅF Lighting. "Individuals can adjust lighting levels to their own personal taste, and this has shown to increase people's well-being," Adolfsson told darc.
Employees can then walk through the forest to reach the kitchen and dining area where Moooi's Salago pendants are suspended above smaller tables, and Frama's E27 pendants are arranged in a linear fashion down the main long table.
The office also houses fourteen private meeting spaces, where Gubi's Grossman Cobra floor lamps provide adjustable and personable illumination, continuing the theme of natural adaptability in office design and employee development. In further encouragement of its employees' natural growth and progression, K36's library serves as a space for people to learn and develop as natural beings under the illumination of Normann Copenhagen's Amp, Lightyears' Carvaggio table lamps and Wästberg's Studioilse w084f floor lamps.
"When designing an office, it is important to create a better and more human-centric lighting solution," said Adolfsson. "People are spending more time in these spaces so the lighting needs to meet the demands in terms of flickering, glare and so on." With telephone rooms housing Lampe Gras' No2010 and No213L wall lamps, and lounge areas for well earned rests, K36 is human-centric through to its core.
The project stayed true to its original mission to create a unique office for King, a company that wants its employees to think about something other than work 25% of the time. Its lighting scheme is carefully thought out by humans, for humans, and goes to great lengths to provide stimulating comfort for people who create a global form of entertainment. As an artificial design made possible by creative technology, K36 holds an immense amount of the natural world within its manmade walls, serving as a reminder of the inescapable relationship between humans and nature.