Lasvit on show across London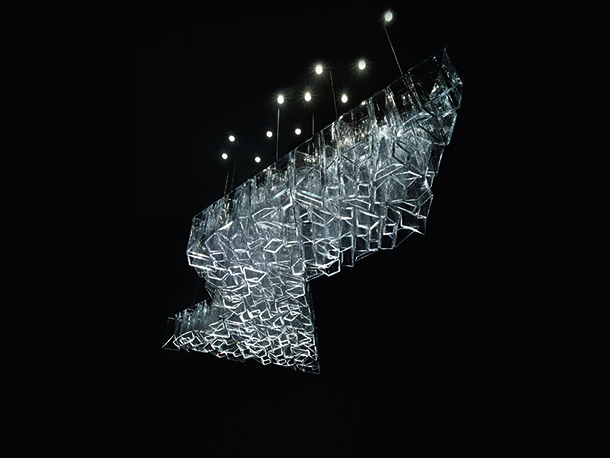 Visitors to London Design Festival have three chances to see pieces by Czech glass manufacturer Lasvit.
Continuing their long-term collaboration with world famous architect and designer, Daniel Libeskind, Lasvit will showcase an extraordinary installation called"Ice" at 100% Design in London. With this stunning "Ice" chandelier, Daniel Libeskind succeeds in perfectly transforming glass elements into contemporary designs using Lasvit's know-how and expertise.
Lasvit also introduces new collections by design stars Maarten Baas and Maxim Velčovský at Mint (www.mintshop.co.uk). With the 'Das Pop' chandelier, Maarten Baas looked toward classic, recognizable shapes, yet with a modern and almost comic twist. Emphasizing random shapes, it illustrates the personal and non-industrial feel of the product. The Frozen collection by Maxim Velčovský was inspired by the transformation of water into ice, a moment paralleling the work of a glassmaker. Creating a solid object from liquid material is a small miracle attempted by each designer and yet an essential part of his work.
Finally, The gallery and design studio 19 greek street (www.19greekstreet.com)presents Transmission Chandelier by studio deFORM for Lasvit. Hanging this extraordinary light object from a ceiling creates a new perspective. The excellent quality of borosilicate glass Simax which is usually used for technical and laboratory products gives special features to the chandelier.