Lasvit produce chandelier glass art for Peninsula Paris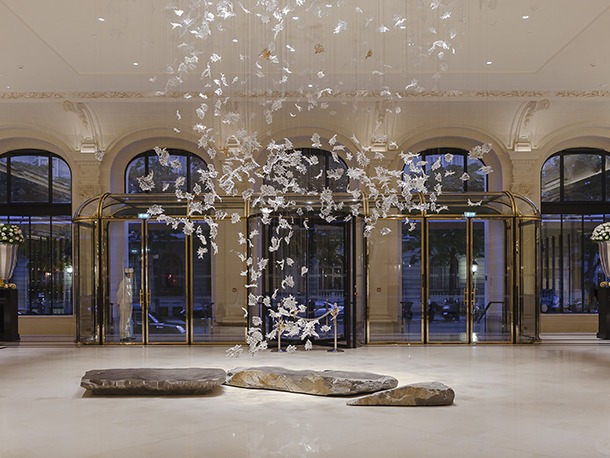 Photo Credit: Fabrice Dunou
Czech glass specialists Lasvit have created a breathtaking light and design experience in the lobby of The Peninsula Paris, situated steps away from the Arc de Triomphe in the heart of Paris.
Lasvit designers Luděk Hroch and Jitka Kamencová Skuhravá in collaboration with Chhada Siembieda & Associates Shanghai and Hong Kong, have developed two unique and elegant glass art installations resembling the leaves of a plane tree, common in Parisian streets. The design concept is based upon leaves in the wind, floating and eventually falling into the pond of the main lobby.
The Peninsula Paris, which first opened as the Hotel Majestic in 1908, is located at 19 Avenue Kléber in a late 19th century classic French building with Haussman and neo-classical features. The property has subsequently been meticulously restored and discreetly modernised for the 21st century.
For the main lobby area of the hotel, Lasvit has created an artistic glass sculpture called "Dancing Leaves" designed by Luděk Hroch. It evokes a gust of wind gradually spiraling upwards, which is created by entering the hotel lobby. The breathtaking sight of magically flying leaves from Parisian sycamore trees, typical for Paris and the Elysées district, induces a feeling of dancing – dancing leaves which may in turn just make us want to dance. They eventually fall into the pond in the main lobby and their weightlessness in the air gives us a mingled feeling of harmony and balance. The "Dancing Leaves" glass art installation is made of 800 hand-blown glass abstract sycamore leaves: some clear and some with silver leaves on the inside.
The Rotonde embellished another lighting glass sculpture designed by Jitka Kamencová Skuhravá. The sculpture called "Diamond Necklace" is made up of three oval rings of various widths and lengths in the shape of a crystal pearl necklace. The rings are made as a string of pearls and this arrangement links to traditional Czech bijou jewelry dating from the 19th century.
The oval shape of the sculpture comes from the shape of a necklace hanging from a woman's neck decorating her décolletage. It resembles Baroque classicist architecture since the rotunda has rounded lines and decorated stucco and cornices which place the jewel directly under the cupola in a central position. This unique, feminine and elegant sculpture is made from stainless steel, Perspex and polished crystal, and is comprised of 90,000 pearls which are externally illuminated. The item is suspended from one central point. The conditions of the historic interior made it impossible drill into either the vaulted roof or the side walls, therefore making it quite a technical challenge for the Lasvit team.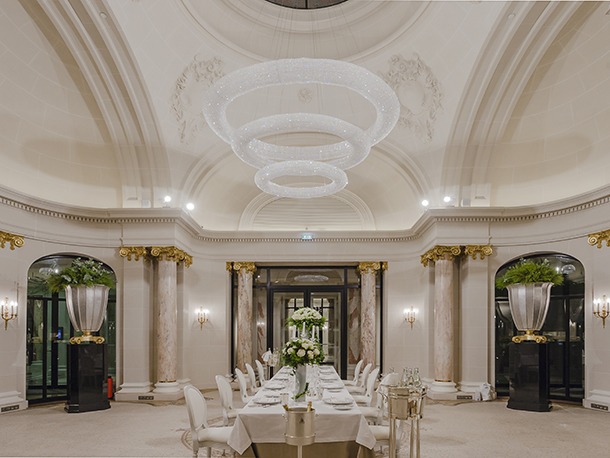 Photo Credit: Fabrice Dunou