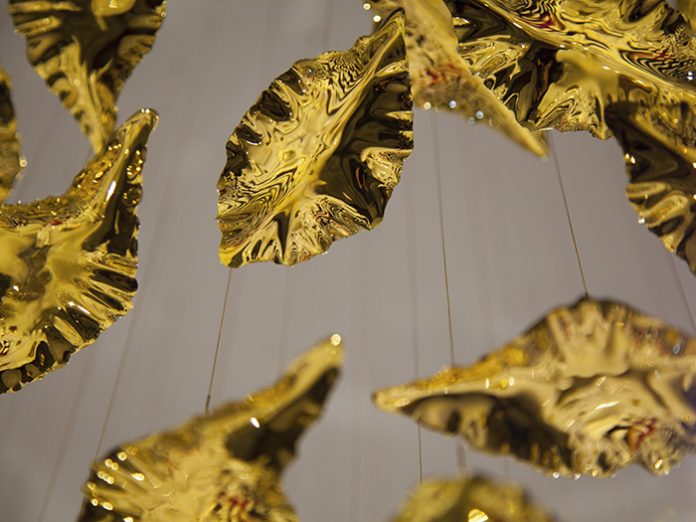 Leaf by Haberdashery celebrates the luxury and refinement associated with traditional bone china in a new sculptural lighting product system.
London-based design practice Haberdashery has been developing bespoke lighting sculptures since 2008 for a range of international clients and locations. By blending a skillset converging art, design and engineering, it is able to deliver landmark sculptural and lighting projects driven by a strong narrative.
In 2015 the studio began to work within the world of products, with its first entitled Leaf, launched officially during Design Junction at the London Design Festival. Leaf is a UK-made, hand-finished bone china product developed in conjunction with the William Edwards factory in Stoke-on-Trent. Designed to sit within a home environment, each Leaf sculpture is comprised of a canopy of delicately moulded bone china leaves suspended on thin wire from a ceiling plate with integrated downlights. "On the leaf, bone china enables a very thin edge, giving it a translucent quality that lets the finish feel lighter because it's literally letting light through the surface," commented Haberdashery Creative Director Ben Rigby. "We're interested in the subtlety and detail of material and how it plays with light, so bone china seemed like a good match for us."
Haberdashery likes to play with light and shadow to create atmosphere within an interior space. In order to do that with Leaf, they had to find finishes that would play with light in interesting ways; using 14 karat gold and platinum lustres, a highly reflective and opulent surface on the underside of the leaves reflects light while creating wonderful surface reflection.
Developed in the 16th century in Bow, East London then perfected in Stoke on Trent, bone china has ever since been hailed as the ultimate porcelain.
"It's very much a British material, with very specific qualities about it," said Rigby. "It's a strong and durable material, but at the same time allows you the freedom to make something very delicate."
These unique qualities made it ideal for Haberdashery to use in developing Leaf, and are in line with the studio's ambition to keep manufacturing within the UK whenever possible whilst using the finest material for the job.
"We found a great manufacturer called William Edwards to collaborate with and they were really positive in helping us make sure we got something really detailed and exactly to our specification," said Rigby. "So it's a lovely story for the Stoke-On-Trent ceramics industry, which is now reinventing itself. I think we're adding a good push in the right direction for this material to renew itself in the 21st century."
When the seventh Duchess of Bedford introduced the concept of afternoon tea in 1840 to see her through those late afternoon hours preceding fashionably-late dinner, she inadvertently championed what has become a national pastime. Drinking tea from delicate bone china cups allowed those who could afford them to show off the strength of the material by adding the boiling tea first. Since these pioneering days of serving tea, bone china has become synonymous with luxury and refinement, and celebrates the unique skillset of the Stoke-On-Trent ceramic industry; qualities that are now celebrated in the Leaf product and incorporated with light.
Haberdashery's Leaf not only acts as an original and timeless centrepiece to a dining or living space, but when lit creates dramatic shadow across the surrounding surfaces; although using simple, easy to maintain GU10 downlights the actual lighting effect is sophisticated and complex, drawing on Haberdashery's rich experience in telling stories with light. Leaf interacts with light through reflection and shadow, rendering the effects of Leaf much bigger than the sum of its parts, as the shadows created spread over the floor and are reflected back onto the ceiling. "It's a very simple effect really," explained Rigby. "We light from above with standard ceiling downlights to create the shadows. The leaves that have a metallic lustre bounce ambient light off the underside, creating little patterns on the ceiling that are reflected from the metallic surfaces on the bottom. With the white version, you actually see light coming through, so they have a glowing quality to them."
Leaf is available in a range of ceiling plate shapes and sizes, several lustres or glazed finishes on the bone china and can be suspended on either tarnish-resistant brass or stainless steel cables. The product is designed to allow for easy installation into a simple ply pattress, into a ceiling slab or into ceiling timbers. With each Leaf product made to order, the drop height is customised to each new client space to ensure the optimum viewing level and play of light and shadow, with the largest bespoke versions to date utilising over 3,500 leaves in a single sculpture.
Represented exclusively by luxury interior-specialists FBC-London in the UK founded by Fiona Barrett Campbell, Leaf is a prominent piece displayed in the studio space. "I was introduced to Haberdashery a year ago," said Campbell. "What struck me about the Leaf in particular and the reason that I have chosen to represent this product is their timeless approach to design. Their organically structured installation contrasts beautifully with the industrial elegance of our studio. There is great synchronicity between the polished white and gold refined glaze of the Leaf and the FBC London collection."
Haberdashery also develop bespoke versions, working directly with clients to sculpt a unique configuration for each new space, whether an atrium, hallway, stairwell or restaurant.
The careful control of light and shadow in conjunction with a mastery of material is an approach that Haberdashery will be applying to further products in development during 2016, with an increasing application of appropriate technologies to be embedded within product designs. Rigby discussed with darc how Haberdashery might experiment further with the nature of this material: "In the past grains of rice have been set within ceramics to allow light to pass through once fired into the material; we are looking to explore more modern methods of achieving this effect using rapid prototyping to create more detailed moulds, and further play with translucency and light. We are developing a more contemporary range of lighting products in 2016 to be launched at Design Junction London, and we hope that ceramics will play a part in the ranges we will develop early 2017, with colour also playing a major part of our product lines."
As such a versatile material, bone china appears the perfect partner to light, playing on its qualities of luminescence and shadow in the same movements. With plans to delve further into the possibilities that this material presents, Haberdashery will no doubt bring bone china in another journey from its origins in the nineteenth century to the world of light in the twenty-first.
Images courtesy of Haberdashery 2016