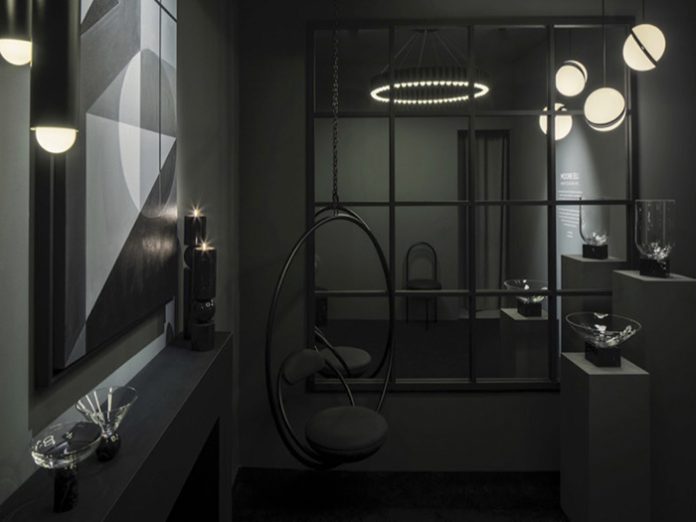 (UK) – Acclaimed British Product designer Lee Broom last week unveiled 'On Reflection' a surreal modernist tableau set within his Shoreditch flagship store for the London Design Festival 2017. Celebrating his tenth London Design Festival, the exhibition showcased the launch of a capsule collection of limited edition designs from the past decade reinterpreted in black.
On Reflection saw the Shoreditch flagship store completely transformed for the week long event. Broom presented a unique and surprising tableau, which took inspiration from Art Deco and Bauhaus style.
On first appearance visitors to the show were immersed in the dark atmospheric black and charcoal grey room but the scene was not quite as it first appeared to be. Standing in front of the 'mirrored' interior visitors appeared to cast no reflection.
A layered and thought provoking exhibition, Broom created an identical and parallel room with each object placed precisly in reverse to create the deceiving optical illusion.
A space of two halves, on reflection the true nature of the tableau and its surprising and surreal twist was revealed.
Broom began 2017 with his landmark Milan Design Week show 'Time Machine' which revisited designs from the past ten years in a pure all-white palette. Whilst continuing to reflect on an illustrious decade in design and a landmark anniversary year, the new all-black editions for the London Design Festival 2017 revealed a darker dimension.
A mix of limited edition designs which included the Mini Crescent Light, Altar Chair and On The Rock glassware were presented alongside new all-black Carousel and Fulcrum Light editions which will launch to the retail market in November. The all-black Carousel and Fulcrum Light editions are available for pre-order at Lee Broom and through any of the many dealers who represent the Lee Broom brand across the globe.
Bringing to a close a landmark celebratory year, in signature style, Broom also hosted a highly anticipated ten-year rooftop party. With the location remaining secret until 24 hours prior to the party, Broom entertained over 400 guests in the NCP carpark Shoreditch.
Guests to the 10-year design week party, which had an 80s auto park theme, were welcomed by elevator girls John Sizzle (The Glory) and Jonbenet Blonde (Sink The Pink). Music was provided by Andrew Armstrong (Monarchy) with moves by cult voguers Jay Jay Revlon & The House of Revlon.