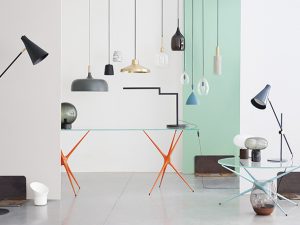 (UK) – lightjunction, part of the international designjunction exhibition taking place during LDF, will present a curated selection of international lighting brands alongside pioneering, design-led lighting installations. Here is just a handful of what the show has to offer…
Wrong for HAY
Wrong for HAY will present an installation featuring the WH lighting collection in the atrium of The College. The space will be transformed into a shop and café, serving delicious coffee from La Marzocco.
Atelier Areti
Set to present their latest collections at #designjunction2015 is Atelier Areti, a UK based-brand which is headed up by sister team Gwendolyn and Guillane Kerschbaumer.
Brokis
Artisan glass-blowers Brokis return to designjunction to launch a host of new products including the colourful suspension lights, Flutes.
Haberdashery
London-based Haberdashery will present interactive light installation DiscoDisco, which responds to sounds and music.
Lindholdt
Also joining the line-up is Lindholdt, who will exhibit the Petit Machine lamp, which was launched at designjunction edit New York in May.
Northern Lighting
Northern Lighting will be exhibiting their latest designs made from their base in Oslo, including the new Birdy lamp in a matte grey finish.
www.thedesignjunction.co.uk/london/lightjunction