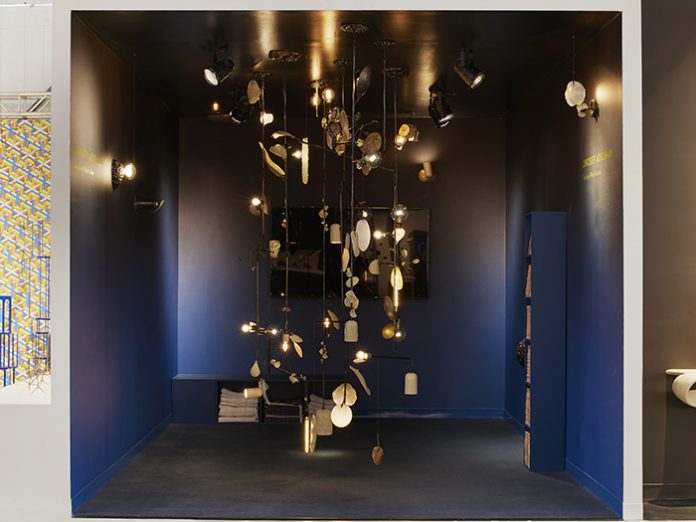 (USA) – Selected to participate in Design Miami's Curio program, a showcase of today's design landscape, Lindsey Adelman has envisioned an immersive installation that hangs like a kinetic cabinet of curiosities—mysterious, alluring and unexpected. Entirely handmade by Adelman, the presentation features seven suspended pieces, gathered in a cluster hanging nine feet high and nine feet wide, with five sconces and two ceiling surface mounts.
The work takes inspiration from the writings of Italian philosopher and physicist Carlo Rovelli and questions our understanding of the reality of the universe. Adelman considers: Are our five senses a hindrance to gaining a full understanding of the truth? Combined with our ego, have they developed to protect us and stand in opposition of truth-finding? Is it instead science, coupled with our intuitive imagination that can point to the truth? Citing Rovelli's consideration of a stone as a momentary getting-together of sand, she challenges preconceived notions of matter, suggesting it is not solid as we know it to be, rather an interaction that continues through time.
Ancient materials are manipulated to allow light to pass through: bronze perforated, alabaster thinly sliced, slippery porcelain barely there until it hardens; a metaphor for seeing through what is wise and established.
The transformation of the materials–from liquid to solid, for example—alludes to Rovelli's statement that "the difference between past and future only exists when there is heat." This distinction reframes our assumption of what time is and what matter is.
Nothing is static—just existing at different speeds of frequency of molecules," elaborates Adelman. "The work here evokes bits of matter suspended amongst bits of  light on a mobile that can change with any movement in the air; a form that can be modified with interaction. It is adaptable. It is a material representation of collaborative thought."
Fittingly, The Edge of What We Know marks the beginning of a new series of collaborative installations by Adelman, called Immersive Commissions. Serving not as a replacement to her modular lighting systems, but a complementary element of her practice, she will take on just a few each year. "As my company has evolved and grown, with the original Bubble collection morphing into various lines and tangents coming into their own, the team growing to a group of 40, the process becoming more inclusive and robust, the interactive spontaneity I used to share with the client has become a rarity," explains Adelman. "Immersive Commissions will become my platform for collaborative exchange and experimentation, where I will gain a deeper understanding of the function and fantasy others are looking for, alongside the freedom to explore possibilities simply not feasible with product lines."
As interaction serves as the impetus for the Miami presentation, it will remain the driver behind each commission. The original mobiles become a collaborative portrait of the designer and the collector, physical evidence of a personal, creative moment in time.