Lindsey Adelman NoHo studio opens
(USA) – During NYCxDESIGN, New York-based designer Lindsey Adelman unveiled a new 5,000 sqft showroom to showcase studio's sculptural lighting collections.
Encompassing over 10 years of creative work and archival material, the new showroom offers clients access to a vast material resource library and offers a behind-the-scenes look at the studio's design process.
Located in the NoHo neighbourhood of Manhattan, the new showroom occupies the same building as Adelman's current studio. The designer has taken a second floor, doubling her footprint to 10,000 sqft in total and allowing the design and sales teams to seamlessly meet with clients in a space that houses Lindsey Adelman lighting pieces from inception to fabrication.
"Now more than ever, having more space, we're really able to serve our audience at a much higher level," explains Adelman. "A real motivation was to allow our design and sales teams to work together and meet clients. We find that since the great majority of our clients are designers and architects, they really love talking to other designers. And our clients like to get a sneak peek of the behind the scenes process, so that was also part of the drive."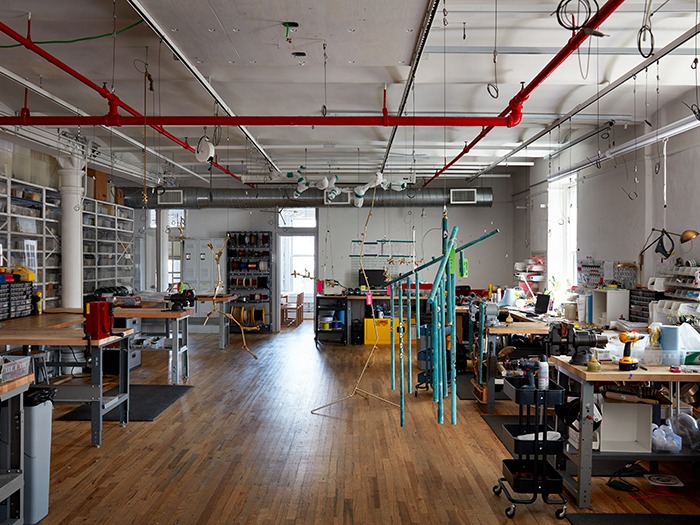 The showroom also includes Adelman's new personal studio, acting as a creative laboratory where she can develop and test new ideas. With enough space to hang and build new fixtures, the private office provides clients with a glimpse into Adelman's hands-on, ever-evolving approach to product development.
"Visibility into our product development method gives our clients a richer understanding of our process and work. It's easier to absorb an idea or a certain technology when you can see the material or process happening right in front of you," says Adelman.