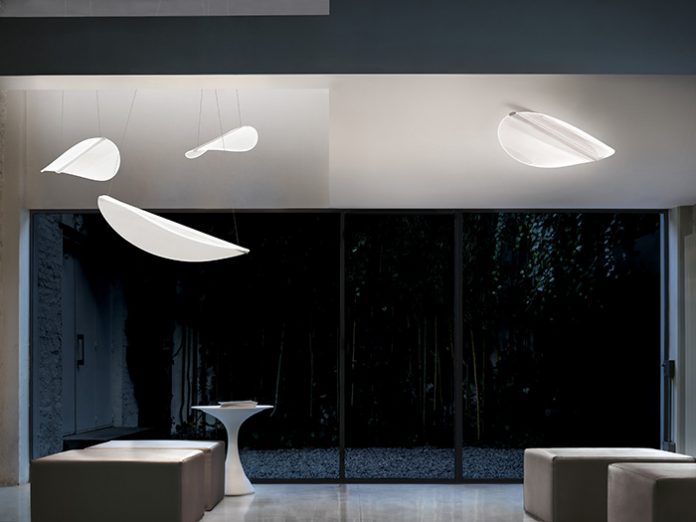 (Italy) – Linea Light's Diphy LED pendant impresses jury at Milan Awards.
The international jury met in early May to consider the 283 products and designs of the prestigious ADI Design Index 2016 and 2017 selections. Of these, 16 received the Compasso D'Oro and 56 received an Honourable Mention.
Designed by Mirco Crosatto of Linea Light Group and inspired by extraordinary elements found in nature (its name comes from Diphylleia grayi, or the skeleton flower, which can be found in wet and cold wooded areas in Japan and China and whose white petals become as transparent as glass when they come into contact with water), Diphy combines functionality and design. A very thin aluminium bar painted white houses the LED source, whose clean light fills the PMMA diffuser, which distributes it, below. The extreme transparency counterbalances the brightness of the lit lamp, embellished by the characteristic pattern of laser micro-engravings .
The lamp is available both in a hanging version with dangling leaves that seem to fall while being pushed by a gentle breeze, and as a large, bright, curved floor lamp for both private and public environments.
Giovanni Noris, Marketing Manager of Linea Light Group, said, "We are very proud of the recognition we have obtained. It is further testimony to the excellence of the best Italian design, as is rightly highlighted in the communication we received from the ADI".
"In these first six months of the year some of our other products have won prestigious awards, such as the IF Design Award 2018 given to both Archiline and Reflexio: a sign that the road that we are travelling based on continuous research and innovation is the right one", Noris concludes.