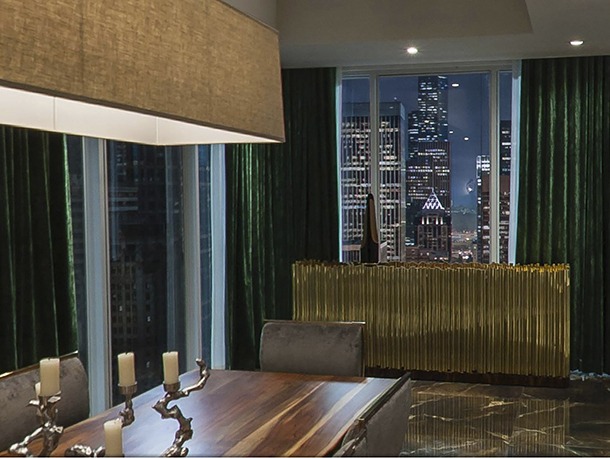 Fifty Shades of Grey, one of the most highly anticipated films of the year, opened at cinemas around the world in February. An adaptation of the bestselling book and global phenomenon by E L James, the film tells the story of a love affair between a shy Anastasia and the older, more experienced Christian Grey.
Asked to furnish the set of Grey's penthouse apartment – bringing to life his extravagant ways and millionaire tastes – were Covet Lounge partners Boca do Lobo, Brabbu, Delightfull and Koket, with all pieces matching perfectly, the story's nature, each lighting piece was carefully selected to fit its designated environment, from bold and avant-garde, to organic and feminine, aiming to mirror the film and brands' common qualities. The set's space holds a strong contemporary design influence while referencing organic and feminine shapes – the idiosyncratic combination is believed to ensure a timeless and unique décor.
Just some of the decorative lighting features employed to bring Grey's apartment to life include DelightFull's Ike floor lamp – from the Vintage collection – characterised by the rhythmic composition of its elements, reduced shapes, clean lines and lots of black; Brabbu's Vellum wall lights, composed of hammered glass, and Koket's Hypnotic chandellier, which intricately coils and bends in golden spirals, weaving itself elaborately within the sharp polished lines of the hexagonal silhouette, are just some of the decorative lighting features employed to bring Grey's apartment to life.
Also from DelightFull, handmade lighting pieces struck a chord with Fifty Shades' set decorator, chosen for their unique design that reinvent fresh classics with an added twist. Luxury lighting pieces such as the Coltrane table lamp, created by John Coltrane; and the Turner table lamp, with its art deco shape and inspired by Tina Turner's dance moves. Other products that can be seen throughout the film from the brand include the Meola and Amy table lamps, the Galliano wall fixture, and the Evan floor lamp.
From Koket, exclusive pieces from the Guilty Pleasure collection, designed by the brand's Creative Director and Founder Janet Morais, transformed the set into lustful scenes. Taking its brilliance from the skilful application of crystal, the Koket Eternity chandelier works together with the playful Kolet Chloe sconce, casting a sultry glow upon Mr Grey's flat. While the Vivre sconce, offering strong vintage details combined with a decidedly modern profile gives a strong and captivating light flow over the bench in the room.
Commenting on the use of Koket products on set, Morais said: "My passion and mission with Koket is to create highly desirable empowering statement pieces. The essence of my pieces dreamily complements the film's aura of desire, passion and power. Although I never thought my collection would be powerful enough to grace the set of Fifty Shades of Grey, our inclusion has revealed the influence of exceptional design."