LZF's newest edition, Big Bird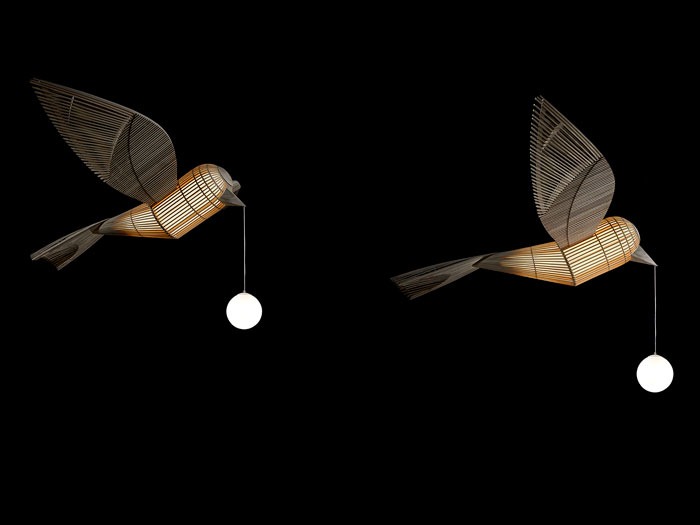 (Spain) – Big Bird is the latest addition to LZF's family of life-size lamps, and encapsulates the celebrated Spanish lighting brand's penchant for dreaming big.
Hovering hummingbird-like, with a fine wooden plumage and hanging globe, Big Bird is an accomplished feat of wood craftsmanship, and a remarkable contemporary sculpture.
Created for LZF by the artist Isidro Ferrer, Big Bird is made in collaboration with master artisan Manolo Martin. The lamp is built with a traditional craft technique used by Fallas artisans, called vareta. Manolo Martin describes this technique: "Vareta is woodcarving and consists of reproducing a volume in wood. To achieve the form, the element is reproduced by using sections of it, called dogas, and the "skin" is shaped by means of fine woods, called varetas."
In Big Bird, there is a clear emphasis on the collaboration between design and craftsmanship. Design adds value to the lamp, while craftsmanship ensures it is unique and well-made. Martin has worked with LZF for many years and observes: "together, design and craftsmanship offer an alternative to the tedium of mass production. I am convinced there are customers who continue to appreciate this differentiation."
Big Bird follows in the footsteps of the life-size Walking Fish and Smelly Fant, both created by Ferrer. Ferrer points out that LZF's co-founders, Mariví Calvo and Sandro Tothill, are responsible for this "gigantization". He explains: 'Mariví and Sandro have a unique spatial and scenographic vision. To create Big Bird, I went outside of my natural scale. Thanks to the skill and knowledge of Manolo Martín, the lamp became a reality.'
Big Bird is available in two versions, horizontal and vertical, and adds to a family of lamps ideally suited to the contract market.