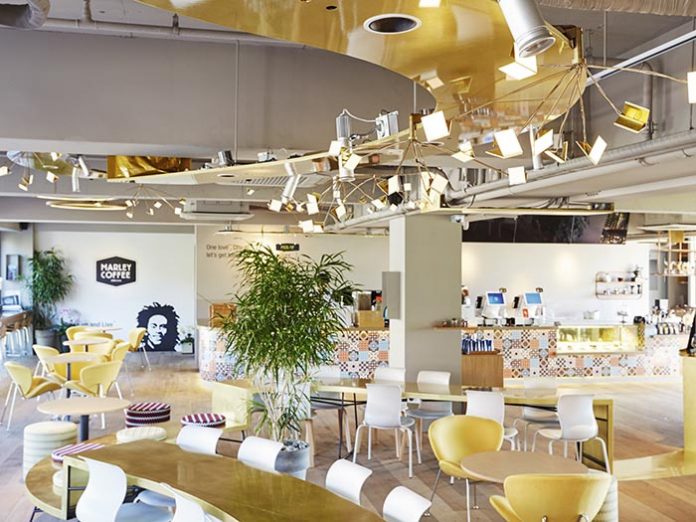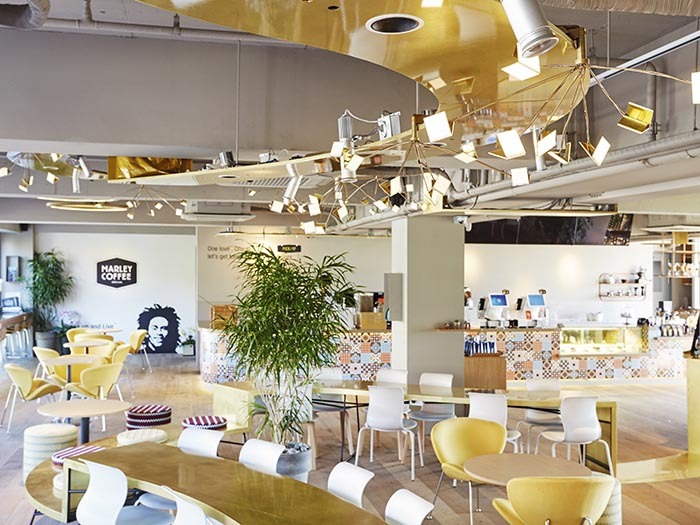 With the Bob Marley legacy at the heart of the Marley Coffee café in Seoul, Korea, LG Display's OLED panel butterflies add a glittering sense of unity to Yang Ripol Design Studio's interior.
A coffee shop unlike any other in Seoul, Korea, London-based Yang Ripol Design Studio was approached to design the interior concept as well as the brand identity to mark the opening of the first franchise of the Marley Coffee One Love café. Owned by Rohan Marley, the son of reggae legend Bob Marley, the coffee shop is a producer and distributor of cult coffee Blue Mountain Jamaican. Marley infuses the company with his father's philosophy of unity and strives to inspire and improve the world through its coffee and various charities.
Yang Ripol Design Studio was responsible for the rebranding of Marley Coffee for Korea, as well as the ready to drink packaging and the interior design of the Korean franchises. Yang Ripol Creative Director Claudio Ripol told darc: "The coffee shop franchise market in Seoul in very competitive and populated and we knew we had to come up with a special atmosphere which would have personality but also be an oasis of calm in this very busy city."
The concept was born from the idea of the circle as a representation of unity, celebrating the Jamaican spirit. It serves as one space where people from different backgrounds come together to enjoy products from all over the world, connecting across social and cultural boundaries and promoting understanding. The circle as well as the indigenous meaning of Jamaica as the "land of wood and water", became the basis for the undulating table which meanders through the whole space. "The table brings together different customers for a taste of the famous Jamaican beans as well as food and wine, a looping shared table embodying the core message of one love," said Ripol. This table is made in brass and glints with the interior illumination to reinforce its fluidity. The brass shifts organically in height so as to be used as a table, bench or to allow people to pass through.
Working with London and Paris based lighting consultant Min Sang Cho, the illumination which reflects the line of the pathway of the table and chairs introduces 240 LG Display OLED light panels adding a natural yet modern vibe to the café. Two OLED panels were placed together to form an OLED butterfly, with eight of the butterflies attached together as a luminaire. Brass planks were hung from the ceiling with fifteen sets of butterfly luminaires fixed onto the planks.
LG Display Manager Sebastian Suh commented: "Cho has been involved in a number of attempts to bring OLEDs into the design of several projects. The team knew what OLEDs could do in a café environment. It gives a very comfortable and pleasant ambience for the overall café once you're inside. When walking past, it looks like a bunch of stars so they give the café an identity even for someone just passing by. There is really no other café like that in Seoul."
Also featuring an interactive element, Suh explained how each set of Butterfly luminaires is connected to a sensor, making the OLED panels flicker when movement is detected: "Once you sit down, you can touch the sensors and they blink, indicating that seat is taken. During that time, you can go up and order your drinks. That was a real fun factor."
LG Display's OLED panels generate no glare, eliminating the tiresome factor of flickering lights. This flickering is reflected in the brass table, with the OLED technology allowing the light to feel organic and relaxing. This feature brings the lighting design deeper into the design of the café as a working business and place of human motion, making it more than just a means of illumination. It plays a vital part in the workings of the café and how people interact with each other in a busy space while maintaining a decorative element.
With such a vast number of coffee shops in Korea, Marley Coffee stands out from the rest with its innovative OLED lighting solutions that evoke feelings of unity and social experience. Suh said: "I think it was a really unique project. I don't think I've ever seen a shop implement something like this that is also a franchise at the same time. There is a lot of interest in OLED these days and I hope people can see the real benefits beyond the form factor. The light itself has a different feel to it, not to mention its importance in issues such as lighting pollution. I hope that anyone who looks at this project can take that forward."
From its cult coffee to its lighting, Marley Coffee holds true to its intention to unite and spread love between people and nature. The use of LG Display's light panels to create butterflies is a creative display of attention to nature in both form and function, resulting in a space where people can enjoy the legacy Bob Marley left behind.