Martinelli Luce – Outdoor
Martinelli Luce's outdoor lighting collection uses cement as the common material.
A simple material but at the same time rich in important facets and characteristics, cement has become one of the most used elements for the new outdoor lamps by the Italian lighting company Martinelli Luce.
Weatherproof, solid, and robust, concrete lends itself to being the perfect material for creating outdoor lamps. To the touch, the surface remains slightly rough and highlights the materiality of cement adding a pleasant characteristic.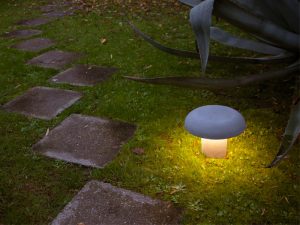 Amanita is the latest creation from the Tuscan lighting brand. An outdoor lamp that looks like a mushroom, like the name from which it takes its inspiration. The low and robust shape in reinforced concrete highlights its characteristics of resistance and compactness.
The diffuser positioned in the lower part of the hat is made of polycarbonate and houses the LED source.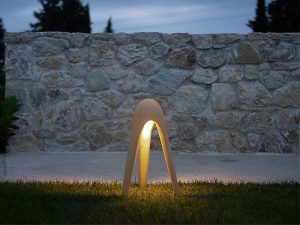 Cyborg outdoor, the big sister of the indoor version, is made of high-resistance concrete with water-proofer and has a LED light source.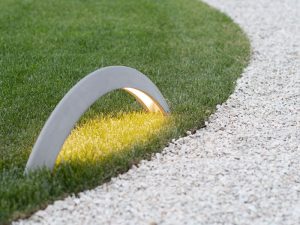 Pont is a luminous arch rising from the ground, a blade of light halfway between a technical device and a concrete sculpture. The LED light source provides direct illumination, creating paths and plays of light in the garden or at the side of a pathway.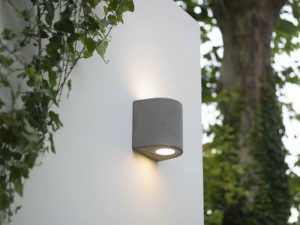 Koala is a high-resistance concrete wall lamp with a double LED light source for direct and indirect lighting. A small wall lamp with soft, rounded shapes clings to the wall, imitating the usual pose in which the Australian animal is immortalised between the trees.