'Metamorphis' Hermes installation premieres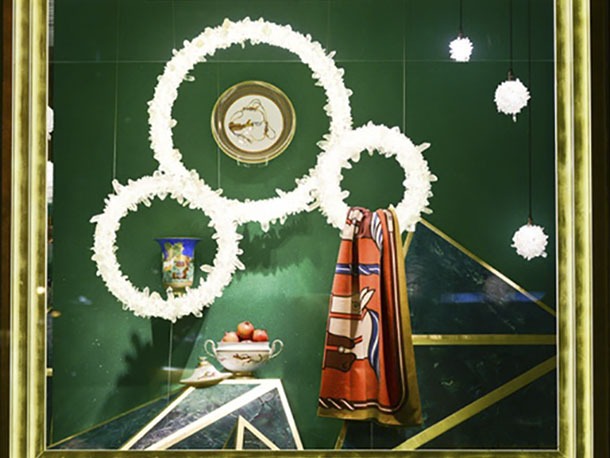 (USA) – Bespoke holiday window installations for Hermes Madison and Hermes Men, New York created by Melbourne designer Christopher Boots.
Co-located on opposite sides of Madison Avenue, New York, the two locations are home to 'Metamorphis', an installation, which is the result of a 12-month collaboration between the designer and retail brand.
One of the 'Metamorphis' windows includes three Boots designed Sugar Bomb crystal pendants in Quartz crystal with LED light source hanging adjacent to three diamond ring pendants in Quartz crystal, iron, carbon polymer and LED light source. The display also includes a silk scarf draped through the smallest of the pendant rings, and a china plate, urn and terrine placed around the rings, all Hermes.
Another of the windows features two large crystallised ORP pendants, also designed by Boots, with a wintery 'ice' and crystal backdrop. In the foreground, cones display luxury Hermes accessories.
Across the doorway, a window features a set of three circles; the outermost is Boots' Prometheus III pendant in quartz crystal, copper, zinc and iron with LED light source. The inner two circles are Hermes enamelled napkin rings in blue and gold colours.