The winner at the 2020 [d]arc awards for Best Decorative Lighting Fixture was Coordinates from Flos, designed by Michael Anastassiades. darc finds out more behind the design.
Originally created for New York's legendary Four Seasons restaurant, Coordinates by Michael Anastassiades features a series of interlocking linear LED luminaires that take their formal inspiration from the mathematical precision of the Cartesian grid, illuminated and expanded to three dimensions.
Coordinates is available in a broad array of set configurations, including four suspended chandeliers of different sizes and three ceiling-mounted luminaires, available in two lengths to suit both standard and high ceilings. The collection also features a repeatable module that can be suspended, or ceiling mounted, ideally suited to large-scale installations.
The range is completed by a vertical floor lamp featuring a simple round base and two light bars, which can be set at the preferred beam angle during assembly.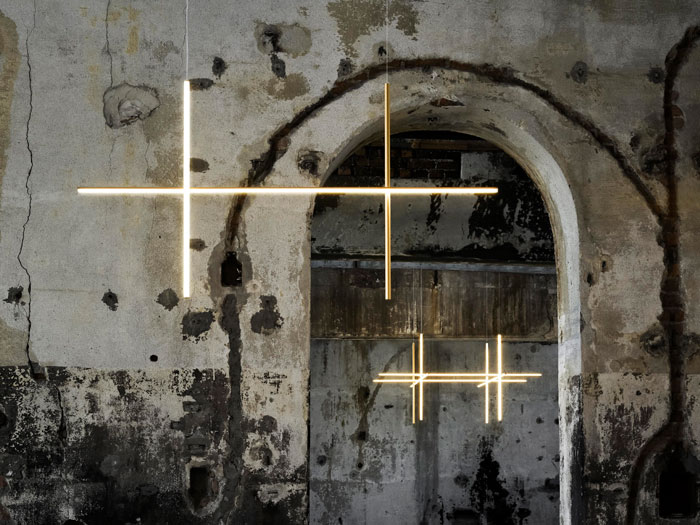 Speaking of his winning product, Anastassiades says: "[Something] that I like to explore in a lot of my Flos products, which started with String Lights, is that sense of the gesture of handing creativity back to the user. With Coordinates it's this idea that you can actually create all these compositions by combining these different elements when creating larger units that suit your own needs. This is what people like, very much – is this idea, the opportunity – to personalise something to make it theirs.
"Because that way they're more in a position to consume it. So, I didn't do it from a consumption kind of point of view… I did it more as a gesture as a designer because usually designers like to control everything.
"So, I continued the exploration of this gesture later on through Arrangements, which is the other collection that I designed for Flos, where you have all these geometric links that you could touch and form this vertical chandelier of illuminated geometric shapes. And then later on it kind of became Coordinates. The idea of this grid somehow being able to create these vertical, horizontal arrangements – it's like the gesture of touching with a pencil, or in a sense of shading in an area I would like to illuminate but doing it in three dimensions."
He adds: "By combining – there isn't an overwhelming level of freedom that you have there, but at least the possibility of being able to put things, align things, and create larger areas through the different modules is a great thing to have."
Coordinates is made from extruded aluminium with an anodised champagne finish, and an opal-white platinic silicone diffuser. The LED light strips used are available in 2700K, CRI 95, and are dimmable with a choice of protocols including Push, DALI and 0-10V.
This collection, as Anastassiades explained, offers a flexible yet formally rigorous solution for a diverse range of applications for indoor environments.
"Coordinates is a lighting system consisting of horizontal and vertical strip lights that form illuminated grid-like structures of various complexities. In addition to bespoke solutions, the Coordinates standard collection includes a series of pared-down configurations of chandeliers that can be used in any setting," the designer concludes.