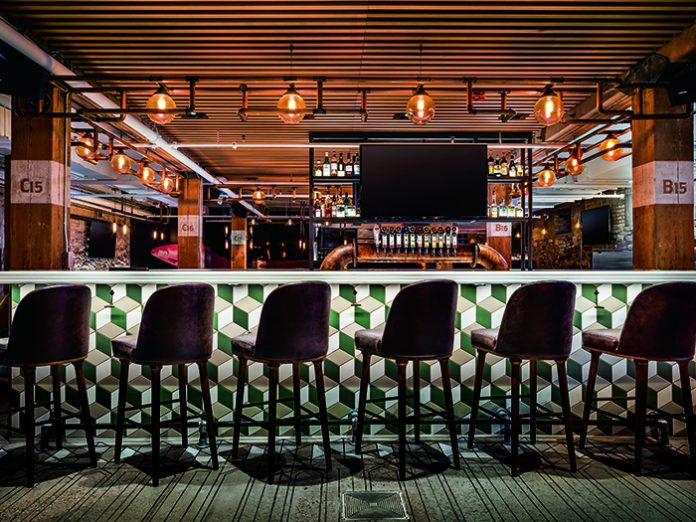 A generation ago, Toronto's Liberty Village was barely post-industrial, its landscape still dominated by abandoned munitions factories and railway yards. Since the 1990's, an astonishing transformation has seen new towers rise between these old red-brick buildings – now converted in to trendy lofts – as younger generations have flooded to Liberty Village to live, to work at a growing number of tech and design firms, or to simply enjoy the vibrant atmosphere of a neighbourhood on the rise.
Restaurateurs Oliver & Bonacini along with Albertan craft brewer Big Rock recently collaborated to create Liberty Commons at Big Rock Brewery, located at 60 Atlantic Avenue, a key node in Liberty Village. Local firm DesignAgency was tasked with converting the 7,400sqft interior of the exemplary former warehouse into Big Rock's first hospitality location in Ontario. DesignAgency created interiors that celebrate the connection between beer and food and appeal to the district's style-conscious residents. Part vintage speakeasy, part modern tasting cellar, Liberty Commons has an atmosphere that's polished, yet casual.
Inspired by the surrounding setting of Liberty Village, Allen Chan, Founding Partner of DesignAgency wanted to showcase the neighbourhood's industrial past as well as it's design driven future. "We wanted to create a hospitality space that would appeal to Liberty Village neighbourhood's youthful and creative spirit," Chan tells darc. "We also wanted to create a setting to highlight the brewing process and a design that spoke to the process of beer production and how that inspires the menu."
To give the interiors a distinctive character throughout, DesignAgency blended sophisticated finishes and paired them with reclaimed and industrial objects. The space features reclaimed surfaces, including masonry and wood slat elevator screens, while large original wooden beams contrast with sleek geometric tiles, leather banquettes and polished wood and marble tabletops.
An array of unusual lighting elements illuminate the restaurant space, including an impressive custom Yoki Milke copper pipe and valve light fixture above the bar. VISO globo suspension lights provide guests with a warm welcome in the entrance, whilst the Milke Bau multi-arm chandelier wows on the stairwell. Restoration Hardware's Factory filament smoke glass funnel pendants run through the centre of the dining area, illuminating the tables below, whilst Milke Bau Glass Cylinder pendants highlight the booths and tables at the side of the room. Barn Light Electric's School House copper LED cord hung lights adorn the restaurant's window, in keeping with the industrial heritage of the space.
"Liberty Village is going through a huge transformation and part of that transformation is about preservation and how we can beautifully merge the old with the new," Chan explains. "We wanted to pay homage to the history of the building by bringing to the forefront as much of the building's character as possible, we also custom designed the 'I don't give a sip' neon art piece in the downstairs waiting area, which glows above some vintage lecture hall seating that we found. The juxtaposition is quirky, flashy and a bit irreverent all at once."
Fire related code constraints required some creativity to work around – unable to puncture the dry wall ceiling, DesignAgency created a hanging system of decorative lights that snake around the space and drop down where needed most. "We were tasked with giving new life to a dark, leftover basement so we had no choice but to work with the low ceiling height in this project. We would have potentially gone darker with the paint on the ceiling, but it would have felt too oppressive."
Surprisingly DesignAgency did not work with a lighting designer; instead they brought in an electrical engineer to deal with the calculation requirements for code. "In a lot of cases, we design all the lighting and have it fabricated to our specifications," says Chan.
The result is a space that's part vintage speakeasy, part modern tasting cellar and pub with a polished yet casual and warm atmosphere; thanks in part to a clever, layered lighting scheme. "Lighting is crucial to any successful project – ambience is everything. Without proper lighting you might as well give up. It creates the mood and the atmosphere; good lighting can make people look great at the worst of times."