mondo*arc india launched to critical acclaim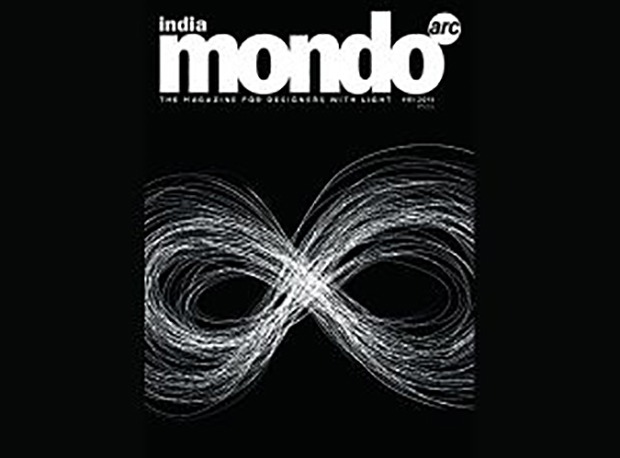 (India) – Launch event in Mumbai attracts almost 400 designers and architects ready for a high quality lighting design magazine for the India market.
Dressed to impress, the Jamshed Bhabha Theatre at the NCPA (National Center for Performing Arts), Mumbai stood with pristine glory as nearly 400 guests walked through its doors for the launch for the first magazine in the country dedicated todesigners with light. mondo*arc presented the inaugural issue of their Indian edition with much elan and gusto.
mondo*arc india, a collaboration between mondo*arc and Indian company STIR, brings the quality of the international magazine with greater Indian context pertaining to industry professionals, brands prevalent in the Indian market, research and development initiatives as well as the local and international lighting design fraternity. Ensuring that lighting is seen as a lifestyle product, which touches the emotional cords of any interior and architectural space, the publication is a platform for discussion and dissemination of ideas pertaining to light.
The Indian avatar of the publication was extremely well received by the invitees, including eminent personalities from the architecture and design fraternity, artists, art collectors, fashion and allied design professionals, developers and hoteliers, top industrialists, corporate executives, as well as the media.
The guests were left in awe as they entered the auditorium to find a large-scale cube constructed out of suspending fabric panels adorning the stage. Reflecting in the mirrored backdrop, an interplay of myriad colour light and projections rendered the space in infinity. Balancing this was an incredible maze of threadwork woven around cuboidal frames at the back of the auditorium. Dynamic colour changing lights penetrated through these towers of thread to accentuate the star-studded ceiling of the theatre.
Walking out of the auditorium, the guests were greeted by a larger than life sculpture titled NAAG, brought to life by dynamic projection mapping creating patterns and movement on its undulating surfaces. Sitara Yab, the interactive light art installation pulled people into its tunnel to experience light through personal movement.
The enthusiasm of the crowd was evident in their desire to be clicked with the newly unveiled magazine. With mondo*arc and STIR peppered in the backdrop, people lined up to catch the photographer's eye.
Highlights of the event:
Opening note by Mrinalini Ghadiok (editor, mondo*arc india) introducingmondo*arc india.
Talk by Paul James (editor, mondo*arc/darc) about the journey ofmondo*arc and darc magazines over the past 15 years.
Introduction to STIR by Andre Tammes (curator and visual planner, Australia)
Talk by Chiara Carucci (Lead Coordinator, L-RO, Italy) about 2015, the International Year of Light.
Presentation by Charles Stone (President, Fisher Marantz Stone, USA) about his lighting design scheme at the World Trade Centre Memorial in New York.
Panel discussion on the importance of lighting and lighting design in India, moderated by Andre Tammes. Panelists included international experts Charles Stone, Chiara Carucci, Babu Shankar (Principal, ILD, USA), Paul James; and Indian architects Kamal Malik and Abha Narain Lambah.
Talk by Alexandra Mathews (Executive Vice President, Lucifer lighting) about connecting people and the pertinent position of lighting in today's world.
Talk by Amit Gupta (publisher, mondo*arc india) about mondo*arc india, bringing the world of lighting design together to mark this new initiative.
Set design and scenography by Sumant Jayakrishnan.
Light art presentation and electronic music by BLOT, accompanied with a Bharatnatyam performance by eminent dancer, Jayalakshmi Eshwar.
NAAG, a large scale sculptural installation with video projection mapping by artists Vishal K Dar in collaboration with Gabriel Dunne.
Sitara Yab, an interactive light art presentation by Quicksand.
Media interaction and interviews.
Social-professional networking over cocktails and dinner.
mondo*arc india is a bi-monthly publication. The next edition will be the May/June issue.
To request a copy of mondo*arc india please email info@stir.lighting