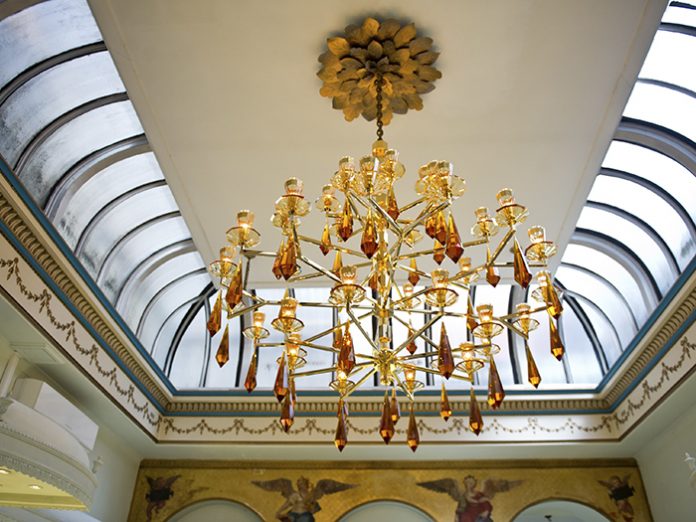 (UK) Moser Crystal are hosting an exhibition at London's leading luxury tableware retailer, Thomas Goode to celebrate 160 years of supreme craftsmanship. darc interviewed Lukas Jaburek, Design Director of Moser about the event and what the chandelier means to modern design.
What can visitors expect from the exhibition?
This is the first and largest exhibition Moser has ever had. The exhibit brilliantly illustrates the symbiotic connection between the past and present, tradition and vision, form and content. At a symbolic level the collection is also a celebration of human courage, diligence and self-discipline, a tribute to Ludwig Moser who laid a solid foundation for one of the world's best-known brands of luxury glass. The exhibition shows a selection of masterpieces inspired by the company's rich history.
The most important examples of Moser's historical archives were lovingly revived by contemporary masters using crystal craft and a unique colour palette meticulously handed down from generation to generation. We created works for Moser 2017 that are inspired by the most successful and significant works from the period of painted historic motifs, engraved Art Nouveau plant decorations and gilded African scenes, which brought the glassworks fame.
How was the opening event received?
The event was a great success in generating awareness of Moser's exceptional hand craftsmanship and heritage. It's often hard to comprehend without seeing it in person that handmade really means handmade. The bespoke palette of colours used by Moser have stayed the same for hundreds of years yet appear as modern as anything against today's contemporary hues which is quite extraordinary.
 The Ludwig chandelier is at the centre of the exhibition, what can you tell us about the production and design of this impressive piece?
This chandelier has been in the making for almost 12 months with around with around 40 people involved in its creation. This unique piece is 220cm high by 190cm diameter and weighs 200kg it comprises of 133 drops of hand blown and hand cut crystal in the golden colour of Moser's topaz, which are further decorated with oroplastic and painted with 24-karat gold. The chandeliers arms are also thickly gilded in the same 24-karat gold.
What do you think chandeliers bring to modern design?
Chandeliers and lighting in general bring to modern design and architecture an extraordinary atmosphere, individual style and spirit. These distinctive and fundamental elements of interiors, perfectly connect crystal with light and maximise its characteristics, nowadays chandeliers have become more of a lighting object custom made for the discerning client, bringing about the need for the development and use of new technologies, moving the boundaries between art and design. For this reason we like to experiment and create these unique light experiences.
The exhibition, including the unique Ludwig crystal chandelier, will be on view at the institution that is Thomas Goode until September of this year.