Product Designer Boris Klimek's latest conception for Czech lighting brand Bomma is the Dew Drops collection. darc learns more about the design's inspirations and creation at Bomma's in-house glass making facility. 
Designed by Boris Klimek, Dew Drops is a unique collection of pendants from Bomma. Featuring an internal light source, each glass object presents a hint of iridescence, adhered tightly to hand-sewn bands of either vegan material or high-quality natural leather.
Having first worked with Bomma on the Pebbles collection in 2019, Klimek says of his second collection for the lighting brand: "The Dew Drops collection was created to capture the fleeting beauty of morning dew, clinging to blades of grass. We managed to transpose that magic to materialise the seemingly immaterial with lightness and grace. The delicate drops on the surface of its carrying straps hang in space like pearls in a necklace. The carrying strap is as essential a part of the lighting as its glass drops. They connect harmoniously and equally contribute to the overall appearance of the lighting."
In three words, he describes the pendants as "poetic, emotive, and magical".
He continues about the design's conception: "Working with light, especially in combination with glass, is magical and endlessly inspirational. I had been thinking about the concept of Dew Drops for a long time. Bomma then approached me to design a new lighting collection for them, so I tried to transform my idea into sketches.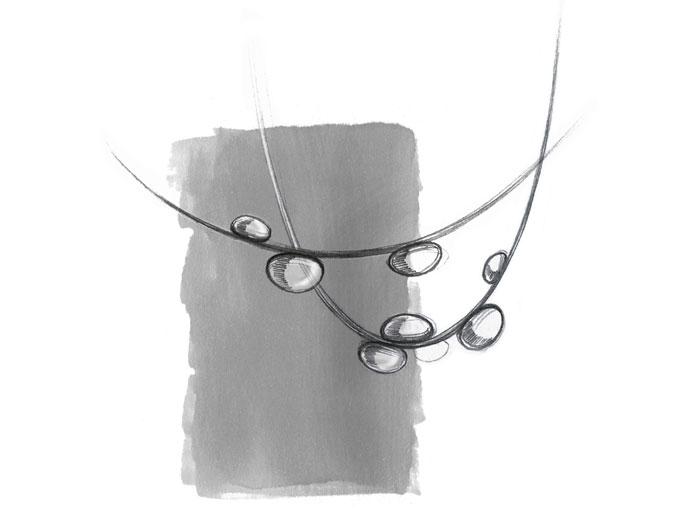 At this moment several people from Bomma joined the prototyping stage; every step of which was challenging as everything was new and different. A big thanks goes to the Creative Director of the brand Václav Mlynář and head of R&D Ota Svoboda, who played a crucial role in the development of Dew Drops collection."
Klimek likens the design process of Dew Drops to many of his other products' journeys. "From the first ideas and sketches, I went quickly to verifying the proportions and modelling in 3D," he explains. "Afterwards, I created visualisations that I showed to Bomma and they liked it. The prototyping process took into consideration Bomma's glassworks, where we tested the combination and proportions of used materials – leather, crystal glass, metal etc. The light source was the most challenging part. The Bomma team always develops the light sources themselves and it differs for every collection. It took us almost one year to develop the Dew Drops lighting, which is a success considering the technical difficulty of this collection."
Dew Drops use a combination of metal-coated crystal glass, leather hand-sewn straps and an LED light source. The collection is also available in vegan leather. 
When asked more specifically about why these materials were chosen, Klimek elaborates: "It emerged from the essence of Bomma itself. They are not afraid to experiment, and they accept every challenge. They move the boundaries of the glass making craft; therefore, they weren't afraid, even though the realisation of this collection was challenging."
Klimek continues to describe the new collection and its application suitabilities: "It is almost like a sparkling pearl necklace levitating in a space, it is a crystal object that brightens up every interior. You can use Dew Drops as a single pendant or you can create immense installations by multiplying it. There is no limit except the space itself. It is perfectly suitable for both private residence and public spaces such as lobby, hotel receptions, cafes and others.
"I think that every lighting in Bomma's portfolio is unique in a certain way. All the collections differ not only by the concept itself but also by the individual approach of the designer and their work with glass, it's colour and the form. The light source and the way the lighting is attached to the ceiling is, for many products, different. The Dew Drops collection is not an exception."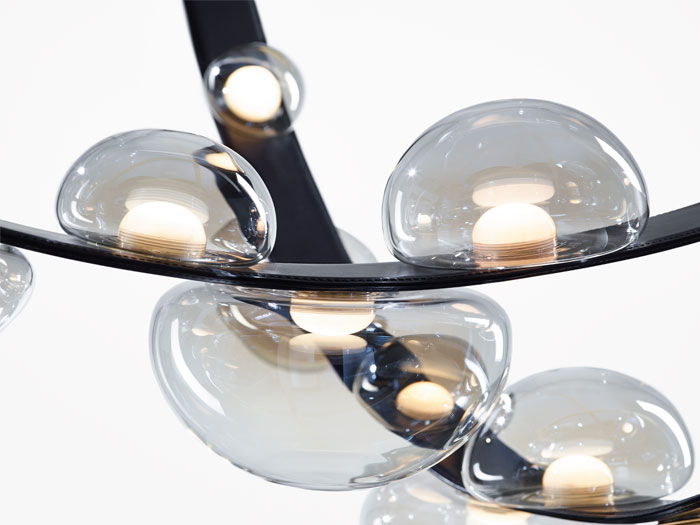 Václav Mlynář, Creative Director of Bomma adds: "From the beginning, it's characteristic for Bomma glassworks to create lighting that balances functional fixtures with art objects that lend interiors both atmosphere and distinction. The Dew Drops collection follows this principle with perfection. Various options to combine individual lights through crossing and bending add custom possibilities to its artistic intent."