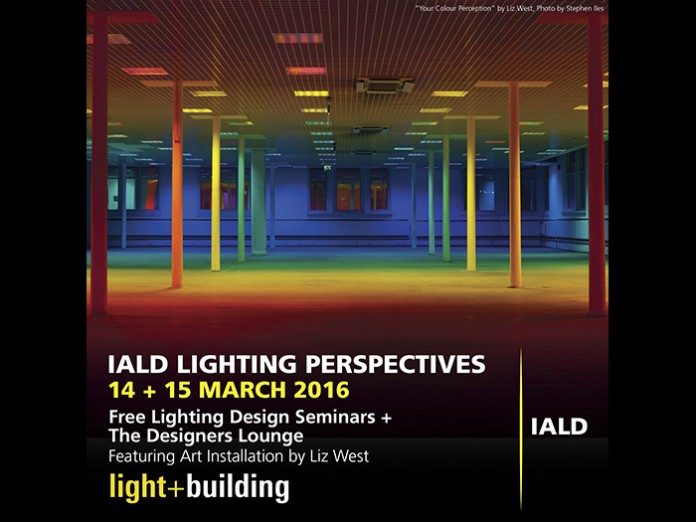 (UK) – One-track conference to offer two-days of free seminars plus Designers Lounge and art installation from artist in residence Liz West.
The International Association of Lighting Designers (IALD) has announced the full program for IALD Lighting Perspectives, its two-day seminar at Light + Building 2016 this March in Frankfurt, Germany. This one-track conference features individual drop-in sessions provided to Light + Building attendees free of charge.
During IALD Lighting Perspectives, architectural lighting designers from around the world will give 60 minute talks – ranging from collaborative success stories to the latest technological discoveries – but the common theme among all of these perspectives is an insight on the light where these cutting edge designers work and live.
Next door to the sessions, IALD welcomes one and all to the Designers Lounge, featuring an installation by light artist Liz West. The IALD has involved the talents of West to make the Designers Lounge an appealing space to meet and connect with others – and with light! West's work focuses on the human reaction to pure colour. In 2015, she exhibited more than twelve works in the United Kingdom, including the internationally acclaimed Your Colour Perception.
As a contributor to IALD Lighting Perspectives, West will be speaking during her session about her past works, her design theory, and her newest creation for the Designer's Lounge.
IALD LIGHTING PERSPECTIVES: Aspekt Room, Hall 3 Westside, Level C
WHEN : 9.00 A.M. – 5.30 P.M. 14 + 15 March 2016
WHERE : Aspekt Room, Hall 3 Westside, Level C, Messe Frankfurt
DESIGNERS LOUNGE : Argument Room, Hall 3 Westside, Level C, Messe Frankfurt
IALD LIGHTING PERSPECTIVES SPEAKERS :
VICTOR PALACIO, IALD – MEXICO

LIZ WEST – UNITED KINGDOM

ANNE BUREAU, IALD – FRANCE

NICOLÁS FUENTES COLOMER – BELGIUM

CINZIA FERRARA, IALD – ITALY

DAVID BECKER, ASSOC IALD – AUSTRALIA

DR. GEOFF ARCHENHOLD – UNITED KINGDOM

GERD PFARRÉ, FIALD + ANDREAS SCHULZ, IALD – GERMANY

ANNA SBOKOU, IALD – GREECE

DONN SALISBURY – AUSTRALIA

KRISTEN BREDAL – NORWAY

RAFAEL GALLEGO VARGAS – SPAIN
For a full listing of session titles and summaries visit www.iald.me/lightperspectives