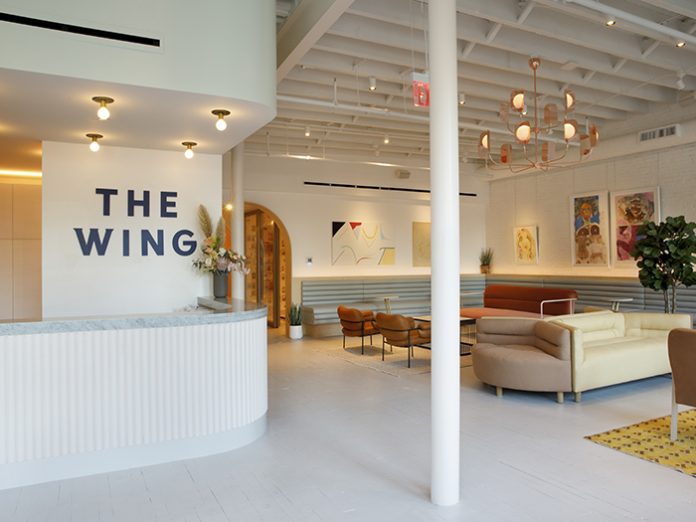 The Wing was born out of the belief that women need and deserve a multi-purpose space designed to make their lives easier, and that magic is created when women gather together. darc spoke with interior designer Chiara de Rege about her involvement in this very special project.
Founded in 2016 and built upon the Women's Club movement of the 19th Century, The Wing's mission is to create a space for women to advance their pursuits and build a community together.
Interior designer Chiara de Rege has been involved since the beginning of the project and with a new location just opened in Brooklyn and one set for Washington later this year, darc spoke with de Rege about her work on the SoHo, New York location.
Originally built in 1890 as a manufacturing warehouse, the SoHo location allows for even more women to join The Wing community in a space three times the size of the original Flatiron location. The Wing SoHo offers the same flexible working environment that the brand is known for: open layouts, private nooks and a light-filled atmosphere and is infused with bolder jewelled-tone colours throughout, designed by an all-female team as a tribute to the fierce feminine powers that will fill the space. Alongside de Rege, the women who led the project include architect Alda Ly and a team of graphic designers led by Emily Oberman at Pentagram.
"When I met the guys at The Wing I loved their vision and we really connected," de Rege tells darc. "At the first location – Flatiron – it felt more like I was curating different creative directions they both had, while at the second location in SoHo I was out on my own more and I drew inspiration from things I had seen during Milan Design Week. The architecture of the space in SoHo also really informed the design, I was lucky that the founders trusted me to just get on with it."
The space at The Wing SoHo combines many elements and with conference rooms named after favourite fictional female characters such as Ramona Quimby and The Golden Girls' Blanche Devereaux, the 10,000sqft space also offers half-a-dozen phone booths and private offices, which are all available to rent. Designed with women's needs in mind, the amenities include showers, lockers, a nap room and a beauty room, featuring custom wallpaper by illustrator Joana Avillez and Flat Vernacular's Payton Turner – both founding members of The Wing.
Elsewhere in the space, The Wing has partnered with the founders of Strand Bookstore to curate an all-female lending library with over 2,000 titles, ranging from feminist theory to contemporary women's fiction, and includes a collection of new works from The Feminist Press, one of The Wing's literary and programming partners. There is also a gallery of works by prominent female artists curated by Wing member and collaborator Lolita Cros. Artists include Alba Hodsoll, Alice Lancaster, Angelica Hicks, Carly Burnell, Devra Freelander, Esther Sibiude, Kim McCarthy, Lana Barkin, Leanne Shapton, Linnéa Gad, Louise Parker, Marilyn Minter, Pamela Hanson, Rebecca Dayan, Sophia Narrett, Taryn Simon and Tschabalala Self.
The Perch is the in-house café at SoHo, offering an extended seasonal menu featuring food, wine and cocktails made by female chefs, sommeliers and mixologists.
"When you enter Wing Soho it is flooded with light and I relied heavily on the lighting to define the different areas – what was a work space and what was a more elevated glamorous living room," says de Rege. "So we used lots of layers of lighting just in the first room…not only defining commercial and residential spaces but formal to informal.
"The decorative lighting elements at The Wing are pretty fun because, true to the vision of SoHo, there's a lot of workspace with lounge like living space and so obviously, we wanted to be certain there was accurate lighting for all the big tasks people would be working on. We worked with Bold Lighting who helped us figure out all the task lighting and the recessed architectural lighting, which creates a really pretty wash of light up against the wall."
Decorative lighting pieces used throughout the space come from the likes of Atelier de Troupe, Tom Dixon, Lindsey Adelman, Roll & Hill, Ladies & Gentlemen Studio, Cedar & Moss and Schoolhouse Electric.
"Lighting can really create such an important ambience," continues de Rege. "And the decorative lighting elements were really fun to work with because we were trying to create this elegant residential feel to certain areas in the space. The decorative elements were all really important to warm the spaces up and make it more home like and less commercial.
"The Wing is such a fun project! The clients are two very strong interesting women with a great aesthetic and I was very inspired by the project and enjoyed the process immensely – it was very different to residential or hospitality projects that I'm used to working on.
"The architecture at SoHo was so special and really stood out to me, it made the project what it was. It has these massive skylights and loft windows that just let the light pour in.
"What's been so much fun about this project so far is that although it's the same women's club, with the same ethos and there's a common thread – each location has it's own identity with lots of layers and lighting has been a very significant aspect for each of the locations."