London Designer Matt Kavanagh introduces a new style of sustainable lighting made from discarded NOS cannisters.
The NOS Sphere 228 chandelier is part of a range of upcycled lights created by London designer Matt Kavanagh; the idea for which came to him while cycling the streets of London. "I had been seeing these canisters littering the streets for ages and at the back of my mind thought it was an incredible waste of a beautifully engineered component," Kavanagh tells darc. "Then, last summer there was a BBC news article about the clean up on the beach after Brighton Pride and how 150 sacks of the canisters had been retrieved. I decided it would be a fitting project to make them into something beautiful and luxurious. A celebration of the illicit!
"The initial idea for the chandelier came from a conversation with fellow designer, Rupert Matthews. The canisters have a ready made droplet shape that lends itself to a hanging chandelier. The reflective surface provides a mirrorball quality that plays to the strengths of the canister and it has just the right amount of scale and 'difficult' about it to produce a valuable and luxurious final piece, which is a nice contrast to what is a discarded item found in the gutter."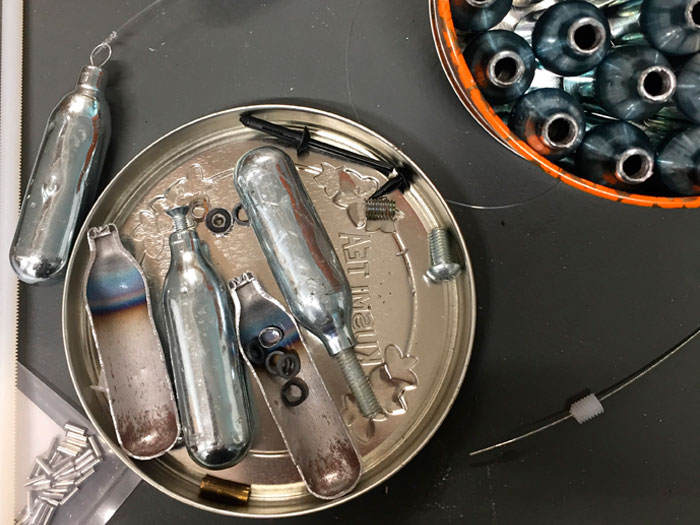 Sustainability and upcycling has been completely central to the NOS Sphere chandelier for obvious reasons as Kavanagh explains: "Sustainability is always part of the design process to varying degrees. I certainly take the responsibility of not contributing to landfill seriously and avoid projects that result in short-term use. Sometimes this is a material or production choice but it should also be an aim of designers to challenge the value of what they create in the first place so the life is extended.
"As designers, I believe we should be challenging whether a product really adds value in the first place. If you take the environmental argument to its logical conclusion, we should be making less stuff, so not designing products that don't add value is a good start. We should also be considering material and production choice more carefully. 'Sustainability' is a fashionable label to attach to everything at the moment and there is a lot of lip service paid to this without looking at the whole picture."
Kavanagh started his design journey at Southern Polytechnic in London where he gained a degree in engineering product design. "I was about 17-years-old when I first became aware of the Italian design movement Memphis," he says. "I was inspired, confused, provoked as it was so different to anything I'd seen. From that moment I was led to study design at college before travelling to Italy to work for Olivetti and then embark on a furniture design career that led me to work with many Italian manufacturers for over a decade."
This early exposure to design led Kavanagh to set up a furniture, lighting and product design consultancy, which eventually formalised as design partnership Diplomat in 1999. At the same time, Kavanagh was also working with numerous companies in the retail sector – specialising in design, brand strategy and customer research – until eventually establishing retail consultancy Space 11 in 2011; today, he splits his time between both enterprises, working from his Deptford studios.
Kavanagh's design influences have, in his own words, always fluctuated: "On the one hand I was drawn to rule breakers who tore up our conception of how to behave as designers. Makers like Ron Arad, experimenters like Geatano Pesce or the poet of light himself; Ingo Maurer, reminded me to look beyond what's currently in the landscape. But then, my engineering training would love the iconically simple designs of Achille Castiglioni and the paired down simplicity of Alberto Meda, who was able to combine efficiency and beauty into a perfectly distilled solution.
"I love to design, but what I've found most rewarding over the years is meeting and collaborating with bright minds and skilled hands, from clients to fellow designers to manufacturers and crafts people. I constantly feel I'm learning from experts around me.
"Chair design for me is the ultimate product challenge in that it's just about the oldest product typology. Usually they are in every room and are a key part of the interior aesthetic and yet we constantly find reasons to reinvent it. Like the chair, 'the light' has an iconic design product status as it is an equally old product typology, defines the space it sits within and is constantly revisited by designers, however it brings with it some added complexity as the technology behind light sources is constantly evolving from flame to LED. For so many years the lamp (light bulb) shape defined our approach to designing light fittings."
During the early years of his career, Kavanagh designed commercial light fittings for a company that exclusively used metal halide, which was the efficient technology at the time. "I suspect those fittings were thrown out as better technologies arrived," he says. "For a designer this is a frustration as, unless you take the approach of designing a beautiful object that glows, the design of the fitting has a relationship with the light source and so it isn't an optimum situation to have to later change the light source to LED for instance. For this reason you can also keep returning to lighting design with completely new eyes.
"For me, a lighting product should bring form, function, emotion, use, re-use to a space rather than the traditional 'form follows function'."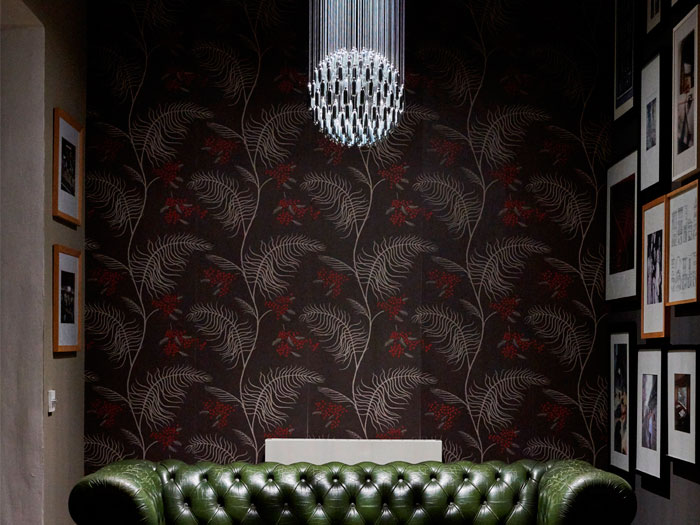 Looking back at the design process for NOS Sphere 228, Kavanagh explains to darc how working with discarded canisters quickly provided him with problems and a number of technical challenges. "I had to find the best way to consistently hang the canisters, getting the optimum scale and shape and then, balancing the finishes and most importantly, integrating the right lighting to show off the chandelier and illuminate a space," he says. "I think in the end I must have made six iterations of design before it felt right. As well as this, though at a glance the canisters look the same, they are from different sources around the world and vary dimensionally. The puncture holes are also randomly applied, so in order to hang them consistently – the best method was to machine and thread each one and then make a bespoke threaded insert from which they could be attached to the suspension line."
The canisters also had varying degrees of damage through crushing, scratching and surface corrosion. As such, it was important that Kavanagh found a way of grading and treating them so that the end chandelier has a consistent and luxurious feel. "Most of the canisters are bright zinc-plated so in the end I selected only the canisters without dents or too much scratching and then polished each one," he says. "This added a uniform sparkle but still reveals some of the character that they have from being recycled."
Kavanagh also didn't want the light source to visually define the appearance of the chandelier and so chose a recessed LED spotlight fitting incorporated within the ceiling fixing; a high wattage dimmable GU10 lamp with a narrow beam was used so that the light was focused on the sphere.
"This had the effect of highlighting its decorative quality but had a couple of added benefits in that it produced a dispersed reflection from the canisters (like a subtle mirror ball) and created a dappled silhouette pattern on the floor below it," he says. "Given the fluid quality of the suspended canisters any gentle movement in the chandelier is then animated."
While each chandelier is handmade, requiring considerable craft input and relying on a source of recycled components, Kavanagh is keen to highlight that this is not a one-off creation, with the process designed to be repeatable and a production luminaire for specification in interior projects.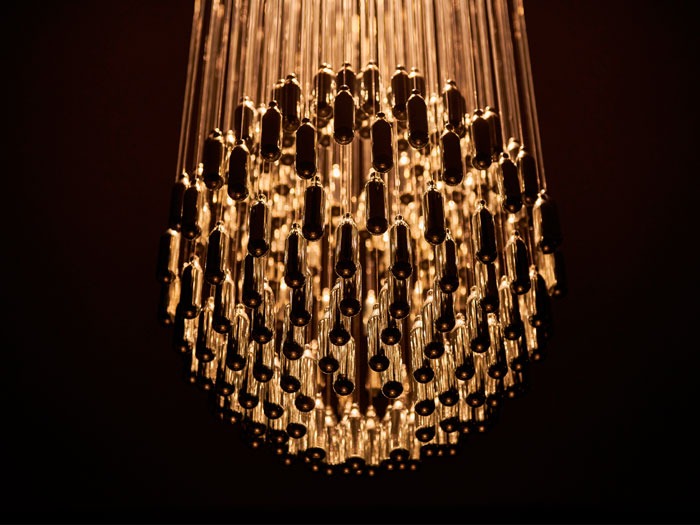 "The design also allows for further development of the concept," he says. "The first launch was the NOS Sphere 228, created with 228 canisters, the next is the NOS Sphere 348 with 348 canisters, nearly doubling the size of the chandelier. There are also variables to the finish that can be introduced, such as combining different grades of canister. You find some that have a pink coating and others that are painted. It adds further character to the chandelier to play with this mix. I'm looking at other finishes such as gold plating for a really 'bling' audience. Then there is an opportunity to undertake bespoke commissions to suit interior spaces."
For Kavanagh, good product design should include "form, function, emotion, use, and re-use," and as such is playing with the idea of using recycled cardboard in some products and lighting. Summing up his experience of working with light, he tells darc: "I find it a combination of conventional product design and playing with mood, in that the light you cast in a space can transform the function of the environment and the emotion of those who enter it."